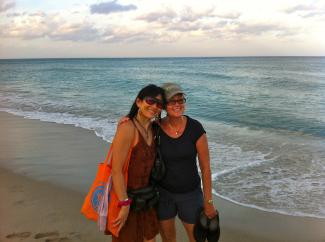 Love's Labor ~ Never Lost
On Valentine week two years ago, I walked into a shoe store and got myself some beautiful snow boots just as the first flakes of a blizzard began to fall. This Valentine's I bought a luxuriously huge hairbrush. Every time I pull on my boots or brush my hair I feel pampered and loved by myself. No matter that one cost $200 and the other $1. The love gift value reads in my heart, and does not leave. No act of love is ever wasted or lost.

The same sweetness fills the headband my student knitted me, my yoga necklace from my son, the Valentine bracelet from my husband; and yes, the gifts I have lost and broken over the years. The tokens may be gone but the gifts are not.

The same sweetness filled the Valentine Partner Yoga workshop I led with my pal and co-teacher Izzy on Feb 11 for 26 partners, at Pure East. The couples included fiances, friends, marriage partners, a teacher and student.

I am reminded again of the truth that nothing given in love is ever wasted. Relationships, loved ones may pass on, but the act of loving itself expands us. Our efforts are written in eternity; we carry those gifts forever. So, love on! Valentine's is every day! Here is my soul sister Debbie, on my recent trip to visit her Florida house, and beach.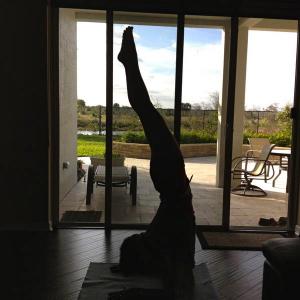 Free Pure Community Classes
Pure Yoga runs really terrific 200-hour Teacher Trainings, plus advanced mentoring and trainings leading to 500-hour Yoga Alliance certifications.

When you see a Community Class on the Pure schedule, you know that a graduate of our 200-hour program is in the advanced mentoring program. They are offering their class free to the public for three months as an opportunity to grow in their teaching while still under the steady tutelage of their mentor.

When you take a Community Class you contribute to the excellence of the next generation of yoga teaching. Your feedback, whether in words or simply in your presence, your body, your interaction, is invaluable. It is a time when teachers are extra responsive because they want to know how to serve your needs as a student, how to answer your questions, how to inspire you! I encourage you to invite friends to join you in a nearby studio's Community Class. Some studios' CCs have a discounted price; some, as at Pure, are free to the community.

My mentee Rebecca Claes will be offering a Community Class on Wednesdays from 2-3:15 at Pure Yoga Eastside from April through June. I encourage you to experience her Slow Flow classes, and to offer her your honest and encouraging feedback! A teacher is not a teacher without students. Our students are our teachers. Please join my teaching team! And let your body and soul soak up the healing pleasure and joy.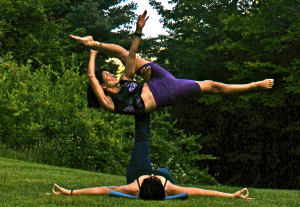 Classes
My class schedule is below, and workshops and trainings in sidebar articles at right. I am away in California the last two weeks of March taking the next level of AcroYoga teacher training so check the studio schedule for my subs!

Pure East:
Mon 10:30 Slow Flow Meditation
Tues 12:30 Restorative
Thur 5:30 Vinyasa Level 1/2
Fri 5:30 Restorative

Pure West:
Thur 11 YinYang
Fri 10:30 Chakra Slow Flow

My website will change server and URL sometime in the next month or two. Stay connected via this ENews in the meantime, to receive the new URL when it is finalized.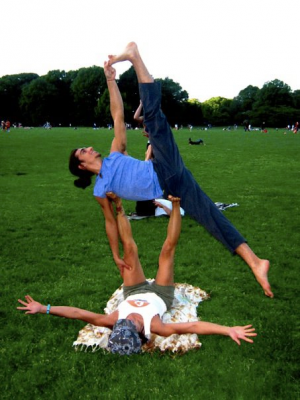 Does Business Wreck Yoga?
Yes, Yoga's gone viral. Yoga poses sell ads not just for health clubs and underwear, but computers, cars, and fine jewelry. Governments seek to tax classes and regulate teacher trainings. Yoga is big. Be careful what you wish for. You want your puppy to grow up ... and then it does. And now we live with our darling new animal!

Positives of this trend include: yoga styles, studios, teachers abound. It is much easier to find places and people to practice with. Creative gear and teaching videos: you name it, it's out there. Programs that bring yoga to hospitals, that may discount medical premiums for companies that provide their employees yoga, are among the benefits of being mainstream.

Negatives: Anything the masses latch onto automatically becomes subject to much more massive amounts of human mismanagement, and human ignorance.

In the midst of this, there are more physical injuries. There can be emotional injuries. There is financial greed, there is student overzealousness, there are teacher misjudgments. There is insufficient self-knowledge all around. This is nothing new to yoga. We call it "Avidya."

Avidya means ignorance. It is a non-judgmental term, it simply states the case. In Sanskrit "A" means without, and "Vidya" means wisdom, so "Avidya" just means without wisdom. As human beings we all have Avidya. It is what yogis work to transcend, through all our practices.

Since a controversial article on yoga hit the NY Times Magazine Jan. 5, many students have asked "what do you think?" I link the original article, and a few cogent responses below at my sidebar right, for those interested.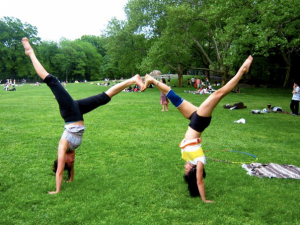 Yoga Sampler
Every year at this time I remind readers that New York, and several major cities offer a $75 booklet of 425+ free passes for yoga classes, plus Pilates and dance, in their metropolitan area. It's an adventurous way to see what the various schools and styles offer, and take a tour of your town, yogic style, to boot! The Passbook is good for a calendar year, so the early part of the year is a great time to get one, even to share with a friend. 4 classes and it's paid for itself, in most cities! You will have plenty of passes to share and to give, as gifts. They are transferable.

My home studio these days, Pure Yoga, is like a NY Yoga Passbook in itself: Iyengar, Hot Power, Ashtanga both led and Mysore style, Anusara, Jivamukti, Forrest, Kundalini, and more. These are some of the Positives of Yoga going mainstream. Mmm. Go get it. Be safe & happy!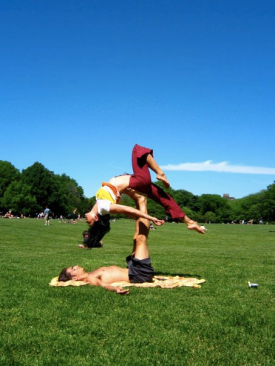 Photos/Credits/Thanks; Forward/Reply/Privacy
Thanks to photographers and photo models in this issue to: Megan Jolly, Greg Franklin, Chris Loebsack, Raphael Aranas, Debra McCaughey-Wang, Kristin Strauss, Deven Sisler, Lindsey Britt, Matt Giordano, Sandy Ames.

Thanks to yoga students and teachers in all walks of life and all types of mat. I do not share email lists so your email privacy is always honored with me. Feel free to forward to pals who may wish to be put on future issue mailings.

Maha shanti. Great Peace! Mary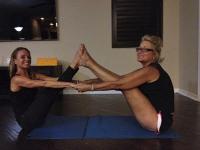 Two Times The Fun
Partner yoga and Thai Massage are welcome all year round; if you agree watch for my next Couples Yoga workshop ~ in July or sooner. Keep posted with my monthly ENewsletters! Put my email in your Address Book so they don't go to Bulk Mail.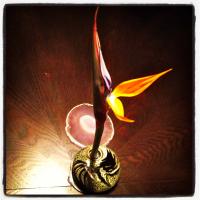 March: Mother Mary Restorative Teacher Training
This 25-hour restorative teacher training over two weekends, March 3-4 and 9-11, teaches you the skills and confidence to offer deeply healing Restorative yoga, whether in classes or privates, professionally or personally.

Perfect for yoga teachers and practitioners, or anyone working in healing modalities. For details, click below. Register with Laina Jacobs: laina.jacobs@pureyoga.com.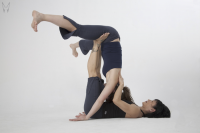 AcroYoga FUNdamentals!
Delighted as a spring day, to play once again with my sister, my pal Chris Loebsack, in leading this 3-hour AcroYoga FUNdamentals playshop for everyone keen to come join us in playful, trustful fun, this Saturday April 7 afternoon at YogaWorks SoHo ~ beautiful space, with sauna!

ALL LEVELS, ALL AGES, ALL PEOPLE ARE WELCOME TO JOIN THE ACROYOGA COMMUNITY: This workshop provides a safe environment to explore trust, connection and playfulness. Teachers will combine elements from Yoga, Acrobatics, and Thai Massage. The workshop can include: asana sequences, partner yoga, assisted inversions, basic partner acrobatics, therapeutic flying and Thai massage. After enjoying a sample of the many elements of the practice you will have first hand experience of what makes up AcroYoga. No yoga experience required, no partner needed. Come support and be supported.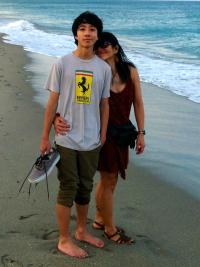 Mother's Day Restorative
May 12 Saturday, 2:30-4:30PM. Save the date for my next luscious, two-hour, Restorative Chakra-balancing treat!!

This is Mother's Day weekend so if there is a parent in your life to treat, or even the memory of one to honor, bring his or her sweetness and presence in with you as we celebrate love and nurturance together!! Dedicated to all parents, and parent role models, all those who have nurtured us and loved us.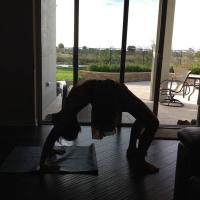 "Can Yoga Wreck Your Body?"
On January 5 The New York Times Magazine published an article called "How Yoga Can Wreck Your Body" by William Broad. It is an excerpt from Mr. Broad's new book "The Science of Yoga" and has sparked heated public debate on the potential risks and injuries in the yoga industry today. Yoga teachers have had students ask "what do you think?" Studio newsletters have discussed it, teachers have responded to it in class.

You may or may not have read it but here is the link to the original article. And below, in the LINKS section are some of my favorite yoga community responses, with their eloquent perspectives.

My own response as a teacher is simple: "First, do no harm." Second, it is probably a reminder to ourselves that we are each of us responsible for our own avidya. There is so much available in even the tiniest part of all that Yoga offers. Yoga is for life, not for pinnacles of achievement. And Yoga will be here for us when and if it ceases to be the current fad. We can work on still being here, "unwrecked," for it and all it still has to offer us!

Click below in my LINKS section for:

1) C.A. Keller - rebuttal with humor

2) YogaDork (Eddie Stern, Roger Cole, other teachers & medical professionals in the yoga community responding)

3) Mark Stephens - a balanced perspective

4) Sheetal Shah - traditional Yoga perspective

5) Dr. Timothy McCall - Iyengar science rebuttal

6) Sara Ezrin - "Ego can wreck your yoga" rebuttal