by Carol
Joyce and I love museums. Hey-we're writers researching books--what's not to love? But we were kids once too and know that kids don't always love being dragged to museums. As you plan summer vacation, we thought an issue devoted to making museums fun and inspirational for children might come in handy. (Think: fall field trip!) Our guest expert, Author Mary Morton Cowan, shares how museums help her research. And as usual, a teen reviewed 3 books that --you guessed it--involve museums. We also have 4 fantastic giveaways!
by Mary Morton Cowan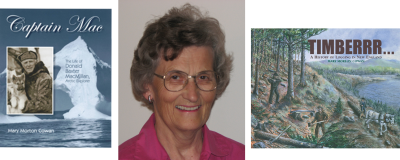 As a children's author, I owe young readers accurate information. When researching historical material, I must step back in time. One way is to visit museums. In addition to hunting down facts, I can find perfect dabs of color for my text by reading old letters and books, and by studying historical photos and other artifacts.
When researching material to write Captain Mac, (an arctic explorer) the Peary-MacMillan Arctic Museum at Bowdoin College was a "must." I saw the polar bearskin pants, cameras, and other artifacts of Donald Baxter MacMillan. Digging behind the scenes, I discovered thousands of photographs! Captain Mac includes more than 100 photos, many from that museum.
Timberrr…A History of Logging in New England, portrays logging history and methods from colonial times to the development of modern forestry. While I couldn't physically jump back into the 18th and 19th centuries, I could visit lumber museums. At one museum I found the painting that became the book's cover. Another offered old tools, a diorama of a logging camp, and a replica of an 1820s camp. Living History Day at a third logging museum offered much to liven my manuscript. I felt the floor rumble as their 1795-vintage sawmill cranked away under waterpower, and I watched a draft horse "twitch" a log out of the woods.
Writing history, biography, and historical fiction all require being in another place at another time. Museums help take us there.
Illustration from Museum Trip, one of
Barbara Lehman's magnificent
wordless picture books.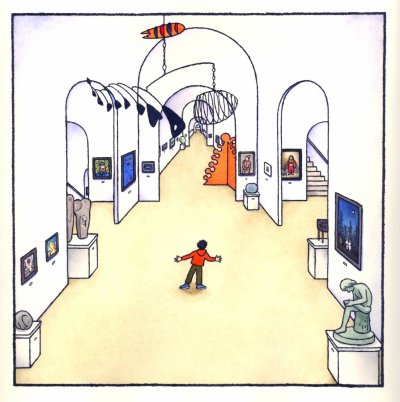 Who needs words? Can't you just feel how lost this boy feels inside the grand museum? In Museum Trip Barbara has included images of many famous works of art. You can see a list of those on her book page.
Barbara won a Caldecott Honor in 2005 for
A Teen's Take on 3 Novels
by Jessica Birchfield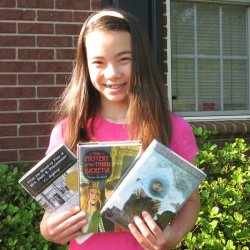 Jessica Birchfield
From the Mixed-up Files of Mrs. Basil E. Frankweiler
by E.L. Konigsburg
Tactful eleven-year-old Claudia Kincaid and her resourceful nine-year-old brother Jamie run away from home by hiding out in the Metropolitan Museum of Art. This is a comical adventure in which Claudia and Jamie become engrossed in solving the mystery of the most recent addition to the museum, an enchanting statue called Angel. In an attempt to discover its history, they find themselves at the doorstep of the sly, all-knowing Mrs. Basil E. Frankweiler. Everything falls together at the end with a satisfying closure.
The Mystery of the Third Lucretia
by Susan Runholt
This fast-paced, exciting story is about fourteen-year-old Kari Sundgren and her best friend, Lucas Stickney. This book describes the friends' escapades as they travel from one art museum to another in Minnesota, London, Paris, and Amsterdam. The two get tangled in a huge international art forgery case and brush with death more than once. In order to solve this mystery, Kari and Lucas must act quickly, use nifty disguises, smart thinking, and teamwork. The reader easily relates to the characters and gets caught up in the thrilling adventure.
by Peter Lerangis
This book is written in an obscure style, creating a mysterious atmosphere. Eight-year-old Eskimo, Minik, along with his father and four other Eskimos, have been shipped from Greenland to be exhibited in the American Museum of Natural History in New York City. Soon foreign sicknesses take the lives of the others, leaving Minik alone. As Minik adjusts to his new life, he learns shockingly that his father's burial was not at all what he had thought it was. In his struggle to find his place in the world and return to Greenland, Minik discovers the courage to live during a hard and prejudiced time.
by Joyce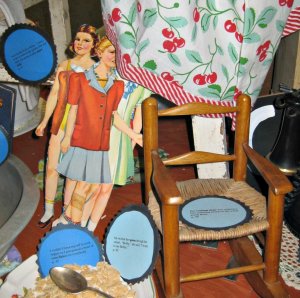 Items that represent my book, BLUE. The blue circles have
quotes from the book.
One way to help students appreciate museums is to have them create one. Pick a topic the students are excited about. A classroom novel or some subject such as dianosaurs should provide plenty of interest. Ask students to bring one artifact that relates to the subject.
Have each student create a fact card with info about the item they brought.

If exhibit is based on a book, have students write a quote from the book that illustrates the item they brought.
Arrange a tour with students from another class, using your students as tour guides.
Another option: Ask other classes to create exhibits, preferably on different topics. Then have a museum day or museum week in which students take a field trip to a museum across the hall!r
Discover the Known & Unknown:
Museums in Your Own Backyard
by Carol
Everybody knows about the "biggies"-- the museums with national and international name recognition. Which ones have you visited?
Then there are museums that are less well known, but you may still have heard of them:
But even lesser known museums are treasure troves of art, history, and science with everything from old photographs, to sports equipment, civil war weapons, and barbershop memorabilia. A good place to start is your local county historical society. Or search under "small museums + your area." There's a good chance you'll discover small venues a short drive from your home.You can also search Museums in the USA by location, category, and content.
You never know what you'll find. I found this listing describing my grandfather in a notebook in the Blanchester Historical Society; a two room museum.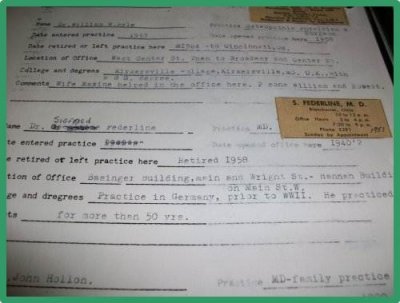 Want to explore a
Writer-in Residence Workshop or Author Visit?
We'd love to hear from you!
We each offer our own author visits or we'll conduct writer residencies together. Contact us and we will design a program that meets your students' needs.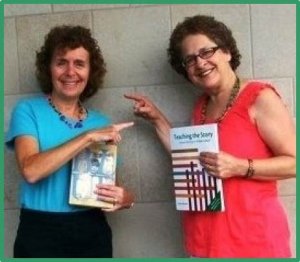 Carol Baldwin
Joyce Hostetter
For best results,
look at
"View as Webpage"
(on pale yellow bar at the top.)
We have four!
To enter the contest just
by May 25
with a promise to tweet, blog, or link to our Facebook page.
The authors and publishers who donated books will appreciate you spreading the news.
by Blue Balliet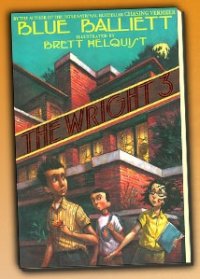 Read a review of this terrific middle grade book on Carol's blog.
by Peter Lerangis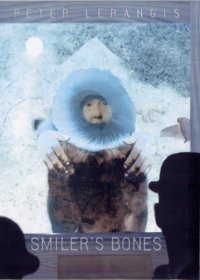 Planning a trip to a museum? Read Carol's blog and get some questions to ask your students to amplify museum learning.
From the previous issue of Talking Story:
Brita Mann won Rapunzel's Revenge
Karla Duff won Resistance Book 1 and Zita the Space Girl.
Anne Runyon won Yotsuba &! and My Boyfriend Is a Monster.
Teaching Graphic Novels and
Goldilocks and the Seven Squat Bears were donated to West Liberty School in KY which was destroyed by a tornado in March.
by Carol and Joyce
A few museums we'd like to visit:
by Joyce
BLUE and Comfort are middle grade historical novels about polio. And Healing Water (also middle grade historical) is about leprosy.
There are museum exhibits related to both these diseases.
The National Hansens Disease Museum in Carrville, LA.

And there's a terrific online exhibit called
You can learn about other diseases at the
Our thanks to Jessica Birchfield, Susan Runholt, Scholastic Books and Joanne Hunsberger for their generous donations of books, writing, and proofreading.
Does Talking Story come into your inbox at an inopportune time? Or get buried in your in-box and you end up forgetting about it? Consider creating a "Talking Story" folder where you file old issues. That way they'll be there when you have time to read, and you'll always be able to view past issues. That works for us!
Look for us again in July when we will feature Picture Books for all ages.