Eighty-one complete CSRT 12-1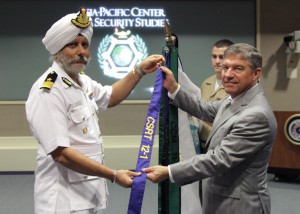 APCSS Director Air Force Lt. Gen. (Ret.) Dan Leaf and senior fellow of CSRT 12-1 Deputy Inspector General Gurrpdesh Singh pose with the ceremonial class pennant at the conclusion of the graduation ceremony.
Eight-one Fellows graduated today from the Asia-Pacific Center for Security Studies' Comprehensive Security Responses to Terrorism (CSRT) Course in Honolulu. The military and civilian participants who attended the four-week course came from 47 countries and territories, primarily throughout the Asia-Pacific region, as well as other far reaches of the globe.
Participating in the CSRT course were representatives from Afghanistan, Australia, Bahamas, Bangladesh, Bhutan, Belize, Brazil, Brunei, Cambodia, Canada, Chile, China, Colombia, Djibouti, East Timor, Fiji, Finland, Hong Kong, India, Indonesia, Jordan, Kenya, Kyrgyzstan, Laos, Lebanon, Malaysia, Maldives, Mauritius, Mexico, Mongolia, Mozambique and Nepal. They also came from Pakistan, Papua New Guinea, Philippines, South Korea, South Sudan, Sri Lanka, Suriname, Swaziland, Tanzania, Thailand, Tonga, Turkey, United States, Vietnam and Yemen. Read more...
Faculty News & Publications
Note: The views expressed in these articles are those of the author and do not necessarily reflect the official policy or position of the Asia-Pacific Center for Security Studies, U.S. Pacific Command, the U.S. Department of Defense, or the U.S. government.
Engineering cooperation
"Military Engineer Support to Security Cooperation Operations" is a new article co-written by APCSS Army Fellow Lt. Col. John Lloyd and Captain Chad Livingston published in the Army Engineer Magazine .
The article looks at ways to improve the current degree of synchronization between various agencies including the U.S. Department of Defense. According to Lloyd, "(agencies) must redefine their roles in security cooperation and develop a 'whole-of government' approach."
What Japan Must Do Now
Japan has made extraordinary progress in recovering from last year's earthquake and tsunami. But will political bickering stop progress in its tracks? That's the subject of a new article "What Japan Must Do Now" by APCSS' Dr. Jeffery Hornung published by The Diplomat.
According to Hornung, "Despite the enormity of the disaster, Japan has made a remarkable recovery over the past year. Still, ongoing problems with Fukushima and debris removal limit the pace of reconstruction. Japanese officials are still debating the lessons learned from this disaster to allow them to be better prepared in future. The fact is that implementation of these lessons learned, as well as the speed of recovery, has potentially reached a limit until some important political decisions are made."
Read the full story online at: http://the-diplomat.com/2012/03/10/what-japan-must-do-now/
Afghanistan and Regional Security
The future of Afghanistan and what might happen in that nation after 2014 took center stage during a three-day conference at the George C. Marshall European Center for Security Studies March 13-15.
"Afghanistan and Regional Security: Current Trends and Future Challenges" included 17 participants from 11 countries including Afghanistan, China, India, Russia and the United States. Also sending representatives were Kazakhstan, Kyrgyzstan, Pakistan, Tajikistan, Turkey and Uzbekistan.
The cosponsored event included seven participants from the Marshall Center, four from the Near East South Asia Center for Strategic Studies, and one from the Asia-Pacific Center for Security Studies. The Army's Foreign Military Studies Office at Fort Leavenworth, Kan., also provided a representative. The conference was almost one year in the making, according to organizers.Read More on the GCMC website
In addition to the courses listed above, there are a number of workshops coming up. Please note that most of these are by invitation only.
DATE

LOCATION

EVENT/THEME

April

8-16

Shanghai, Beijing,

Hong Kong

& Hainan

China

Workshop: China-U.S. Security Dialogues

April

22-28

Harvard Univ.

Cambridge, Mass.

USA

Workshop: U.S.-South Asia Leaders Engagement on Disaster Management

--Multilateral

--Co-hosted with Harvard Kennedy School and the Near East South Asia Center
APCSS hosts a number of Communities of Interest on APCSSLink, also known as GlobalNet:
This communities are open to all APCSS Alumni.
Advanced Security Cooperation (ASC)
May 2 - June 5, 2012
Asia-Pacific Orientation Course (Washington, D.C.)
Apr. 17-19, 2012
Transnational Security Cooperation (TSC) June 25-29, 2012
Recently, APCSS was pleased to host orientation visits by a number of distinguished visitors/groups including:
LTG Francis J. Wiercinski, Commanding General, U.S. Army Pacific
VADM Michael LeFever, Dep Dir for Strategic Ops Planning, National Counterterrorism Center
Ms. Sharon Burke, ASD for Operational Energy Plans & Programs
LtGen Juancho Sabban, Philippine Commander of Western Command
Admiral Lin Jan-yi, Chief of the General Staff, Ministry of National Defense in Taiwan
ADM Cecil D. Haney, Commander, U.S Pacific Fleet
Mr. Tim Kelly, Dir of Special Programs & Technology Integration, OSD-Policy
AMB Eric John, Foreign Policy Advisory, CSAF & Commandant USMC
Mr. Sun Chul Lee, Deputy Minister, Ministry of National Defense, Republic of Korea.
You can find past issues of the APCSS Activities Report and the Military Construction newsletter online here.
Copies are also posted on GlobalNet and APCSSLink.