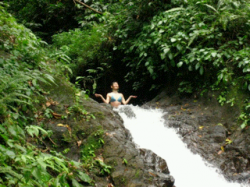 Redefining Longevity
The last week I was teaching in New York prior to attending Level 2 AcroYoga teacher training here now in California, I was exploring Crown Chakra, where we connect to divinity and immortality. My aromatherapy picks for the week included one called Longevity.

It caused me to reflect that from a Crown Chakra perspective, Longevity can mean more than increased lifespan. It can mean also an expanded quality to that lifespan. Beyond that, longevity from that perspective is eternity; it is immortality; it is timelessness.

I see this here in my family of AcroYoga teachers from many continents and backgrounds, exploring practices that open us to the vulnerability, innocence, and spiritual wisdom of the eternal child. At its purest, the soul is both child and sage; ageless and immortal, timeless.

Below is a a lovely article on a yoga teacher who at 80 keeps on embodying and imparting at least those first two aspects of physical longevity to students. As for the third aspect, they, as well as we, have ever before us the opportunity to dip into the consciousness of our timelessness. Try it on for size! Can you find the ageless sage in you?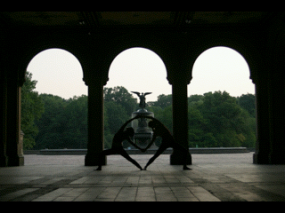 New Website To Come
I am transitioning in mid April from my longtime web host to a new one. My new website, maryaranas.com, will have all the pages up by late April. Meantime, it does have my most updated class and workshop schedule page, so I am providing the link below. The older website will contain my former information still, until end of May.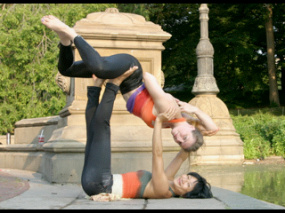 AcroYoga Workshops: 3 Upcoming
Yoga, Sanskrit for "Union," is for me and for many a route for longevity and quality of life.

AcroYoga, the Greek and Sanskrit for "High" and "Union," is for me and many others a challenging path toward higher sensitivity in communication, bravery, trust, and breaking self-imposed limitations. We use partner yoga, acrobatics and therapeutics as our tools for that personal risk and transformation. Along the way, yes, we will get more fit, more exuberant, make new friends; find our worlds upside down in the most surprisingly wonderful and nurturing ways.

If this sounds intriguing, be sure to sign up for a 3-Hour Foundations Workshop or a Foundational Weekend
near you, the best ways to get equipped with safe, skillful, and joyful fundamentals. For an even deeper immersion, look for a full Elemental Immersion such as the one upcoming in May with Jason Nemer and Chris Loebsack in New York City.

At sidebar, you will see links to three upcoming 3-Hour Foundations Workshops I am teaching, as well as the May Immersion with Jason and Chris.

For all AcroYoga events, go to: www.acroyoga.org; for New York, see www.acroyoga.org/nyc or the Facebook page www.facebook.com/acroyoganewyork. These are linked below right.

For my AcroYoga events at any time, click below.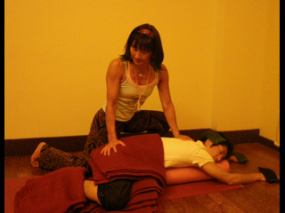 Mother's Day Restorative: May 12
Giving Restorative Yoga is as natural and nurturing for me as mothering a sweetly sleeping babe. Come and be nurtured on Saturday May 12, on Mother's Day weekend, at Pure Yoga Eastside, from 4-6PM. Let the healing power of these restful yoga poses on bolsters and blankets soothe your spirit and system, as we balance all 7 chakras through guided imagery, mantra and yantra, whilst receiving the loving, mothering touch of myself and my assistants. Space is limited so pre-register to ensure a spot.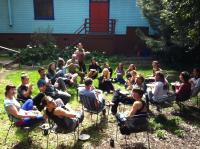 Photo Thanks; Privacy; Reply; Forward
Thank your for your cyber-sangha. As I respect your email privacy, I will never share email lists, and you may unsubscribe at any time, or Reply, or Forward to a friend.

Thanks for photos this issue to: AcroYoga Level 2 Teachers, Patricia Perkins of Tropical Escapes; photographers Michael Sivanataraj St. Cole and Megan Jolly; AcroYogis Chris Loebsack and Greg Franklin; yogi Hiroki Tada.

Om shanti! Maha blessings, mighty peace to you.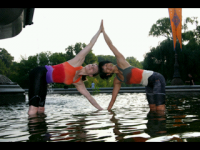 April 7 SoHo: AcroYoga Workshop
Join me and my pal & co-teacher Chris Loebsack as we partner in a 3-hour Foundational offering to the New York area, at the beautiful YogaWorks SoHo studio on Sat. April 7th from 2-5PM. No experience or partner required! We will supply both; you will emerge with a plentitude of both! And so much more besides.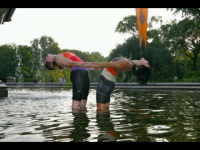 April 28 Chester, NY: AcroYoga Workshop
Those near Chester, NY just 27 miles outside NYC in Orange County, NYT are invited to come and experience AcroYoga from with Chris Loebsack and me at the beautiful Yoga and Body Art Studio, "Body Art by Michelle," Saturday 4/28 from 3-6pm. Pre-register at: 845-782-3263. No partner or prior experience needed.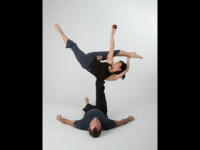 June 3 Sunday: Brooklyn AcroYoga Workshop
Brooklyn Yogis! Wanna become a Brooklyn AcroYogi! Come join us at this brand new rockin' studio, Prema Yoga in Brooklyn, on Sunday June 3. Greg Franklin and I will lead a joyful, enlivening, heart-expanding exploration that will take you into greater heights of awareness, confidence, playfulness and enjoyment of your own body and its potentials! 2-5PM. Pre-register early for $10 discount.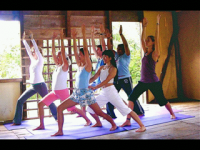 April Classes
I am back in New York City teaching most of my classes weekly in April - in addition to the two AcroYoga workshops in April, the Restorative workshop in May, and the AcroYoga workshop in Brooklyn in June.

The classes at Pure Yoga are:

Eastside:
Mon 10:30 Slow Flow Meditation
Tues 12:30 Restorative
Thur 5:30 Vinyasa L1/2
Fri 5:30 Restorative

Westside:
Thur 11 Yin/Yang
Thur 8pm Restorative
Fri 10:30 Chakra Slow Flow

For more on Pure's beautiful yoga palaces, as one friend calls them, check out the website. Ask me for a guest pass to sample their abundant offerings for a day. Or, just ask to be my guest at one of my classes anytime you desire; I can guest one friend per class.