Fannie Mae now offers Real Estate Professionals with ONLINE Chinese Drywall Inspection training!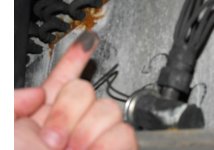 After almost three years of Fannie Mae barely even acknowledging that Chinese Drywall does exist, they are now offering training to Real Estate Professionals on how to identify homes that may have problem drywall.
Our team of experts has reviewed and participated in the online training offered by Fannie Mae and offer the following guidance to Real Estate Agents performing Inspections based on the Fannie Mae Training:
LOOK before you touch!!! Many of the components inspected for Chinese Drywall are dangerous and can cause bodily harm if proper safety precautions are not taken first!

Do Not ASSUME! If you observe darkened copper surfaces in the home, don't automatically assume that it is caused by problem drywall. There are other natural volatile gases that circulate throughout a home and are often accelerated in unkempt homes that can cause affects that "look" like Chinese Drywall, but are not destructive. Only an experienced professional with proper training can tell the difference.

ROTTEN EGGS?? One of the most common MYTHS about Chinese Drywall is the presence of a "rotten egg" odor in the home. Experienced Inspectors and Professionals KNOW that the distinctive odor of problem drywall DOES NOT smell like rotten eggs!

Don't forget the HIDDEN signs of problem drywall! There are more invasive techniques than described within the Fannie Mae training that will help you make an informed decision.
By not following a comprehensive proven protocol for identifying homes with problem drywall, Consumers and Real Estate Professionals are taking great risk in making a decision about a property built since 2001. Kross Inspectors was the FIRST Home Inspection Firm in the Country to offer Chinese Drywall Inspections and has performed over 13,000 to date! The experience and professional training all of our Inspectors undergo has made Kross Inspectors, THE EXPERT when it comes to identification of homes with problem drywall.
For more information, visit www.krossinspectors.com/chinesedrywall or call our Chinese Drywall Hotline at (877) 496-4662.