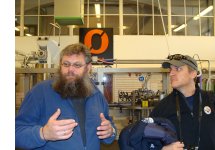 By Owen Ogletree (From the current issue of Southern Brew News)
Collaborate (col•lab•o•rate): to work jointly with others or together, especially in an intellectual endeavor.
Brian "Spike" Buckowski lives in Athens, Georgia and loves The Grateful Dead, Heavy Metal and the Pittsburgh Steelers. Kjetil Jikiun is a licensed airline pilot who hails from frozen Norway, is built like a Viking, wears shorts year-round and enjoys eating boiled sheep's head. What do these two unlikely collaborators have in common? They are fervent craft brewers who worked together last February in the creation of a new beer - Nøgne Ø / Terrapin Imperial Rye Porter.
Spike, the co-owner and brewer of Athens' Terrapin Beer Company, truly enjoys brewing collaborative beers in other countries. The tradition began two years ago in Belgium at the De Proef brewery, and 2011's mutual brew took place at BFM in Switzerland.
"Doing our 2012 international collaboration beer in Norway with Nøgne Ø was great," notes Spike. "It's a rewarding learning experience to watch how other brewers formulate recipes compared to myself. I really think that our Imperial Rye Porter was a fun exercise for Kjetil and I, and I think it's safe to say that we both feel this beer will be something special for both of us and our fans."
Community of Cooperation
Kjetil feels that the craft beer community as a whole must labor together in promoting their flavorful beers, and Nøgne Ø embodies this attitude of openness and cooperation. "We share information on our brewing processes and recipes," Kjetil explains. "Everyone in Norway thinks of us as 'the friendly brewery.' We try to work with other breweries, because this is good for the overall craft beer culture."
Nøgne Ø stands as the pioneering craft brewery in Norway, and the road to building a viable beer culture in the country proved to be anything but easy for Kjetil and his team. Restrictive Norwegian alcohol laws, along with a population enamored with light, continental lagers required Nøgne Ø to focus as much on beer education as brewing.
"We want to make our region understand craft beer, and this really requires us to educate the drinkers here about what we are doing," says Kjetil. "We were the first craft brewery to start in Norway, and so far we have been successful in creating a growing beer culture here."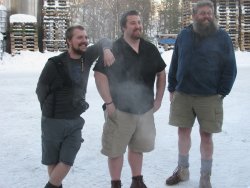 Alex, Charlie and Kjetil brave the
Norwegian cold in shorts!
They look like cell phone bars!
Recipe for Success
Only four years ago, only 40% of Nøgne Ø's beers were sold in Norway, with the rest exported to other countries. Today, Norwegians consume more than 80% of the brewery's production. After just a few years in their current building, Nøgne Ø ran out of space and were forced to move beer storage to a leased barn just down the road and convert a cold liquor tank into a fermenter just to keep up with demand for their popular IPA.
The Nøgne Ø / Terrapin Imperial Rye Porter holds the promise of being equally popular and will most likely sell out in short order. The ale also marks the first time that Nøgne Ø has used spicy rye malt in a dark beer. Spike loves using rye, and his only solid request in producing recipes for collaborative ales is that rye malt must make up a portion of the grist.
Hop to It!
Spike and Kjetil actually decided on which hops to use in the Imperial Rye Porter while mashing in. Amarillo formed the first choice, but a severe shortage of this hop in the U.S. made it unavailable. The two brewers finally decided on a hop bill of Chinook for bittering and Bobek Styrian Golding B from Slovenia and Columbus as flavor and aroma hops. While Kjetil despises math and has developed quite an insightful, artistic way of estimating hop quantities for a brew, Spike grabbed a calculator and crunched the numbers for several minutes. In the end, both brewers were surprisingly close in their hop computations.
As karma would also have it, the day of the Terrapin brew fell very close to the 10th anniversary of Nøgne Ø, and a huge celebration took place in the brewery that evening - including tasty beers from Spike and Kjetil and, of course, boiled sheep's head.
My, How You Have Grown
Nøgne Ø's brewery home for the past seven years has been an attractive, old hydroelectric plant that was built in 1914, but a new, more spacious location has been secured for a gradual move over the next few years.
Growth seems the order of the day for Terrapin as well, with a load of impressive new fermenters being installed along with a state-of-the-art 100 bbl Rolec brewing system slated for installation in August. Spike anticipates, "Terrapin is definitely going to be cranking out much bigger batches this fall."
Collaboration = Creativity
Being innovative and energetic leaders in their two breweries, Spike and Kjetil seem skilled at making thoughtful, independent decisions about brewing schedules, recipes and distribution. However, both personalities meshed extremely well in a spirit of cooperation and creativity during the collaborative brew.
Kjetil's love of craft beer and his brewery makes him a visionary and leader at Nøgne Ø. Throughout the day, employees constantly come to him for decisions and guidance. "If I'm not at the brewery making decisions, then things tend to slow down and crash," he says. "I should feel flattered, but I wish sometimes I could just have some time off."
Participating in the formulation and production of a new collaboration formed an energizing growth opportunity for both brewers. "Naturally, we at Nøgne Ø were excited to have Spike come over," remarked Kjetil. "Terrapin's affinity for Rye was not an oddity for Nøgne Ø, but we were slightly puzzled when Spike suggested imperializing our porter and giving it a 'Terrapin touch.' But this rye porter worked out well and is unlike anything we have brewed before - it surely has its own identity."
UPDATE: The collaboration ale has now made the journey across the Atlantic, so beer fans in the Southeast should expect the beer to hopefully hit shelves sometime in the next couple of weeks! Owen and Spike got to taste the brew at the recent Craft Brewers Conference in San Diego, and are pleased to report that it is a truly magnificent ale loaded with spicy rye notes, rich dark malts and an impressive hop backdrop.