Follow our craft beer adventures on Facebook...
- Tasting Notes: German Brews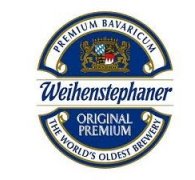 Owen Ogletree, Jeff Rapp, Nick Allen and Thel Melton conducted a blind tasting of a dozen classic German lagers and wheat beers that were poured at the recent Classic City Brew Fest. Check out our summaries...
HELLES
Weihenstephaner Original Premium - sweet, honey-like malt, refreshing and crisp. Very malty with pilsner malt backed by low hop flavor. Our number one pick among the Helles group.
Spaten Premium Lager - light aromas, slight cereal note, mild light malt notes with subdued hops. Very crisp and refreshing. Dryer than the beer listed above. Very clean.
Hacker-Pschorr Munich Gold - light floral and honey notes in the nose, bittering hops are highest of all three. Decent malt complexity for style. Pleasing.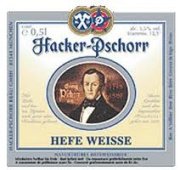 HEFE WEIZENS
Franziskaner Weissbier - rich, sweet malt and clove and banana in the sweet aroma. Thick, long lasting head. Bubblegum notes, some hop presence, nice body for style. Impressive mouthfeel for style.
Hacker-Pschorr Weisse - creamy head, herbal flavor, caramel note, clovey, slight acid note, not as rich as the previous beer.
Tucher Helles Hefe Weizen - very light in color for style, spicy clove aroma, clove flavor with banana pie and bubblegum nuances. Thinner than previous two samples. Refreshing and crisp.
Weihenstephaner Hefe Weissbier - beautiful aromas of clove, wheat and esters. Nice mouthfeel with loads of complexity and grain sweetness. Creamy and smooth with pleasing spice notes and some rich grain hints. Our top hefeweizen of the round, with Franziskaner coming in a close second.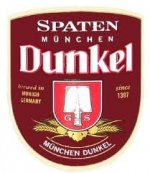 DARK LAGERS
Spaten Dunkel - appealing aroma notes of toast, caramel, rich malt, slight cocoa. Malty with hints of caramel, dark toast and sweet malt, nice malt complexity. Hops are restrained but provide a light balance.
Spaten Optimator - rich malt blast to the nostrils - cocoa, raisin, dark bread, ripe fruits, big malt body with dark toast and caramelized sugars. Rich but very drinkable.
Ayinger Celebrator Doppelbock - very toasty aromas with hints of dark malts and chocolate. Quite chocolately - dark malts abound. Very elegant and flavorful. All three of these dark beers were equally impressive for their individual style.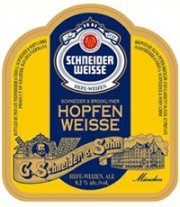 HIGH GRAVITY WHEATS
Weihenstephaner Vitus Weizenbock - creamy head with nose of vanilla and clove. Blonde Weizenbock with hazy appearance. 7 or so SRM. Malty and sweet with layers of clove, banana and vanilla. Big body with creamy sweetness. Our favorite of the two strong wheats.
Schneider Hopfen Weisse - estery, blue cheese hints and piney, resiny, citrusy hops. Very orange, lemon, grapefruit, citrus tones dominate aroma and flavor. Alcohol is there. Interesting hydridization of two different styles. Very IPA-like with Weizen complexity. An interesting speciality beer.
- Last Chance for BEER BINGO Tickets for Sunday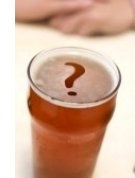 Curious about what distinguishes different beer styles? There's no more enjoyable way to find out than with Owen Ogletree at Beer Bingo this Sunday...
Taste 12 world-class beers and try to match each beer to a styles list at Owen Ogletree's upcoming Beer Bingo. It's a great party, fun beer education, and our beer limerick hints are hilarious! Prizes for top scorers include t-shirts, gift packs, brewery tour passes and free tickets to the Atlanta Cask Ale Tasting! The fun continues after the event with 10% off dinner at 5 Seasons.
Click below to purchase Beer Bingo tickets today at only $18.50 per person. Only eight tickets remain...
ATLANTA: Sunday, June 24, 2012, 3:00-5:30 PM
5 Seasons Westside - 1000 Marietta St. NW, Atlanta, GA
A benefit for Project Safe Women's Shelter. This event is for craft beer education and involves NO gambling. 21 and up. No tickets will be mailed - your name(s) will simply be on a guest list at the door. No refunds on tickets.
- Kiwis, Turtles & Beers - Oh My!
8 Wired Brewery Launch at Trappeze pub in Athens, GA.
From Trappeze...
On Tuesday June 19th, we'll be hosting 8 Wired Brewery of New Zealand and Terrapin Brewery of Athens AND both brewmasters for the launch of 8 Wired in Athens! We'll be pouring six beers from Terrapin (including some very rare kegs we've been cellaring as well as a very rare Terrapin cask ale) and seven beers from 8 Wired starting at 5 pm. From 8 Wired we'll have Haywired, Big Smoke Porter, Hopwired IPA, Tall Poppy, IStout, Ø is for Awesome and the C4 Coffee Brown Ale.
- Featured Beery Links & Events


06/18/2012 - GREEN FLASH BREWING premier at Trappeze Pub in Athens, GA. 5:00 PM.
06/24/2012 - BEER BINGO ATLANTA hosted by Owen Ogletree - 3 PM - 5 Seasons Brewing Westside. Get Tickets.
06/24/2012 kicks off the 15th Anniversary Week of BRICK STORE in Decatur, GA.
10/06/2012 - 3rd annual TERRAPIN HOP HARVEST fest at the brewery in Athens, GA. Details.
07/14/2012 - FUNKY FEST at Aromas Craft Beer & Wine Bar in Athens, GA.
01/26/2013 - ATLANTA CASK ALE TASTING. 5 Seasons & Taco Mac Prado. Tickets are available NOW!
04/07/2013 - CLASSIC CITY BREW FEST. Foundry Park Inn & Melting Point, Athens, GA. Tickets are on sale NOW!
BREWTOPIA EVENTS' FULL INTERACTIVE BEER CALENDAR is always just a click away - featuring the best beer happenings around the Southeast and beyond.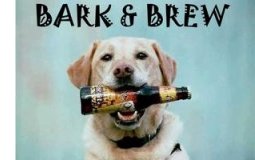 Bark & Brew
Sponsored by Chops & Hops, Brewtopia and Ashford Manor B&B
Our second annual Bark & Brew is a FREE mini beer fest coming up on the spacious grounds at beautiful Ashford Manor B&B in Watkinsville, Georgia on Sunday, August 26, 2012, 4-7 PM. Expect 30+ craft beers to sample, acoustic jazz and an informal dog show with awesome Terrapin prizes (mutts are welcome to enter). The Athens-Area Humane Society will be accepting donations, and a $10 to $20 AAHS optional donation per person is suggested. You must reserve your free spot(s) at the mini-fest through our EventBrite site. Children and social, leashed dogs are welcome, but you must be 21+ to sample the craft beers.
- Not Just Another Brick in the Cooler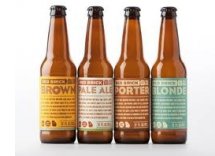 Red Brick Brewing, located at 2323 Defoor Hills Rd. N.W., Atlanta GA, 30318, will open its brewery doors from 5pm to 8pm, Wednesday, June 20, 2012 and invites craft beer enthusiasts in the Atlanta area to become honorary judges at Red Brick's 2nd Annual Employee Brew-Off. "We believe in healthy competition and encourage our folks to exercise their creativity in the brewing process. This contest is a great way to accomplish both," says Bob Budd, President of Red Brick. All competing beers have been personally brewed by Red Brick employees. Who will win? You be the judge!
To learn more about Red Brick Brewing, click here.
- GALS at Classic City Brew Fest
Check out the fun video from the 2011 Classic City Brew Fest featuring the GALS (Georgia Ale & Lager Sirens) organization.
From GALS...
Join the Georgia Ale and Lager Sirens as they visit the 17th Annual Classic City Brew Fest. GALS is a group for women who love craft beer based in Atlanta GA. We have monthly meetings that are educational and women only. Our imbibing events vary from pub crawls to beer tastings/dinners to volunteering for beer fests and other local special events. "Infiltrating the Sausage Fest of Beer" is our motto.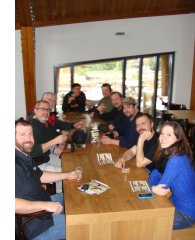 One of the highlights of our annual group European beer journey last February was definitely the tour and lunch at Brewery de Koningshoeven, the only Trappist brewery in the Netherlands. After our delightful walk through the grounds and the brewing facility, we made our way to the visitors center and cafe where we were treated to samples of all the delicious La Trappe beers that are produced at the abbey.
The visit reminded our group of the complexity, elegance and beauty of the ales from this classic Trappist brewery...
La Trappe Dubbel - An authentic Trappist beer with a deep red-brown color. Through the use of caramel malt, the dubbel offers a soft aromatic, caramel-like character.
La Trappe Tripel - A potent and powerful Trappist golden ale with hints of coriander and spicy esters.
La Trappe Quadrupel - The strongest beer from La Trappe, the quad showcases a beautiful amber color, warming malt presence and dark fruit, slightly sweet finish.
From the brewers... "Since 2008, we also age La Trappe Quadrupel in oak barrels. This gives the oak-aged Trappist beer an even fuller taste with a special wooded scent, which is comparable to wood-aged red wine. Starting June 2010 La Trappe Oak Aged is available in bottles of 37,5cl and exclusively for sale at the store at the brewery."
La Trappe Witte - The first and only Trappist white beer in the world, this classic, unfiltered witbier contains wheat malt, aromatic hops, orange peel and coriander. "A fresh thirst quencher with a refined character."
La Trappe Isid'or is a lightly sweet amber beer with notes of caramel malts. "The beer tastes softly bitter and has a fruity aftertaste. La Trappe Isid'or is brewed with the self-cultivated Perle hop. As always, part of the profits of La Trappe will go to the monasteries in Indonesia and Uganda, which were set up by Koningshoeven. The profit of La Trappe Isid'or will go entirely to the co-friars in Uganda. Since they fled the violence in Kenya in 2008, they have had to start from scratch in Uganda. With the profit of La Trappe Isid'or, the community there will be able to build a new monastery and find a new source of income."
For more details on La Trappe, please visit this site.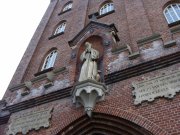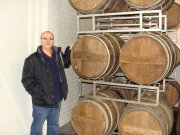 - Every Beer I Drink Gonna Be Funky From Now On
Funky Fest at Aromas in Athens, GA
Saturday, July 14, 2012, 4:00 PM.
Pucker up... It's the 3rd Annual Funky Fest at Aromas in Athens, GA. Pack plenty of antacids in preparation for one of the most sour draft lists yet! With a lineup composed of Lambics, Oud Bruins, Flanders Reds, American Wild Ales, and Berliner Weisses, here are just a few of the specific beers so far...
2009 Professor Fritz Briem 1809 Berliner Weisse, 2010 Dogfish Head Festina Peche, 2010 Ommegang Zuur, 2010 BFM Abbaye De Saint Bon-Chien, 2007 Boon Oude Geuze Mariage Parfait, 2012 New Belgium Tart Lychee
Of course, the most sour and most ridiculously rare kegs are going to be kept a secret until the day of the event. Click here for more.
- 2013 Atlanta Cask Ale Tasting & Classic City Brew Fest Tickets ON SALE NOW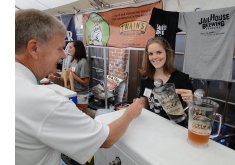 ATLANTA CASK ALE TASTING (Saturday, January 26, 2013) allows attendees to sample almost 40 rare, cask-conditioned real ales from the USA & UK, take home a free Peak Organic pint glass and vote for "People's Choice" cask - all while experiencing one of the Southeast's most highly regarded craft beer events! Delectable food from 5 Seasons and Taco Mac will also be on sale! A benefit for the Atlanta Humane Society. Click here for tickets and full details.
CLASSIC CITY BREW FEST (Sunday, April 7, 2013) offers sampling of around 300 world-class craft beers from around the world, a cask ale pavilion with 15 one-off real ales and live music from Tropical Breeze. A benefit for the Athens-Area Humane Society. Click here for tickets, information and Foundry hotel rooms for Saturday and Sunday nights on our newly revamped BrewFest website. Yes, right now the Foundry is offering deeply discounted hotel rooms for each night of BrewFest weekend! Get a beautiful room at the Foundry for Saturday and Sunday nights, tour Terrapin and Athens' pubs on Saturday, then hit the BrewFest on Sunday!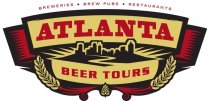 Atlanta Beer Tours aims to connect beer enthusiasts with the best craft beer in Atlanta. Guests will get a behind the scenes look at breweries, brew pubs and beer focused restaurants in and around the metro area on their choice of three tours - the "Atlanta Beer Tour," the "Brew Pub Brunch" or the "Southern Swing." Run by Dan Fontaine, a former stand-up comedian turned award-winning homebrewer, Atlanta Beer Tours promises good times, great beer and lots of fun. Visit www.atlantabeertours.com and use promo code ABT2012 for $10 off each ticket.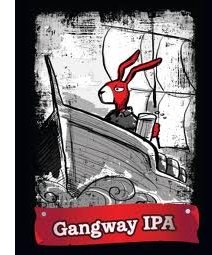 Red Hare Gangway IPA
From our friends at Red Hare Brewing in Marietta, Georgia...
This American style IPA is medium bodied and definitely has that citrus flavor and aroma we've all come to love. Coming in at 6.2% ABV we hope this IPA sets the tone for our brewery in the Atlanta market. Slightly sweet, hopped with Williamette, Chinook, Cascade and Falconers Flight hops, this golden brew is crisp but unfiltered and we know it will leave people thirsty for more.
- Follow Brewtopia Events on Facebook!

CLICK HERE and "like" Brewtopia Events on Facebook and see photos and posts from Owen Ogletree and The Beer Wench as they sip, quaff and sniff craft beer around the world.
COMING UP...
Owen posts from Left Hand, Oskar Blues, Avery and New Belgium breweries in Colorado.
Hear about the amazing cask ales in Leeds, England and the Lake District as Owen once again heads across the pond to sample cask ales this summer.