Hi, Employee Development Systems here. You typically receive a newsletter from us every couple of weeks that talks about accountability, professionalism, effectiveness and other personal and professional development issues, related to the programs we provide.
Well, this time we are on a special mission, and we'd like to ask you to join us.
Thanks to a program sponsored by Chase and LivingSocial called Mission: Small Business℠, your support could translate into a $250,000 grant.
But we need at least 250 votes.
Will you vote for us? We promise that it will on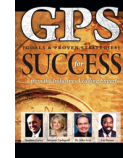 ly take a minute, and if we are awarded the grant, we're giving a copy of our new book, GPS for Success to every one of you who votes.
Please go to www.missionsmallbusiness.com and take these two simple steps:
Thank you! We know that you are very busy, and that is why we're especially grateful that you took the time to open this note. When you have finished voting, click here to let us know where we should send your book!
We love what we do and are grateful to have you aboard.
Warmly,
The EDSI Team