Relive the Moments: A GBF 2012 Retrospective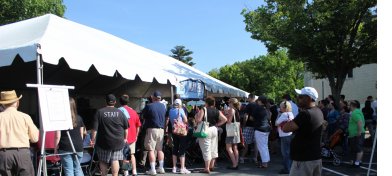 Welcome to the mid-summer edition of the GBF News. Now that we've had a chance to rest, relax and regroup after hosting a spectacularly successful third annual Gaithersburg Book Festival, we wanted to share some of the photos and video segments so you can relive the day… and see what you may have missed.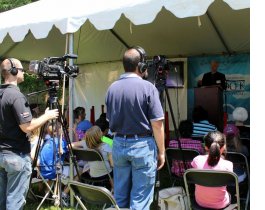 C-SPAN's Book TV broadcast live all day May 19 from the James Michener Non-Fiction Pavilion, featuring authors Ken Ackerman ("Young J. Edgar"), Gary Krist ("City of Scoundrels"), Adam Hochschild ("To End All Wars"), Marc Kaufman ("First Contact"), Cathy Knepper ("Jersey Justice"), David Linden ("The Compass of Pleasure"), Luis Carlos Montalvan ("Until Tuesday"), B. Morrison ("Innocent"), Timothy Noah ("The Great Divergence"), David O. Stewart ("American Emperor") and a panel discussion on "The Future of the Book and Bookstore."
To view all of these author presentations and panel discussion, visit the Book TV website.
Video coverage of other tents can be found on the website of our premier sponsor, Montgomery Community Media. The videos include an overview from the festival, as well as man (and woman)-on-the-street interviews with Orange Prize for Fiction winner Madeline Miller ("Song of Achilles), Buzz Bissinger ("Fathers Day"), Eleanor Brown ("The Weird Sisters"), Clint Hill ("Mrs. Kennedy and Me") and Washington Post fiction editor Ron Charles.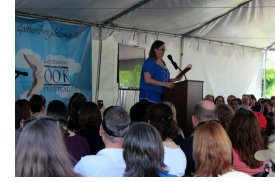 You can also visit YouTube and search for "Gaithersburg Book Festival 2012" to find fan footage of presentations from numerous authors, including Diana Abu-Jaber ("Birds of Paradise"), Keith Donohue ("Centuries of June"), Alex George ("A Good American"), Alma Katsu ("The Taker"), Jenny a.k.a "The Bloggess" Lawson ("Let's Pretend This Never Happened"), Madeline Miller and Brad Parks ("The Girl Next Door").
For photos from the day, visit Bethesda Magazine to get a birds-eye view of what was happening in our featured author pavilions, activities taking place in the Children's Village, performers in the Coffee House and much more.
Arlington, Va.'s Katie Way Takes Top Honors in High School Short Story Contest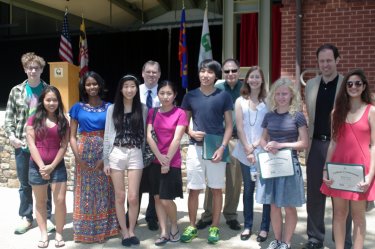 With a creative tale about Arthur the cat's loathing of a kitten that just entered his world, Katie Way (far right), a junior at Yorktown High School in Arlington, Va., was named the winner of the second-annual Gaithersburg Book Festival short story writing contest for high school students.
"Neither of us could believe we selected a winning story that was told from the perspective of a cat," said award-winning mystery author Brad Parks (second from right), who selected the winner along with fellow 2012 featured author Jennifer Miller (fourth from right). "But right away we had to know: Was Arthur the cat going to kill the new kitten? The suspense really pulled us through the narrative and Katie's voice was absolutely charming. I only hope she has more stories to tell."
Coming in second was Halcyon Ruskin (third from right) of Kensington, Md., a freshman at Albert Einstein High School, and third place was claimed by R.E. Potter (not pictured), a homeschooled junior from Delaplane, Va. In addition, this year the festival organizers implemented a voting system on the finalist stories so that festival attendees could vote for a "Fan Favorite." The winner was Andrew Qian (center, holding green certificate) of Boyds, Md., a junior at Clarksburg High School.
The contest drew 141 entries from 14 jurisdictions: Anne Arundel County, Arlington County, Baltimore County, Carroll County, Fairfax County, Fauquier County, Frederick County, Gloucester County, Howard County, Loudoun County, Montgomery County, Prince George's County, Prince William County and Washington, D.C.
Three local volunteers served as round one judges, narrowing the stories down to 13 finalists in a blind judging process. Two published authors, who were featured authors at the festival this year, served as the round two judges: Parks, author of "The Girl Next Door: A Mystery," "Eyes of the Innocent" and "Faces of the Gone," and Miller, author of "The Year of the Gadfly."
The winners' and finalist's stories can be read on the GBF website.
Want to be one of the first to know about the latest news from the Gaithersburg Book Festival and our featured authors?
If so, visit the Gaithersburg Book Festival blog or follow us in the social media universe on Twitter and Facebook.
4th Annual Gaithersburg Book
Festival
____
Saturday
May 18, 2013
____
On the Grounds of
City Hall in Olde Towne Gaithersburg, Md.
Sponsorships: Plan Ahead
for 2013
As your company plans its 2013 budgets and charitable donations, now is the time to consider a sponsorship of the Gaithersburg Book Festival. Sponsorship is a highly visible way to show that you support the community and value the arts.
The festival has quickly become a prestigious annual event, attracting 17,000 attendees in 2012, many of whom are among the region's best-read and most well-educated individuals. Because of the sheer scope of the Gaithersburg Book Festival, the City of Gaithersburg is able to fund only a modest percentage of the event's expenses. For the rest, we rely on the generosity of corporate partners, foundations and individual donors to help us deliver the world-class event that our attendees have come to expect.
To find out more about sponsorship opportunities, visit the GBF website.
Navigating the GBF: Website & Program
The 2013 Gaithersburg Book Festival may be 10 months away, but that doesn't mean we aren't already busy making sure next year's festival is even better.
While we received great feedback on our post-event survey, there are still more opportunities to share your ideas. To that end, we want to know what you thought of our website and print program. What did you like or dislike about each? Did either one help you better plan your day and navigate the festival? Are there improvements you would like us to make?
E-mail us your thoughts at gbfnews@gaithersburgmd.gov.
Share the GBF News with your friends, family and even book club members, so they can stay up-to-date on what we're planning for 2013...and beyond.
Simply click the "Send to a Friend" button at the top of the newsletter to pass along this issue.
To become a regular GBF News subscriber, visit the festival website and click "Join Our Mailing List." Subscribers contact information will be used solely for the newsletter and will not be shared or sold to other parties.
Bethesda, D.C. Residents Win GBF Survey Drawing
Simply filling out a short survey was a winning activity for Tippie Goodson of Bethesda, Md., and Dottie Williams of Washington, D.C. Goodson was the grand-prize winner, receiving a new NOOK Simple Touch with Glowlight, while Williams took home a $50 Politics & Prose gift card.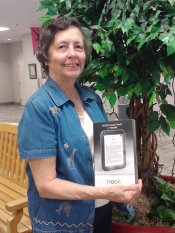 Goodson, who was a first-time festival attendee, said she thoroughly enjoyed the event and has already marked her calendar for 2013. Her favorite part of the 2012 festival was listening to featured author Baratunde Thurston ("How to Be Black"). With her new NOOK, Goodson is now looking forward to borrowing e-books from the Montgomery County Public Library's collection and has made her first e-book purchase: "Bring Up the Bodies" by Hilary Mantel, a sequel to Britain's Man Booker prize winner "Wolf Hall," which she read as part of a book club.