Classical Conferences and Meetings in 2012
CAES - Classical Association of the Empire State
2012 Annual Institute in conjunction with
CAAS - The Classical Association of the Atlantic States
October 4–6, 2012
New York Marriott East Side
New York, NY
Representative: Donald Sprague
Presentations:
"A New Option for Latin 3: Latin for the New Millennium, Level 3" – Donald Sprague (Kennedy-King College, City Colleges of Chicago & Bolchazy-Carducci Publishers)
"Revisiting the Latin Gerund and Gerundive: An Active Approach" – co-presenter Judith Hallett, coauthor of A Roman Women Reader
"Academic Activism in the Classics: The Public University as Springboard" – Judith Hallett, coeditor of Rome and Her Monuments
"Latin on the Rise in New York City's Public and Charter Schools: Challenges and Opportunities" – organizer and presider Ronnie Ancona, author of Writing Passion: A Catullus Reader and Horace: Selected Odes and Satire 1.9, BC Latin Readers editor
ICC – Illinois Classical Conference
75th Anniversary Meeting
October 5–7, 2012
University of Chicago
Chicago, IL
Representative: Laurel De Vries
CAMWS-SS - Classical Association of the Middle West and South - Southern Section
November 1–3, 2012
Florida State University
The Double Tree by Hilton Hotel Tallahassee
Representatives: Bridget (Buchholz) Dean and Donald Sprague
Presentations:
"A New Option for Latin 3: Latin for the New Millennium, Level 3" – Donald Sprague (Kennedy-King College, City Colleges of Chicago & Bolchazy-Carducci Publishers)
"Custom Textbooks" – Bridget (Buchholz) Dean (Bolchazy-Carducci Publishers)
"Caesar's Language of War: Prose Style in De Bello Gallico" – Jane W. Crawford, coauthor of A Cicero Workbook
"Integrating Latin Teaching Standards into a Latin Course" – Thomas J. Sienkewicz, coauthor of Vergil: A LEGAMUS Transitional Reader
"Greece and Africa in Changó, el Gran Putas" – Madeleine M. Henry, author of Horace Satire 1.9: The Boor
AIA/APA – American Institute of Archeology/American Philological Association Joint Meeting
January 3–6, 2013
Washington State Convention Center and Sheraton Seattle Hotel
Seattle, WA
Representatives: Marie and Allan Bolchazy, Bridget (Buchholz) Dean, Donald Sprague
CANE – Classical Association of New England
March 15–16, 2013
University of Connecticut
Storrs, CT
Representative: Donald Sprague
CAMWS – Classical Association of the Middle West and South
April 17–20, 2013
Sheraton Iowa City Hotel
Iowa City, IA
Representatives: Marie and Allan Bolchazy, Bridget (Buchholz) Dean, Donald Sprague
Information taken from www.BOLCHAZY.com

Free Webinars - August 2012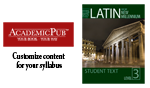 Latin for the New Millennium Level 3 - August 14, 6:00-7:30 p.m. (Eastern Time)
Presented by Don Sprague
Learn about the student-friendly features of this new Latin 3 text. LNM 3 was designed with two groups in mind: (1) those who have begun their Latin studies with LNM and (2) those who used a different series for the first two years of Latin. Bolchazy-Carducci's point person for the LNM program and editor for LNM 3 will provide an overview of the new text and its features.
AcademicPub: Your Book Your Way - August 21, 6:00-7:00 p.m. (Eastern Time)
Presented by Bridget Buchholz
This Webinar will introduce a platform for creating custom textbooks. The Webinar will walk you through the creation of a custom book on AcademicPub, showing you how to include selections from publisher's books, from the web, from online journals, and from your own self-authored Word documents and PDFs.
Click here to register for the webinars
To participate in Bolchazy-Carducci Publisher sponsored webinars you will need high-speed internet access, computer speakers/headphones, current web browser with updated "Flash Player"*, and the link to the webinar virtual meeting space, which is provided in your webinar invitation.
*Current web browsers: Internet Explorer 8, FireFox 3, Google Chrome, Safari 4 or 5. Flash Player available from Adobe.com: http://get.adobe.com/flashplayer/. Consult your school IT dept.
For Professional Development
Participation is free. All webinars provide opportunity for participants to ask questions.
Learn lots – attend each presentation. Sign up for this professional development webinar. Bolchazy-Carducci Publishers will provide documentation for your participation.
Check our website www.bolchazy.com as later this month we'll be posting our fall schedule of webinars featuring several presentations on Caesar.
---
We are planning to publish eLitterae on the first of the month. The September issue will include our regular features: classical tidbits, interview with an author, teaching tips, special discounts, and news on current projects. The issue will also include a report on this year's Medieval Congress and the American Classical League Institute.
We are pleased and privileged to introduce a new columnist for eLitterae—Sherwin Little, past president of and current placement director for the American Classical League and celebrated Latin teacher recently retired from Indian Hill High School, Ohio. Sherwin will pen "Little's Bits" each month.

Bolchazy-Carducci textbooks are now available through GooglePlay and Xplana eBookstores, with more titles going digital every day! Each eBook offers a variety of tools to enhance the learning process, and eBook distributors are continually adding new features.
What do B-C eBooks currently offer?
eBooks have the same content as our traditional books in print, with these enhancements:

• Searchable
• Adjust text size, typeface, line space
• Free samples of books
• Worry-free archive
• Available on any computer with an internet connection
• Readable on:
- the web (via Windows or MAC computers)
- iPhone, iPad and iPod touch
- Android
- eBook Devices: Barnes & Noble Nook and Reader™ from Sony
GooglePlay ebook information: http://books.google.com/help/ebooks/overview.html
GooglePlay ebook store: http://books.google.com/ebooks

• Searchable

• Adjust text size, typeface, line space

•Add notes, customized highlights, and other annotations—all of which are added to the embedded annotation manager for convenient access

• Worry-free archive

• Available on any computer with an internet connection

• Readable on:

- the web (via Windows or MAC computers)

- iPhone, iPad and iPod touch

- Android

Xplana ebook store: http://bookstore.mbsdirect.net/BolchazyC.htm

How do I purchase a B-C eBook?

Simple! When you are browsing through www.Bolchazy.com, any time you see GooglePlay or Xplana eBook logo, click on the logo, and you will automatically be directed to a webpage where you can purchase the eBook.

Can I purchase direct from the distributor?

Yes! If you prefer, you can link directly to our eBook providers' websites and search by title, by author, or by Bolchazy-Carducci Publishers to locate the title you would like to purchase. The GooglePlay ebooks store offers a preview of the book, including the table of contents and select pages.

What hardware is required?

You can read eBooks on a Mac, PC, iPhone, iPad, Android, or a variety of eReaders.

Bolchazy-Carducci
Links of Interest
Preview Bolchazy-Carducci Titles
Preview Bolchazy-Carducci titles before you buy using Google Preview.
---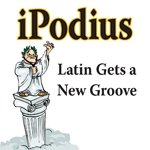 Downloadable Products
iPodius - Bolchazy-Carducci Publishers online shop for: audio, software, video, and a treasure trove of teacher created materials in the Agora.
---

BCP Facebook Fan Page
Become a FAN of Bolchazy-Carducci Publishers, visit our Facebook Fan page for the latest news from BCP.
---
*AP is a registered trademark of the College Entrance Examination Board, which was not involved in the production of, and does not endorse this product
This special issue of eLitterae does not contain all the regular features. Watch for those in the September issue.
This special issue of eLitterae is a tribute to Ladislaus J. Bolchazy, PhD, our beloved Lou, who departed this life in the early hours of July 28. Your colleagues at Bolchazy-Carducci Publishers mourn the loss not only of our founder and president, of our boss but also of our friend, mentor, colleague, and teacher.
While Lou was a strong presence at a myriad of committee meetings held in our library/conference room, remembrances of Lou presiding over a celebratory luncheon or an employee birthday fest in that same room remind us that he was much more than our boss. And, of course, for Allan and Marie, he was father and husband, as well as colleague.
The Bolchazy family and the Bolchazy-Carducci Publishers family have been touched by the many emails, cards, and notes that have paid tribute to our beloved Lou Bolchazy.
Please be assured that we are all committed to Lou's vision and zeal for B-C, its books, and its mission to serve the classics community. In so doing, we build upon Lou's legacy. Requiescat in pace.
Editor's notes in this issue are all printed in italic font.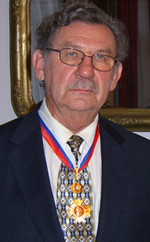 Ladislaus Bolchazy, proud son of Slovakia, receives the
Rad Ludovita Stura III Award at Bratislava Castle on August 31, 2007.
(For more on this award see below.)
Ladislaus J. ("Lou") Bolchazy, PhD
born Michalovce, Slovakia June 7, 1937
at rest Barrington, Illinois July 28, 2012
PhD State University of New York at Albany
MA New York University
BA St. Joseph's College, Yonkers, NY

Highlights from Lou Bolchazy's Life Devoted to the Classics
Lou's teaching experience, which served his publishing endeavors quite well, included Loyola University Chicago, Millersville State University, La Salette College, and Siena College as well as Sacred Heart High School, in Yonkers, NY, and Iona Prep, in New Rochelle, NY.
In addition to a number of scholarly and pedagogical articles, Lou wrote Hospitality in Antiquity (Ares Publishers, 1996). While at Loyola University Chicago, Lou developed a fourteen-part radio series "Myth is Truth," which explored comparative mythology.
Lou served as cofounder and coeditor for The Ancient World (1978–1991) and editor of the Classical Bulletin (1991–2008).
Since founding Bolchazy-Carducci Publishers in 1978, Lou felt privileged to publish over 450 titles. He was especially pleased with such more recent texts as the LEGAMUS Transitional Readers, the Latin Literature Workbook Series, the BC Latin Readers, and the groundbreaking Latin for the New Millennium program.
In 2006, Lou and Marie Bolchazy were the inaugural recipients of the Illinois Classical Conference's Lifetime Achievement Award. They had previously been honored with the Classical Association of the Middle West and South Annual Award in 1999 and with the Classical Association of the Empire State's George Constantou Award in 1998.
The following two reflections were delivered at Lou's funeral service on July 31, 2012.

Eulogy for Ladislaus J. ("Lou") Bolchazy, PhD
Early last Saturday morning, there was a discernible "tremor in the Force" when Lou Bolchazy passed away. Lou himself would be scratching his head at this reference to the Star Wars movies, because popular culture was never his strong suit. But a "tremor in the Force" is to me the best description of the sense that in Lou's passing, something titanic slipped off into grace.
As Bob Meagher, one of Lou's authors, lovingly described him when I wrote to tell Bob the sad news, "Lou was such a large presence, a force of nature, as difficult not to notice as the weather."
Lou loved to engage, interact, question assumptions, play the devil's advocate. And meanwhile, there's a fresh pot of coffee on. Sit down. Let's talk. It's no coincidence that Lou's PhD dissertation was on hospitality in antiquity. Lou was irrepressibly social. He nearly always wanted to talk, and he would talk with anyone about anything, though he had his favorite topics that we all knew SO very well. He bristled at the word "no," which he felt closed down conversation. He had more unbridled enthusiasm for certain subjects than anyone I've ever met. He was a fierce defender of the liberal arts. Cicero's Archias the poet had nothing on Lou Bolchazy. And though he created an amazingly successful publishing company out of whole cloth, at heart Lou was an idealist. When in acquisitions meetings we'd try to confront him with financial realities like marketability, saying that no one would buy the book he was championing, he would insist that people "should" want to buy such a book, that "the world needs this." B-C's recent publication of a new translation of Cicero's "On Old Age" to celebrate Lou's seventy-fifth birthday was one such book the world "needed." It's hard to argue with evangelistic zeal.
Lou was curious about so many things, always asking questions. It was like having around a toddler with a really high IQ. He had his nose into everything, fingers on all the buttons. His was a restless energy. He liked to rummage through every pile to find the hidden gems, and was a visionary with a strong streak of sentimentality; he could never quite let go of anything. He was able to see the real value in every idea, every rejected project, a fact that often bewildered his staff, and kept his own office ever returning, despite other peoples' periodic efforts to help him sort and toss, to something resembling what one sees on those reality-TV hoarder shows. We all knew that if files needed to be purged, it had to be done while Lou was away on a trip, otherwise we'd afterward hear he'd been out fishing through the dumpster to see what we'd tossed. He wanted it ALL. We discovered that one editor, after she left, had kept a file of Lou's less promising ideas, packed to overflowing, and labeled, "Ideas Too Crazy To Consider." But she kept them in a file, because she knew, as we all did, that one day he'd come around asking, "Whatever happened to that book that . . ." He never gave up on anything, or on anybody, for that matter. And we all were beneficiaries of that magnanimity.
Lou was an eccentric's eccentric, and he gathered eccentrics around him. He found the diamond in everybody's rough, and he put up with a lot of rough; in fact he seemed to find rough edges endearing. My Scottie Emma used to come to the office with me from time to time, and although she was a surly, exacting little dog, she wasn't above begging staff members for the treats I kept on the file cabinet that marked the border of where I'd gated her in with me. Lou loved to give her cookies, and he accepted her growling as part of her innate charm. "I think she might bite me," he'd muse; to which I'd reply, not even looking up from my computer screen, "I think you're right: I'd stay back if I were you." Never daunted—by either Emma's or my own lack of receptivity, Lou wrote me a lovely note of condolence upon Emma's passing, which I have kept to this day, in which he called Emma "our beloved mendicant" and "our dear little Cerberus."
Over the years, I came to expect and accept some of Lou's most confounding traits. And I can't say that he didn't give me fair warning. Above all, he was the master of switching horses in midstream. Most of us at B-C liked the predictable comfort of marching a straight line to a set deadline, but Lou loved to saunter in at midpoint—or more often, tantalizingly just before press time—and upset the apple cart (to mix in another metaphor), just so he could engage us in picking up the apples one by one and considering each of them in turn. He was like one of those trickster gods of the myth he loved so much, who had an outfit of two different colors, split vertically down the midline, who would walk in one direction, displaying one color outfit to half of the village, and soon after, walk back in the other direction, displaying the other color to the other half of the village, and leave them to bicker out what they had seen. He loved to kid and tease. He'd deliver a joke deadpan, and wait to see if you "got" it. But he was so good at it that he eventually learned to signal with an obvious eye twinkle that he wasn't serious, like Mozart taking advice from Salieri that he needed to end pieces with an obvious "bang" so dullards would know when to applaud. I think now, in retrospect, that Lou was always, like Sterne's Tristram Shandy, defying the inexorable march of time. When I first came to work for him, he warned, "If you are fond of closure, this is not the place for you."
And although this may make you think we never accomplished anything at Bolchazy-Carducci, we were on the contrary highly productive, and became the go-to publisher for high school and college classics teachers across the country. Some of this was due to Lou's persistence. For someone who had a mind-boggling range of interests, he could also be frighteningly single-minded. One of the things that Lou and I had in common was a love of the first-century BCE Epicurean poet and philosopher, Lucretius. There's a phrase from Lucretius that fits Lou well: stilicidi casus lapidem cavat: "the fall of dripping water hollows out stone" (De rerum natura 1.313). If Lou believed in something, he found a way to get it done. Be first to do it. Do it best. These were things he made us strive for, without ever really saying those words out loud. And as a result, Lou was not one for false modesty: What he loved, he wanted everyone to appreciate and love. He had pride in his company, in Marie and Allan and his whole family, and in his native Slovakia, the heart of Europe.
And so it was a shock to us all when Lou left us so swiftly, and we were not only stricken by the loss, but struck by the courage and grace and calm he showed in his leaving. As I was thinking about what to say here today, I paged through the Lucretius both Lou and I loved. I know you will recognize Lou here in these lines. And since Lou would have wanted it this way—he always wanted his beloved classics presented to as many people as possible, but accessible to everyone—I'll first read Lucretius' lines in Latin, but also give you a translation:
Quo magis in dubiis hominem spectare periclis
convenit adversisque in rebus noscere qui sit.
nam verae voces tum demum pectore ab imo
eliciuntur et eripitur persona: manet res.
"So it is more fitting to observe a man in times of uncertain danger, and in adversity to discern what kind of man he is. For then at last, from the depths of his heart, his real voice is drawn out, and the mask is snatched away: what remains is the reality."
Lucretius De rerum natura 3.55–58 
The image of Lou that will endure for me is one of passionate engagement with life. In many ways, Lou reminded me of the fifth-century BCE philosopher Socrates, who hung around the Athenian marketplace, chatting with anyone who happened by. Socrates thought of himself as a gadfly, a bit of an annoying goad to others, and he followed his own guiding spirit, a divine voice that told him to take the path less traveled, to speak his wisdom to whoever came his way. This kind of courage doesn't often win a person any popularity contests, and that's maybe where Socrates and our personable Lou part company. But Socrates mentioned in his final defense speech, after he learned he was condemned to die, his thoughts about what lay ahead for him in the afterlife: that this would give him the chance at last to talk face-to-face with and question all those wise men who had passed before him, like the poets Homer and Hesiod.
And that's where I imagine Lou is now: sitting in the affable company of his beloved ancient authors, in spirited conversation, signaling for his colleagues not to interrupt their discussion as he rises to put on a fresh pot of coffee.
~ Laurie Haight Keenan
Laurie Haight Keenan first met Lou Bolchazy in 1977. For seventeen years she served as senior editor at Bolchazy-Carducci Publishers before stepping down a year ago. She continues to serve as a freelance editor shepherding along the BC Latin Readers.

Reflections from Lou's Wife
Marie Carducci Bolchazy
Before I give the talk I have prepared, I want to follow up on the reflections just made by Laurie Haight Keenan, our longtime editor. Lou had a habit of reading whatever was in everyone's inbox. Laurie had told Lou that she didn't want him to do this but Lou countered that everything in the office was his to review. One day, Laurie complained to me that she had given Lou a draft of her work that she wanted him to review and that he wasn't getting back to her. I told her to put the draft in her inbox.
Now I will tell you how Lou and I met. It was November of 1964 and both of us attended a meeting of the Newman Club of Columbia University, an organization for Catholic students affiliated with the university. Neither of us was affiliated, but Lou came as a guest of a Columbia University graduate student, and my roommate, who worked for the university, told me I had to go to a meeting because there were such great men there. I followed up and got permission to attend from the person in charge. By Christmas (six weeks later), we got engaged (I had to cancel a New Year's Eve date I had with someone else). Eight months later, we were married. This year we celebrated our 47th wedding anniversary in Las Vegas.
Lou was born in 1937 in Michalovce, Slovakia, a small town not far from the Ukrainian border. He never remembered a time before Nazi occupation. The people in Michalovce were treated relatively well by the German soldiers. He rode on the German tanks and even traded bread with them—they liked the bread his mother baked. In the last year of the war in Europe—1943–44—he faced daily bombing, by the Americans by day and the Russians by night. When the Russians "liberated" the Slovaks, they treated them badly. Lou's father, an American citizen by birth, was desperate to get his family to the States, but he had no money. In 1948, a wonderful Slovak-American woman, Mary Onuska, lent him the money to book passage and got him a job. In 1949, he sent for his family.
Lou's mother and five children, one still in diapers, boarded the Queen Mary. Lou and his brother explored the ship and got into scrapes. Mealtimes were truly exciting. This was a family that had been living on sauerkraut, potatoes, and tea. For their first meal on the ship, they were served pea soup, a favorite of Lou's. After the first serving, he was still hungry and so he ordered another. Just to be safe, he ordered a third serving. And then the rest of the meal was served, and Lou had no appetite left. At the end of the meal, they brought out apples and oranges. This was May and no one ever had apples in May in Slovakia and never had oranges. Lou filled his pockets with fruit while the waiters shrugged. The second night he also filled his pockets with fruit but lost interest in doing so on night three.
When anyone asked Lou which country he preferred, he made the following analogy: Slovakia is my mother, and the United States is my wife.
You just heard Laurie Keenan give a talk about Lou and his profession. Well, there was no real division between his professional and his personal life. One of our editors compared him to Nelson Mandela, who was always thinking about the good of his country. Well, Lou was always thinking about the classics and his publishing company. He did take time off for fishing, golf (he bragged about his hole in one in 1995 and showed all his visitors to Lake Barrington the plaque), and playing Hand and Foot with me, often joined by his sister Janine.
He was a visionary and established Bolchazy-Carducci to publish works that he believed should be in print, and our company, which publishes Latin books is thriving. Latin books are selling well—imagine that! All of our employees are here this morning—we are the only publisher of Latin materials that has Latinists as editors and a Latinist as founder. I want to read a quotation by Professor Gil Lawall to you. He was the president of the American Classical League and authored the Ecce Romani Latin series, which cornered much of the market. Now we have a series that is providing that series keen competition.
Here's what he wrote to Lou:
"Lou, I have always admired and continue to admire your great achievements in publishing for the benefit of classical studies at all levels. I remember when you first began publishing and the items I submitted to you in those early days when both of us were beginning our careers. You developed your publishing program into what must now be the largest, most diverse, most useful, and most influential publishing program for texts to be used in Greek and Latin instruction in schools, colleges, and universities IN THE ENTIRE WORLD. AWESOME!"
Lou had his favorite books. The Epic of Gilgamesh was one, and he took every opportunity to talk about it. Over this past month, we saw multiple doctors, nurses, chaplains, and techs. I had doctors he met come up to me to talk about the Gilgamesh—several are reading it. His 75th birthday present was to publish The Red Flare, a translation of Cicero's essay on old age. Your program shows the cover of this book. Lou was a favorite of the hospital staffs. He joked with them, flirted with the nurses, and discussed his books.
Of course, he wasn't perfect. His family had nicknamed him the absentminded professor. He forgot to pick me up at the airport once. Another time, he made arrangements for us to visit a friend in Montreal. When we got to the city, I asked him for the address. No response. How about the phone number? Not even that. We did finally reach our ultimate destination.
He was also quite messy. Wherever he went, he left something behind. I think he was marking his turf. Every night he would bring home two very large briefcases and bring them back the next morning. But he often couldn't find what he was looking for. They were like the Bermuda Triangle. Our son Allan is now in charge of clearing out his office, but I fear he may need a back end loader.
Lou was generous to a fault. The Greeks talk about the concept of hamartaia or missing the mark. If one has too little generosity, he is stingy. If he has too much, he gives away the farm. We often had visitors from Slovakia visiting us. When Slovakia was still under Communist rule, Slovaks could not get the material goods they wanted there. When they visited us, they bought whatever they could at Kmart or Walmart, but of course then they wouldn't have room in their luggage for all these items. So Lou would give them a suitcase—the only problem was he gave them my luggage. We had a number of arguments about this, and finally I picked up several suitcases at garage sales and let Lou know that these were the ones he could give away. He response was, "But these aren't nice suitcases" and I said "so?"
Once he told me that a professor from Northern Ireland whom he had met at a conference would be staying with us and told me the date she would arrive. He did not have a departure date, but he was certain that she would not stay more than a week. That was important since we were leaving on vacation after a week. I asked what she was like and he said, "I really don't remember her, but she told me I had invited her to stay with us, and so I must have invited her." A lovely lady, she ended up staying two weeks, the second week without us.
Overall, I would say that he was a kind, gentle man devoted to the classical world and to his family. He was loving and forgiving. For the past 47 years we have lived together, worked together, traveled together. I could not ask for more than that. Two years ago, we both joined the Rotary so that we could put service above self, and many of our fellow Rotarians are here this morning.
He was my beloved, and I will miss him dearly.
Lou and Marie went to the American Classical League Institute a couple days early this June so that they could celebrate their 47th wedding anniversary with a special dinner and the Cirque du Soleil's show "O." At ACL, Lou proudly promoted the new B-C titles, especially The Red Flare, G. B. Cobbold's translation of Cicero's De senectute.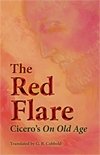 The next two pieces are reflections written by Lou about his youth in Slovakia. The values of self-reliance and hard work learned from subsistence farming and living under first, the Nazi occupation, and then, the Communist occupation, profoundly influenced Lou. One can see these influences in Bolchazy-Carducci Publishers' mission statement: We strive toward excellence in both product and service for scholars, teachers, students, and friends so that, as a community, we may be a link to a better future by bringing forward the lessons of the past.

I saw part of the Second World War at first hand. Among many sorrowful and dreadful nights, I well remember one in particular during the cold winter of 1945. The small town of Hradok, to which we had been evacuated, was in the possession of Germans surrounded by Partisans. At that time not one man was with us in the village, for all of them, including my father, had gone to the mountains in order to escape the Nazis. On this night, as we were sitting in a cold cellar about a block away from our house, everything was unusually quiet. Thinking that nothing would happen, we returned home. Around 12 o'clock, in the peacefulness of the night, suddenly we heard a machine gun blast right before our window. Then there were more shots and we, although still drunk from sleepiness and fright, knew what was going on. The Partisans were coming down from the mountains and were attacking the Germans. House to house fighting is the bloodiest, the most terrifying, and the most reckless type of all warfare. Death lurks around every corner. You don't know where or when you will run into your deadly enemy. He might be waiting for you quietly somewhere in a gutter.
We knew that we couldn't stay in the house, that our only refuge would be a cellar, which we didn't have. But there was a house on the other end of the yard, a house with walls two feet thick and a cellar. So we all sneaked out of our house and were quietly on our way to that place. Suddenly, out of the blackness came the cry "Halt!" We stopped in our tracks. A youthful German soldier eyed us carefully. My baby sister, sleeping in my mother's arms, woke up and began to cry; and my brother and I, scared to death tried to hide under our mother's dress. But this German, God bless him, seeing our misery and helplessness, let us pass.
All during that night the house-to-house fighting fiercely raged on, and several bullets smashed through windows into our rooms. Then right at daybreak, somebody rapped heavily on the door. The landlord didn't know what to do, he was so scared, and so were the rest of us. But, finally he opened the door, and in walked two Russian soldiers dressed all in white. Oh, how we rejoiced when we saw our liberators, when we realized that the war had ended, at least for us. The landlord offered them breakfast, which they refused.
Now everything outside was comparatively quiet. We could hear only heavy artillery behind our barns and the shells swishing over our roofs. Then we stepped outside. What a sight we beheld! The ground was painted red with blood and covered with bodies. Wounded and dying soldiers, still groaning, were sprawled everywhere. Many buildings and barns were ablaze. Then we looked towards the town hall, and there high on its roof were majestically and gloriously waving two flags announcing the victory and deliverance of the Slovak people.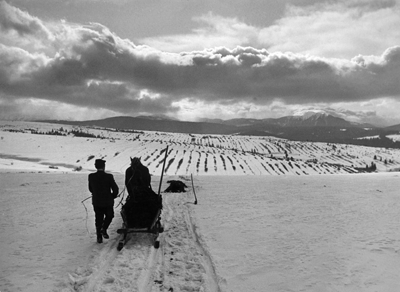 Memories of Growing Up in Slovakia and the Illustrated Slovak History: A Struggle for Sovereignty in Central Europe
I was born in Slovakia in the small village of Michalovce not far from the Ukrainian border. The Laborec River separated my home from the count's palace with hundreds of acres of gardens and groves. Dad had two jobs—he was a carpenter and a farmer: he made all of our furniture, grew much of our produce, and raised enough small domestic animals for meat. Mom and any children age six or older helped out with the fieldwork. I was the oldest of five children and considered myself to be Dad's partner: assisting with the yearly slaughter of a pig, taking the horse or goat to pasture, going to the forest with him in a horse-drawn wagon for wood for the home, and bringing food to him in the fields.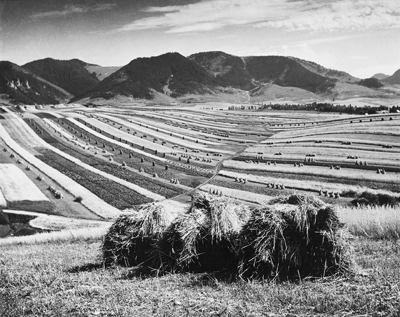 Harvest was a day of rejoicing, as was the day of the slaughter of a pig in December. We would have fresh food, a celebration with family and neighbors. Everyone was involved with the processing of a slaughtered pig. The women carried the intestines, soon to be stuffed with sausage meat, down a steep bank to the river to wash. If the river was frozen, they would bring an ax to cut a hole in the ice and a bucket of hot water to warm their cold hands.
On the eve of All Saints' Day, the entire family would go to the cemetery. The children lighted and re-lighted candles as everyone gathered around the graves of family ancestors. Nights in winter we would gather at someone's home and listen to stories of women who were processing goose feathers in the flickering light of kerosene lamps.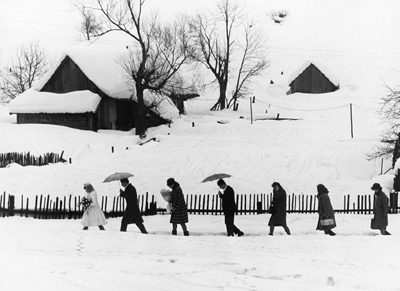 Except for celebrations, both liturgical and such rites of passage as weddings and Christenings, work lasted from waking up to sleeping. Our "vacations" consisted of a change of activity. After all, animals needed to be fed daily; the birthing of domestic animals occurred at any time. Water had to be obtained from the river and heated—there was no running water, no electrical appliances.
Yet, we took time out from work that supplied our material needs to decorate our houses with colored designs and woodcraft, to embroider our special-occasion clothes, to take rest on Sundays at church and among family and relatives. Dad would take time out to make me a scooter—all cut out of wood by hand—and a pair of skis. Fishing poles were cut in the woods, and fishing line came out of Mother's sewing kit. Only hooks had to be bought.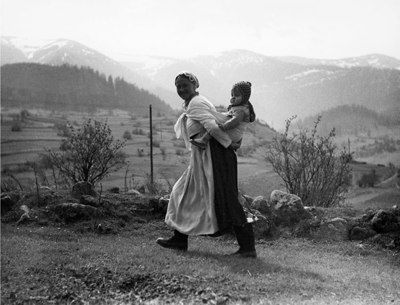 We did not feel poor. We didn't know any better, and there was always somebody worse off than we. Whenever we felt hunger and deprivation, we blamed ourselves for not working harder and planning better. Bread and milk for breakfast, soup and bread for lunch, a baked potato with sauerkraut and a cup of tea made from the flowers of a linden tree for supper, meat soup on Sundays with homemade cakes—that was the general menu. The snacks during summer were eaten in the garden taken from patches of vegetables and fruit trees. Owning a one-room home was a luxury.
It was not all that bad! World War II, however, with diving bombers, evacuation from our home, and a two-year absence of my father in Nazi slave labor made it really bad. But we survived, and now I know that nothing worse can happen to me—sickness and death being two big exceptions. Having experienced this material deprivation, no prospect of a financial disaster worries me much. But a war, whether interfamilial or international, must be avoided at every cost.
I often think about the values we needed to sustain us. What kept us going? Most important was the devotion to family and home. Two other socially revered virtues were self-reliance and hard work. Being in an agricultural society, we were symbiotically in tune with the land, the cycle of growth, and the power of nature. Of course, we also had the promises of our religion.
All this prepared me for my next step, which was to collaborate as editor and publisher on a new history of Slovakia in the context of Central Europe. The Illustrated Slovak History: A Struggle for Sovereignty in Central Europe (Bolchazy-Carducci Publishers, 2006), on which I have been working with a dozen or so colleagues for the past eight years recreated many different sensations—good, bad, and scary—by being reminded of all those names like Franz Jozef, Hitler, Stalin, the "Magyars," and reliving World War II and its aftermath. Doing the translation, writing the notes, creating the index of names, and looking at all those 300+ color illustrations—all this made me feel as though I was evaluating and writing the history of my family and the neighbors where I grew up. Who was right? Who was wrong in all those disputes? Who contributed what to this extended family? These questions made my research wide and compelling about Slovak people growing up in the midst of the giants of Central Europe.
Very proud of his heritage, Lou had established the Slovak American International Cultural Foundation, a not-for-profit organization that published English translations of Slovak literature and promoted Slovak art. The black and white photographs are by famed Slovak photographer Igor Grossman, ©2000 Bolchazy-Carducci Publishers.

On his last day in the office, July 3rd, Lou specifically asked when I was going to include the piece he had written about the two AP* authors—Caesar and Vergil. I had promised him that they were to be included in the next eLitterae. They follow as promised. These reflections demonstrate Lou's abiding belief in the value of the classics and the lessons of the past.

Vergil Topics
arma virumque: The dehumanizing force of arma conditioning the man Aeneas to thrust his sword into the trembling suppliant, asking for existence. Is Aeneas still insignis pietatis?
parcere subiectis et debellare superbos: A Stoic ambivalence toward war and peace; or Rome's rationalization of its imperialism?
Tartarus/Elysium: First ethical promulgation in secular literature: Let's canonize also those who by means of their artes ameliorate the human condition. Tartarus introduces the hamartia of human excess.
pietas: The Stoic filial piety and the burdens of cultural obligations.
Troy burning: A graphic painting depicting Hecuba's pains at the butchering of her son; empathy and sympathy for war's victims and antipathy against war.
The cave: Nuptial music in a cave disrupts Dido's sense of reality: hormonal consummation or wedding?
lacrimae rerum: We suffer the acts of god and the acts of other men; that's the nature of things—the great evils of the universe and our own human condition.
Myths: Book 6, like a well-cultivated garden, produces many different myths: eponymous, aetiological, charter, religious, psychological, origin, the Apollo and Dionysius within us. These myths are created to give divine sanction for the existence of names, the human condition, claims to divine descent, and enhancing nature's fertility.
Choose to read Vergil with your students. For other reasons, see our compendium of essays—Why Vergil?
Caesar Topics
I, Caesar, am ad admirandum, ad imitandum, et ad condemnandum!
Hans-Friedrich Mueller, Rose Williams, and Debra Nousek will lead you and your students to the exciting and new adventure in my magnum opus. You will learn the culture of your predecessors, my style, and, most of all, my modus operandi. Enjoy working with these three scholars and teachers, whose editions of my writings you will be reading.
Vale, Tolle, Lege,
Julius Caesar (deus ex deo et filius dei)
per Ladislaus J. Bolchazy, PhD, Classics
Dear Colleague,
B-C, in its interest to make Caesar in the AP* curriculum more friendly to us, more meaningful, and more conducive to appreciation of the relevant concepts and literary enjoyment, has created three textbooks and vocabulary cards for the new AP* Caesar curriculum.
Caesar: Selections from his Commentarii De Bello Gallico by Hans-Friedrich Mueller provides all the required Latin and English AP* selections with thoughtful and engaging commentary. The Teacher's Guide includes translations, discussion questions for the English and Latin required AP* readings, and "AP Connection" questions drawing parallels between Caesar and Vergil.
Caesar: A LEGAMUS Transitional Reader offers an ideal introduction to reading and appreciating Caesar. Use this Reader to transition an entire class to reading authentic, unabridged Latin. (forthcoming).
A Caesar Workbook gives students in-depth practice with 5–6 exercises for each AP* selection—from the alpha of comprehension to the omega of appreciation. The Teacher's Manual includes four analytical essays that pair Latin passages.
Caesar and Vergil AP* Vocabulary Cards will help your students master the most frequent vocabulary in both the Caesar and Vergil AP* selections.
Best wishes,
Lou
Caesar and Genocide
Yes, Caesar did commit genocide, and that is all the more why Caesar should be read in order to (1) learn how to recognize sophistry and to teach critical evaluation of propaganda; (2) most importantly, identify the likes of Caesar so we and the world may be able to recognize the Caesar in our midst—lest we ourselves become victims to Caesars among us; (3) use Caesar's style—to achieve our higher and more enlightened purposes; (4) compare his ethics with our own—at least the Geneva Convention has promulgated higher standards so that we even in personal conduct abhor intentional pillage of conquered citizens; (5) appreciate the dehumanizing and depredatory force of war such as was found in Caesar's wake; (6) shiver at the abominable destruction of 70 million human beings who recently died in the excruciating rampages of Hitler and Stalin, not to mention the material and psychological costs to the families of those who died.
Yes, not only Caesar but also Alexander the Great, Napoleon, and Pol Pot should be arraigned for crimes against humanity and condemned. Lest we ourselves become victims, let us learn to identify these megalomaniacs among us; also, let's learn from Caesar how to "succeed" better in achieving our humanistic goals. Our students and we ourselves must learn the modus operandi of modern Caesars—Hitler, Stalin, and others of this ilk.
Lou's original remarks did not include the descriptions of the teacher's editions for the new Caesar texts. Lou was very empathetic with teachers who were anxious and concerned about teaching Caesar. Thus, his reflections contain a pitch for B-C's new Caesar texts, which he firmly believed would be a boon to teaching Caesar. Please note that Lou was every bit as proud of our Vergil texts—especially Barbara Weiden Boyd's Vergil's AENEID: Selected Readings from Books 1, 2, 4, and 6, A Vergil Workbook, Second Edition by Boyd and Katherine Bradley, and Vergil: A LEGAMUS Transitional Reader by Thomas Sienkewicz and LeaAnn Osburn. Those, however, he felt folks knew and prized already.

As noted above, the photograph, which we feature in this memorial tribute, celebrates a very proud occasion for this proud Slovak-American Ladislaus Bolchazy.

Rad Ludovita Stura III Award to
Dr. Ladislaus J. Bolchazy
Slovak President H.E. Ivan Gasparovic announced that he had chosen Dr. Ladislaus J. Bolchazy, President of the Slovak-American International Cultural Foundation, Inc. in Wauconda, IL, USA, to receive this Slovak National Award. The ceremony took place at Bratislava Castle on August 31, 2007 on the occasion of the 15th anniversary of the Slovak Constitution. Dr. Bolchazy received a letter from the Head of the Office of the President inviting him to the ceremony. He traveled to Slovakia to accept the award in person.
According to the Law of the Slovak Republic on National Awards, Rad Ludovita Stura is usually given to the Slovak citizen who, in an exceptional manner, by their activities, helped to develop the fields of policy, administration, economy, science and technology, culture, sport and the good name of the country of the Slovak Republic. Dr. Bolchazy, through his Slovak Foundation (SAICF) has sought out Slovak writers and artists and helped them get their works published in English. He believes it is important that being introduced to Slovak culture will enrich the English-speaking world.
For a short YouTube video of the award ceremony, click http://www.youtube.com/watch?v=8Nl0k-IBiBs