Frustrated that authentic English-style cask ales are so rare on this side of the pond? Then be sure to join brewer Mark Broe and Owen Ogletree at Trappeze Pub in Athens on Thursday, September 6 at 6:00 PM for a chance to sample all SIX authentic, sessionable, English-style cask ales from Eagle & Lion brewpub in Griffin!
Look for the popular 4.1% Brass Monkey Mild with sweet hints of chocolate malt, 3.7% Tipsy Toad flavorful session bitter, 4.2% Golden Eagle with rich hop flavor, malty 4.5% South of Taylor Special Bitter, 4.5% single-varietal hopped Yes Face IPA (made with a different hop in each brew) and the 4.8% East Griffin Stout with delightful notes of roasted barley.
Here's the full story on Eagle & Lion...
Eagle & Lion - Born from a Passion for Real Ale
(Published originally in Southern Brew News)
By Owen Ogletree
Almost ten years ago, after a long day at his Lincolnshire U.K. chiropractic office, American-born Mark Broe sat on wooden bench in a personable English pub and sipped a pint of one of the best cask-conditioned ales he had ever tasted. It was an almost transcendental experience, and Mark realized he needed a change. He wanted to create beers like this one.
English cask ale (or real ale) is often quite low in alcohol and contains living yeast cells that provide a soft carbonation in the unfiltered beer once it's sealed inside casks called firkins. A very delicate and vulnerable form of beer, real ale requires thoughtful brewing techniques, timely transportation to the pub and meticulous care by pub owners.
"Living and working in the U.K. convinced me of the value of a fine English ale," says Mark. "But I found that you were likely to get a bad pint at times, so I wanted to improve the beer in the region where I lived."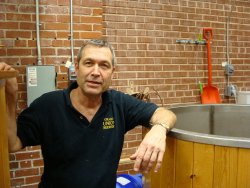 Mark Broe creates cask magic at Eagle & Lion
A Leap of Faith
Mark left the chiropractic field and enrolled in Brewlab's Sunderland Brewing University. "This was truly a leap of faith for me," Mark notes. "There were not a lot of brewing jobs at the time, but I managed to get a job at Grand Union Brewery in London, became the head brewer after only nine months and worked there for almost four years. I think that the secret to great cask beer lies in solid British brewing techniques, and my beers at Grand Union won local, regional and national awards."
Mark decided to move to Georgia in 2007 to look after his aging mother who now lives in the small, historic town of Griffin just one hour south of Atlanta. In 2008 he took a job at Atlanta's Red Brick Brewing where he tried very hard to boost the brewery's interest in cask ales but soon realized that Red Brick's focus needed to remain on growing their brands and keeping up with production.
Surprised at the growing popularity of extreme beers in the U.S.A., Mark recalls, "I came back from England and didn't drink beer above 6.5% alcohol. I think if you drink a lot of strong ales, you can ruin your health. Extreme brewing techniques of over-hopping can also be unpleasant and overwhelming to me. So I decided to try and bring English-style brews to Georgia."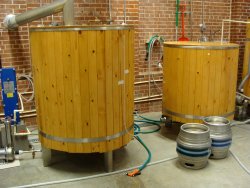 A Cask to Call Your Own
In September of 2010, Mark left Red Brick with the goal of opening his own brewpub to satisfy his craving for English-style cask ales. With the help of his mother and brother Tom, Mark set out to purchase an eight barrel Porter brew system much like the one he used at Grand Union. Porter would not sell and ship a new system to America, but, as luck would have it, Mark spotted a used Porter brewhouse from a defunct brewery in Birmingham, England listed on a website. Mark purchased the equipment (that came with 150 firkins) in April of 2011 - all with no idea of how and where he would establish his brewpub.
As possible locations in Atlanta and Decatur fell through, a resident of Mark's mother's retirement community in Griffin mentioned that the town had recently modified its laws to allow for brewpubs and was looking for someone to open one. As Mark walked through downtown Griffin one day last summer, he spotted a rental sign in the front window of an attractive restaurant that had sat empty for many months. The door was open, Mark walked in for a look, and signed the lease last September.
Birth of a Brewpub
Then followed a six month installation of bar, kitchen and brewing equipment prior to the opening of Eagle & Lion at 414 East Taylor Street. A front patio with picnic tables now leads to a central bar area complete with English handpump beer engines for serving Mark's real ales. A fine selection of bottled and draft craft beers rounds out one of the best beer menus in the area.
When asked about selling English-style cask ales to the locals in Griffin, Mark replies, "It takes some educating on our part, but so far the locals have been very accepting. We sell more of my beers than the other beers we offer, but just like in the U.K., you still have a lot of people drinking light lagers."
Eagle & Lion's cask ales are served in 10 ounce half pints and 20 ounce imperial pints. Mark and his brother Tom still argue about whether or not to serve small flights of his beers. "I don't want to do a beer flight," Mark claims. "I have the strong opinion that a sip doesn't give you an accurate interpretation of what a beer is all about - you should have at least a half pint."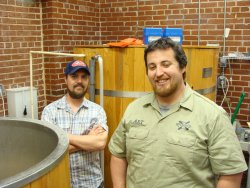 Alex Arthurton & Charlie Meers tour the brewpub
British Brewing Techniques
The brewhouse at Eagle & Lion sits behind glass at the rear of the brewpub and ranks as the only Porter system in America. After a basic infusion mash, Mark drains wort to the boiling copper for a one hour minimum boil with only whole cone hops from the Pacific Northwest and England. With Eagle & Lion's system, trub and hops settle to the bottle of the kettle, and the beer comes off the top into one of two open fermenters equipped with water cooling systems.
10.8 gallon firkins are filled directly from the fermenters, then conditioned at 55 degrees F for a few days in upright position. The upright firkin is then moved carefully to the cooler under the bar and fitted with a cask "widge" float that pulls beer from the top, insuring that the yeast sediment remains at the bottom of the cask.
Eagle & Lion's food items seem worthy of a great ale - with crab cakes, cheddar & ale soup, fresh Alaskan cod fish & chips, and daily chalkboard specials highlighting the compact, yet appetizing menu.
What constituted the most rewarding aspect of opening Eagle & Lion for Mark? "Drinking real ale here in Griffin," he says. "It worked out exactly as I planned."