Security Sector Development
The Asia Pacific Center for Security Studies together with the Indonesian Ministry of Defense and the Indonesian Defense University co-hosted a Security Sector Development Workshop in Jakarta, Indonesia Sept. 11-12 with the theme of "Building Consensus on Priorities in National Security Sector Development in Indonesia."
U.S. Ambassador Scot Marciel was in attendance as Indonesian MoD Secretary General Air Marshall Eris Herryanto opened the workshop. In his remarks, the Secretary General explained that the workshop will not only enhance the understanding on national security, especially on the comprehensive management system in the context of democracy country, but also function to increase the readiness to overcome threats Indonesia is currently facing. Read more...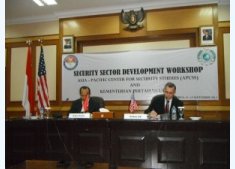 Indonesian MoD Secretary General Air Marshall Eris Herryanto (left) and U.S. Ambassador Scot Marciel open the workshop.
73 Fellows complete Comprehensive Crisis Management Course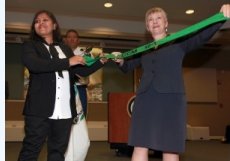 Seventy-three military and civilian government leaders from 32 countries, territories, graduated September 18 from the Asia-Pacific Center for Security Studies "Comprehensive Crisis Management Course."
Attending the regional security course were representatives from: Australia, Bangladesh, Bhutan, Cambodia, China, Fiji, Guatemala, India, Indonesia, Kiribati, Lebanon, Malaysia, Maldives, Mauritius, Micronesia, Mongolia, Nepal, Pakistan, Palau, Papua New Guinea, Philippines, South Korea, Sri Lanka, Taiwan, Tanzania, Thailand, Tonga, Turkey, Tuvalu, United States and Vietnam. Read more....
Indonesian Maritime Security Workshop
APCSS faculty member retired U.S. Navy Capt. Carleton Cramer represented APCSS at the Indonesian Maritime Security Workshop held in Jakarta, Sept. 24-26, 2012.
The workshop focused on improving interagency connectivity to enhance Maritime Security. Hosted by the Indonesian Navy, the workshop included almost two dozen ministries/agencies with the majority of the 89 participants being senior Indonesian Naval Officers. Significant participants included the Indonesian Air Force and Army, Maritime Security Coordinating Board, Ministry of Transportation, Sea Transportation Directorate, Ministry of Fishery, Ministry of Environment, Marine Police, and the Indonesian National Shipping Association. Also in attendance were representatives from U.S. Embassy Jakarta, U.S. Pacific Fleet and the Joint Interagency Task Force West (JIATF).
Cramer delivered a presentation on U.S. interagency experience and served as the facilitator for a panel discussion.
Faculty News & Publications
APCSS Director Lt. Gen (Ret.) Dan Leaf recently spoke to the U.S.-Indonesia Society in Jakarta about the value of soft power. Read more at: http://us.dunia.news.viva.co.id/news/read/350633-indonesia-kian-andalkan-soft-power
He recently also spoke about the importance of diversity to Air University students. "When we present the instruction, the diversity is real. It's not just a U.S. course. We're not just preaching from an American perspective. That diversity brings an openness and willingness to listen," he said.
Leaf also touched on some of his responsibilities as director of APCSS and how it coincides with the center's mission of promoting the peace and stability of Asia- Pacific through education and networking of security officials and the community. Read the full story at: http://www.maxwell.af.mil/news/story.asp?id=123320087
The September issue of Pacific Affairs includes an article co-authored by APCSS professor Shyam Tekwani. "Shutting Down the Mobile Phone and the Downfall of Nepalese Society, Economy and Politics" explores how an 88-day shutdown in mobile phone service in Nepal as part of an effort to curb violence contributed to increased public discontent. Authors Tekwani; Peng Hwa Ang, Nanyang Technological University; and Guozhen Wang, Zhanjiang Normal University, Guangdong (China) review the importance of communications in today's environment. According to Pacific Affairs editors, the authors conclude that "the mobile phone is so interwoven into modern life that without it, we feel isolated, insecure and angry, to the point of toppling a king."
Dr. David Fouse was interviewed by Voice of America on the Japan-China islands dispute. Click here to read more.
During his recent travels, Dr. Scott Hauger did a climate change & security presentation at the APEC Climate Center and the CAREERI center in China. Click here to read more.
He also did a presentation and mini-seminar on Climate-related Global Change & Environmental Security at the Asia Pacific Network for Global Change Research Click here to read more.
APCSS' Dr. Jeffrey Hornung wrote an Op-Ed for the Diplomat about the South Korea-Japan island dispute. Click here to read more.
Recent/ Upcoming Workshops
Maritime Security Challenges (MSC) 2012
Oct. 1-3, 2012 in Victoria, BC, Canada
Maritime Security Challenges (MSC) 2012, the 5th iteration in the successful MSC conference series, took place in Victoria, BC, Canada from Oct. 1 - 3, 2012. MSC 2012 was presented by Royal Roads University in cooperation with Maritime Forces Pacific of the Royal Canadian Navy and the Asia-Pacific Center for Security Studies. APCSS professors Dr. Justin Nankivell and Ms. Jessica Ear led panel discussions. For more information go to: http://www.mscconference.com/
Workshop: U.S. Strategic Rebalance: Asia-Pacific Prospectives
Oct. 23-25, 2012 in Honolulu, HI
This workshop will focus on key considerations and opportunities associated with the United States' strategic rebalance toward the Asia-Pacific region. Selected policy/flag level representatives from U.S. treaty partners and other key countries – including China, Russia, and India – will discuss the rebalance from the perspectives of defense, development, and diplomacy. Participants will be policy/flag level representatives from government, academia, media, private sector and NGOs in the Asia-Pacific region -- including designated U.S. Defense, State and USAID officials. While all participants are aware of the rebalance announcements, the workshop provides an opportunity to examine the context, intent and implications of rebalancing across the region. As other countries also rebalance to and within Asia, how do their actions affect the US effort? Beyond the initial announcements, what second-order actions and cooperative efforts should be considered? How should those plans be developed?
Advanced Security Cooperation (ASC)
Sept. 27 - Oct. 31
Australia Command and Staff College-APCSS Joint Seminar on Global Security Architecture
Oct. 9-10
Workshop: U.S. Strategic Rebalance: Asia-Pacific Prospectives
Oct. 23-25
Recently, APCSS was pleased to host orientation visits by a number of distinguished visitors/groups including:
- General Kwon Oh Sung, Deputy Commander ,ROK-US Combined Forces Command
- Dr. John J. Hamre, President & CEO of CSIS
- Amb. Peter Bodde, U.S. Ambassador to Nepal
- Amb. Doria Rosen, U.S. Ambassador to FSM
- Amb. Michele J. Sison, U.S. Ambassador to Sri Lanka and Maldives
- Paul Mayer, DCM, U.S. Embassy - Ventiane, Laos
APCSS hosts a number of Communities of Interest on APCSSLink, also known as GlobalNet:
These communities are open to all APCSS Alumni. Please note you must be logged onto APCSSLink for these links to work properly.