U.S. Strategic Rebalance: Asia-Pacific Prospectives
Workshop: U.S. Strategic Rebalance: Asia-Pacific Prospectives
Workshop participants discuss the rebalance in APCSS' new facility Maluhia Hall.
APCSS hosted a workshop on key considerations and opportunities associated with the United States' strategic rebalance toward the Asia-Pacific region October 23-25 in Honolulu. Selected policy and flag level representatives from U.S. treaty partners and other key countries--including China, Russia, and India--discussed the rebalance from the perspectives of defense, development, and diplomacy. Participants included policy/flag-level representatives from government, academia, media, private sector and NGOs in the Asia-Pacific region. More at www.apcss.org
Advanced Security Cooperation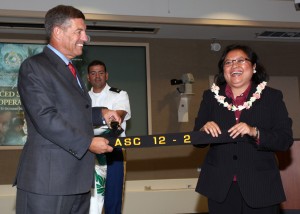 Ninety three senior military and civilian government leaders from 34 countries, territories, and one international organization graduated October 31 from the Asia-Pacific Center for Security Studies "Executive Course: Advanced Security Cooperation."
Attending the regional security course were participants from: Afghanistan, Australia, Bangladesh, Cambodia, Canada, Chile, China, Colombia, Timor-Leste, Fiji, India, Indonesia, Japan, Laos, Malaysia, Maldives, Marshall Islands, Mauritius, Micronesia, Mongolia, Nepal, Pakistan, Palau, Peru, Philippines, Republic of Korea, Sri Lanka, Taiwan, Tanzania, Thailand, Tonga, United States, Vanuatu, Vietnam and the Association of Southeast Asian Nations. Read More...
Maritime Security Challenges (MSC) 2012
Maritime Security Challenges (MSC) 2012
Maritime Security Challenges (MSC) 2012, the 5th iteration in the successful MSC conference series, took place in Victoria, BC, Canada from Oct. 1 - 3, 2012. MSC 2012 was presented by Royal Roads University in cooperation with Maritime Forces Pacific of the Royal Canadian Navy and the Asia-Pacific Center for Security Studies. APCSS professors Dr. Justin Nankivell and Ms. Jessica Ear led panel discussions.
The purpose of the workshop was to bring together maritime security practitioners, academics, and security operators from around the world to discuss contemporary maritime challenges. Senior attendees included the First Sea Lord and Chief of Naval Staff, Royal Navy (UK); Commander Royal Canadian Navy; Chief of Naval Operations, Colombia, alongside approximately 20 2- and 3-star retired and serving naval operators from Canada, the United States, the United Kingdom, and Asia.
Conference topics included: the role of aircraft carriers in global security; decision-making in crisis situations; the illegal movement of people and illicit cargoes at sea; navies in the current age of austerity; security issues in the Gulf of Guinea; maritime applications of unmanned and autonomous vehicles; and shipbuilding and future naval requirements
APCSS supported the workshop by contributing two SMEs as moderators and providing two APCSS alumni as SMEs (Dr. Probal Ghosh - India; Colin Smith - New Zealand) to demonstrate the role of APCSS' Communities of Interest as a continuous resource for connecting security practitioners across the region.
Joint Seminar on Global Security Architecture
APCSS recently concluded a special Joint Seminar on Global Security Architecture with the Australian Command and Staff College (ACSC).
The four-day multilateral seminar was held Oct. 9-12 with 11 international students as part of the Global Security Issues elective of their ACSC course. The goals of the seminar were to gain a better understanding of the nature of post-Cold War power shifts in the international system; identify common approaches to dealing with traditional and transnational security challenges in the Asia-Pacific region; develop critical thinking and analytical skills in national, regional and global security issues for up and coming leaders and policymakers; and understand capabilities, organizational structures and roles of the military forces in other nations.
Faculty News & Publications
New Zealand Defense Force Command and Staff College-APCSS Joint Seminar
Nov. 5-8 in Honolulu
This four-day seminar will serve to inform up and coming New Zealand officers of U.S. national security, defense, and counterterrorism strategies. The NZDF CSC will bring its current Staff Course of 50 (including some international students) to APCSS, as part of the Global Security Issues elective of the course. The goals of the seminar will closely resemble the program done for Australia the month prior.
On November 17, 2012, we will be performing some updates to the APCSSLink system notifications. Regardless of the current Notifications settings in your profile, ALL members will have their notifications reset to "weekly" for all groups, events and threads in which you are subscribed.
Once the update has occurred, this means you will receive ONE "Weekly Digest" email with links to all of the updates for the centers, groups, events and posts in which you are a member that occur through the week.
If you wish to change your settings, AFTER 17 November 2012, logon to www.apcsslink.org and follow these steps to make changes and customize your Notifications settings:
1. Select "My Profile"
2. Select "Notifications" in the left sidebar menu
3. Change any Notifications as desired
4. "Save" your changes
If you need help setting your notifications, go to https://www.apcsslink.org/help-page/notifications
New Zealand Defense Force Command and Staff College-APCSS Joint Seminar
Nov. 5-8
Transnational Security Cooperation (TSC) 12-2
Dec. 3-7
Mobile APOC
Dec. 11-13
Joint Base Lewis-McChord, Washington
Recently, APCSS was pleased to host orientation visits by a number of distinguished visitors/groups including:
- Amb. Dan Mozena, U.S. Ambassador to Bangladesh
- Amb. David B. Shear, U.S. Ambassador to Vietnam
- Amb. Mary Burce Warlick, U.S. Consul General, Melbourne
- Major General Chien, Director, Vietnamese MND's Institute for National Defense Strategy
- Indonesian Training and Doctrine Command
- Gen. Herbert J. "Hawk" Carlisle, Commander, Pacific Air Forces
- LtGen Terry G. Robling, Commander, Marine Forces Pacific
- Maj Gen Kendall P. Cox, Deputy Commanding General for Military and International Operations, U.S. Army Corps of Engeineers
- Medal of Honor Society convention attendees
- CAPSTONE Fellows
- Defense Orientation Conference Association
APCSS hosts a number of Communities of Interest on APCSSLink, also known as GlobalNet:
These communities are open to all APCSS Alumni. Please note you must be logged onto APCSSLink for these links to work properly.