We deliver plants up to four hours away from our nursery for a distance-based delivery fee. Share the delivery fee with your friends or neighbors and get a discount by arranging a group order!
See our curriculum of classes on the website. Bring Chuck in for a private consultation on any of these topics or arrange for a small or large group class. More info? Click here.
With a UPN gift certificate, the recipient can get just what they want when they are ready to plant.
Or, let your friends and family know that you'd like a UPN gift certificate for a special tree, bush, or other useful plant.
Gift certificates are available in any denomination of $5.00 or more. We will send a paper certificate in the US mail. If you prefer, we can send a PDF file that you or your recipient can print.
You can pay for gift certificates with a credit card through our secure website, or contact us at info@usefulplants.org or (828) 669-6517 for other options.
We're thrilled to offer the following videos:
To order a DVD containing the Plant Jam videos, see our website.
Facebook
Useful Plants Nursery is on Facebook! Be a friend and/or fan, hook up with other Useful Plants people, and share your stories.
Useful Plants Nursery is a small, permaculture-based nursery specializing in useful, phytonutritional, food, and medicine plants well-adapted to our Southern Appalachian mountains and surrounding bioregions. Our plants are grown without the use of synthetic pesticides at our nursery located at Earthaven Ecovillage.
Useful Plants Nursery is owned by Chuck Marsh and Debbie Lienhart, and operated with the help of Troy, Liz, Lily, Lewis, and Gabriel.
I believe that growing your own food and medicine plants is a vitally important strategy and practice for regaining control over our collective and personal lives, our health, and our individual and bioregional economic well being. Our nursery is dedicated to putting those beliefs into practice and truly creating "Liberation through Abundance" as we serve your needs for healthy, useful landscape plants, and work together to reweave the web of life.
-- Chuck Marsh, nurseryperson, permaculture designer, bioregional inhabitant
UPN is a North Carolina certified nursery.
To see a full list of our plants, click here.

111 Another Way
Black Mountain, NC 28711
828.669.6517
info@usefulplants.org
Planning for the new year
We can't believe the year is almost over! At the nursery, we're busy protecting the plants from winter weather, potting plants for next summer, and looking forward to spring events.
In early January Chuck has a few consulting slots available if you want help planning for your future abundance. In mid-January, he's heading off to do some Permaculture projects with his friends at Source Farm in SE Jamaica, and indulge in some tropical fruit and coconut consumption while he's at it. He'll be away for about a month. Contact Chuck at 828-669-1759.
February 8 & 9 Debbie is taking the Useful Plants on the road to the Virginia Association of Biological Farming conference in Richmond, VA. This is the farthest northeast we plan to travel this spring and there will be plenty of space in the van. If you are on the way or want to meet in Richmond, we can bring plants for your yard even if you aren't going to the conference.
March 9 & 10 Chuck and Debbie will be teaching at Organic Growers School. Registration is open. We'll bring the plants too!

European Hazelnuts – plant of the month
by Debbie Lienhart, Nursery Manager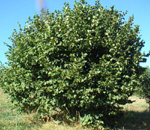 We looove hazelnuts for home gardens. The plants naturally grow to 12-20 feet tall but commercially are kept to 8 feet for easier picking. They can be grown as a single or multi-stemmed tree or left to form a thicket, making an effective screen. They are a useful companion in orchards because they are nitrogen fixers. The wood is highly valued for crafts because it is tough, flexible, and durable, and is also used for living fences.
European hazelnuts have been bred for improved nut quality and the varieties we carry have also been bred to be immune or resistant to Eastern filbert blight. Most varieties are hardy in zones 5 - 8 and grow best in well-drained loamy soils. They grow in full sun to part shade.
Hazelnut pollination is more complex than most of our Useful Plants. Hazelnuts have both male and female flowers, and are pollinated by the wind. To keep a tree from pollinating itself, the female flowers will not be pollinated by pollen that is too similar, making the varieties incompatible. In addition, the male and female flowers open at different times, so the pollination can be one sided. The plants start forming catkins, which are the male flowers, this time of year. In the spring the pollen ripens and small purple female flowers bloom. Some varieties, such as Halle's Giant, have been bred for an extended pollen time.
The plants are relatively disease resistant, though the leaves are favored by Japanese beetles. The biggest pests are squirrels, but you can out-smart them by harvesting the nuts up to a month ahead of time and letting them ripen in a squirrel-proof area!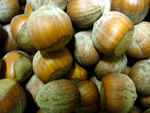 The trees usually start producing within a couple years of being planted. Hazelnuts are especially valuable because of they are high in mono-unsaturated fatty acids, such as oleic, as well as the essential fatty acid linoleic acid. They are also rich in minerals, folate and vitamen E, and are gluten free. They are especially good with chocolate!
This year we have have a great supply of European hazelnuts. For more information, see our website.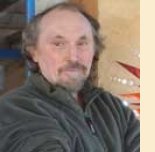 by Chuck Marsh, UPN Founder
The weather continues to be favorable for planting trees and large shrubs. Around here we can plant until the ground freezes or is too wet to be workable. Some years we can plant all winter!
If you haven't done so already, it's time to think about preparing plants for winter. The coldest times are usually in January and February in this area. In addition to touching up the mulch, which I covered last time, it's time to protect figs and other cold-sensitive plants.
Check out our videos for a few options:
We have the winter protection blankets in stock again. These work great and are what I use on my figs, citrus, and pomegranates. They're a 6 oz. spun polyester fabric, which is a lot thicker than anything we've found in local garden centers.
Should I be doing any pruning this time of year?
I'd only prune off any dead, diseased, or particularly weak branches right now. However, at this point, I'd wait to do any major pruning tasks on trees and shrubs till December or when your plants have been fully dormant for a month or so. There are always exceptions of course.
Don't prune marginally hardy plants during winter.
Don't prune cornelian cherries when they're dormant.
Wait till peaches are just sprouting new leaves in the spring to prune them.
Doing the first cut on blackberries and raspberries this time of year makes it a lot easier to work around them. Just know you're going to have to cut off any additional cold damaged tissues in late winter, so leave the stems a little longer than they will end up later. This holds true for any tender tissues cut this time of year. Expect some dieback and compensate for it.
If you're growing your trees or shrubs by managed coppicing, cutting stems back early in the winter will encourage better re-sprouting of vigorous young stems by giving dormant basal buds longer to develop before spring.
Getting after those cane borers!
If you have cane borers in your raspberries or blackberries, this is a good time to get those buggers out! The adults lay their eggs on the stem and the larvae bore in. They don't generally carry disease, but they reduce plant vigor and yield, and will weaken the stems at that point. Just prune out that section and destroy it by burning it, burying it, or sending it out with the trash. The rest of the cane can be cut into small pieces and added to mulch, especially around fruit trees.
For photos and more information, see the NC State website.
Organic fruit research recordings
I found this great website with free recordings of presentations from the 2nd International Organic Fruit Research Symposium in Leavenworth, Washington this June! Check out their website for 55 recorded presentations on a variety of organic fruit production and research topics.