ADD THIS TO YOUR 2013 ADVERTISING BUDGET FOR RESULTS!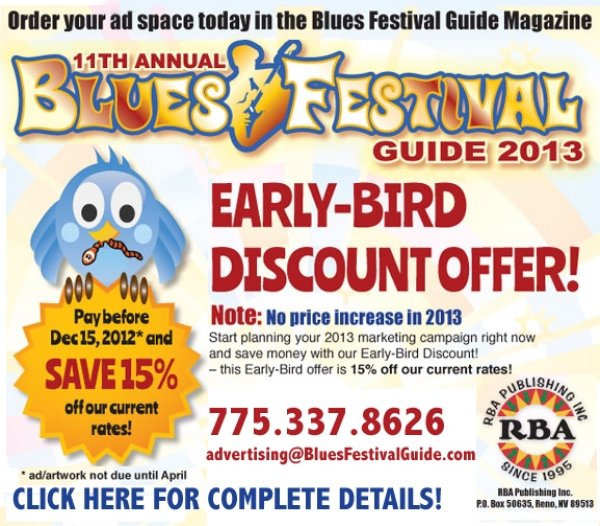 __________________________________________
BRING IT ON!... Send us your cool photos that display the Blues festival Guide magazine! We're so proud to be able to share the annual magazine with you for 10 years now! We'd love to see and share you enjoying it and helping spread the good word!
Send your BFG shots with subject, location, date and photo credit to editor@bluesfestivalguide.com
__________________________________________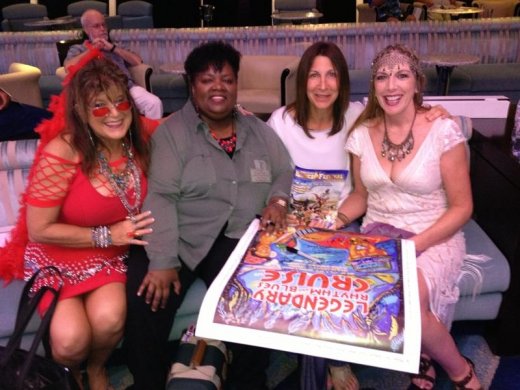 Michele Lundeen (our Editor), Sista Monica, Deanna Bogart, and Kaati (our Publisher). Taken at the autograph party, Nov 1, onboard this week's
Legendary Rhythm & Blues Cruise
Hi from the Legendary Rhythm & Blues Cruise aboard the Celebrity Summit!
Today (Thursday) is Day 5 of this fabulous 7-day cruise that started in Puerto Rico last Saturday and brought us to Dominica, Martinique, Barbados and today, St. Lucia. The shore excursions are amazing (volcanoes, rum factory tours, botanical gardens, fishing, snorkeling, etc.), but the party is aboard the ship!
So much music! Which bands/acts do we like best? There is no way to choose. Imagine dancing out under the stars on the pool deck to a Pro Jam with Lil Ed, Nick Schnebelen (from Trampled Under Foot), Shane Dwight, Deanna Bogart, Earl Thomas, our very own, Michele Lundeen, and more.
My favorite is to sit in the big showroom and get comfy in a velvet-upholstered booth and watch Bobby Rush or Ronnie Baker Brooks, Samantha Fish or Sister Monica.
Or at the late-night piano bar with a glass of wine in your hand can be a relaxing way to watch Leon Blue, Victor Wainright, Mitch Woods. Now the piano bars have turned into Pro jams as well.
The challenge is to see all the musicians in one week (they play multiple times so you just have to schedule yourself carefully). Eating takes up a lot of time because the food is plentiful and delicious.
Each night has a different theme night for costumes: Carnival, Pirate, Halloween, Soul Night, Put a Spell On You and others. We dress up almost every night and join in the costume parade on the pool deck facilitated by cruise promoter, Roger Nabor.
As former cruisers, Michele and I were invited to the Returnee party on the second day and saw the finest line-up we have ever seen: Women in Blues Revue: Sista Monica, Deanna Bogart, Ruthie Foster, Susan Tedeschi, Ana Popovic, Samantha Fish, Danielle Schnebelen, also Ruthie Foster's drummer, Samantha Banks and bass player, Tanya Richardson, equally talented women.
After this inspirational performance, these women then sat on a panel where they took questions from the audience and we got some insight about how these amazing blues women broke into the male-dominated world of blues. As I said, this performance really inspired us and Michele and I will be writing an article about them for the 2013 Blues Festival Guide magazine, so be on the lookout for it.
The Legendary Rhythm and Blues Cruise is booking future cruises so go to their website and find out details and go!
Kaati
Publisher
BLUES FESTIVAL GUIDE
Smokin' Joe Kubek & Bnois King : CLOSE TO THE BONE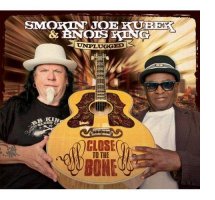 With over two decades of experience together on stages around the world and over a dozen major CD releases, Smokin' Joe Kubek & Bnois King now bring the essence of their signature brand of Texas blues to Delta Groove Music. Close To The Bone presents the duo's first unplugged album, played almost entirely on acoustic instruments, and brimming with smart, clever lyrics, toe-tapping grooves and interesting, memorable arrangements. Kubek and King are additionally joined by special guests Kirk Fletcher, Shawn Pittman, Paul Size, Big Pete, Bob Corritore, Randy Chortkoff, Fred Kaplan, Willie J. Campbell and Jimi Bott.
"I first saw them at the Sunset Social Club in Hollywood in the early '90s" says Delta Groove president Randy Chortkoff. "I loved what they were doing then, and even more so now. So I'm very excited to have them in the Delta Groove family. I'm blown away by their great songwriting and performances - a true Texas duo."
___________________________________
Shemekia Copeland : 33 1/3
In a span of less than two decades, Shemekia Copeland has evolved from teenage upstart to one of the most prominent voices in the blues. She's currently the most feted woman in the blues world and actually had a coronation where she was crowned and declared "Queen of the Blues" at the Chicago Blues Festival in 2011. Shemekia earned her crown with a series of high-quality recordings and an unrelenting tour schedule that has taken her to all corners of the globe. She's played all the major festivals and concert dates from Europe to Iraq to a memorable performance at the White House in front of an audience that included the President of the United States, sharing the bill with Buddy Guy, Mick Jagger, Jeff Beck, B.B. King and other greats.
Earlier this year, Shemekia participated in two tribute concerts celebrating recently departed great Hubert Sumlin and Robert Johnson's centennial, both at New York's Apollo Theater in Harlem, not far from the neighborhood where Shemekia spent her childhood. Those nights she was a featured attraction along with Eric Clapton, Keith Richards, Derek Trucks, Elvis Costello and Taj Mahal. Clearly, she's risen to the top of the field and that reckoning is underscored with the album release of 33 1/3, her second for Telarc International, a division of Concord Music Group.
For Shemekia, it's all about ushering the blues - an art form that stretches back to the early 1900s - into a fast-paced new century and keeping the music true to its roots, making it relevant to a new generation. Her latest step in this ongoing journey is 33 1/3, an 11-song CD.
_____________________________________
Joanne Shaw Taylor : ALMOST ALWAYS NEVER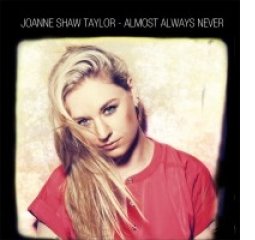 When Annie Lennox paused her Diamond Jubilee Concert performance to let a white-suited, angel-winged blonde fire a soaring Les Paul solo into the sky above Buckingham Palace, uninitiated viewers all asked the same question. Who's that girl? Needless to say, the music fans and blues-heads in the crowd already knew the answer. It was Joanne Shaw Taylor. The whisky-voiced singer. The midas-touch guitar heroine. The heart-on-sleeve songwriter. And now, the author of a classic third album that will plant her flag as the first lady of British blues.
Released on September 17 through Ruf Records, Almost Always Never is the sound of a bar being raised. Rather than riff on the same themes as her feted past albums, White Sugar and Diamonds In The Dirt, this third collection finds Joanne dodging expectations, writing the songs her muse dictates, diving in at the deep end with just her talent to keep her afloat. Recording in Austin, Texas, these 12 cherished cuts were nailed alongside Mike McCarthy – the producer whose gold-plated CV takes in everyone from Patty Griffin to Spoon – and the crack session team of David Garza (keyboards), Billy White (bass/slide guitar) and J.J. Johnson (drums). As you'll gather from a cursory spin: they aced it.
_____________________________________
ALLIGATOR RECORDS PRESIDENT AND FOUNDER BRUCE IGLAUER TO BE HONORED FOR "DISTINGUISHED SERVICE TO THE ARTS"
BY LAWYERS FOR THE CREATIVE ARTS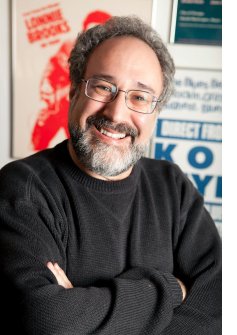 Alligator Records founder and president Bruce Iglauer was be recognized for his "Distinguished Service To The Arts" by Chicago's Lawyers For The Creative Arts at an event in Chicago on Tuesday, October 30.
The organization provides free legal service to financially eligible clients in all areas of the arts.
Alligator artists Corky Siegel and Eddy "The Chief" Clearwater were be on hand to perform in Iglauer's honor.
---
BRAD WILSON BLUES MAGIC TOUR CONTINUES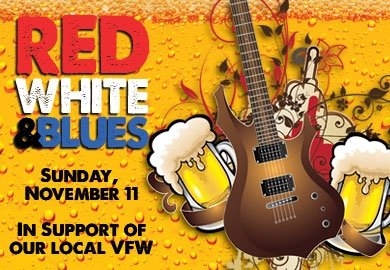 SUNDAY NOVEMBER 11th DOUBLE PLAY DATE!!! Catch BRAD WILSON "BLUES MAGIC" 1:00P to 2:15P at Red, White and Blues All Day Concert, Oroville, CA, November 11, 2012. Also on the bill Michael Williams, Laurie Morvan, Café R&B, Coco Montoya. Tickets $35 and available at the Feather Falls Casino box office or charge by phone: (530) 533-3885.
SUNDAY NOVEMBER 11, 2012 IN THE EVENING BRAD WILSON "BLUES MAGIC" will be performing at Biscuits & Blues: two shows 7pm and 9pm tickets are $15 at the Box Office, 401 Mason St., San Francisco, CA, 94102 and also online at www.biscuitsandblues.com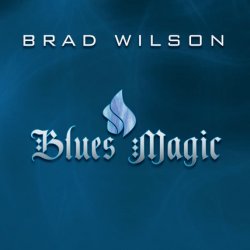 With the June, 2012, release of Brad Wilson's newest album, Blues Magic, Wilson once again proves he is a songwriter, first and foremost. Eleven brand new originals in his blues/rock style that feature excellent guitar playing and smooth vocals. The album has a stellar line up of musicians and world class production from Grammy Award-winning engineer Francis Buckley. The title track, "Blues Magic," and all of the album's songs are the centerpiece for the 2012 tour dates.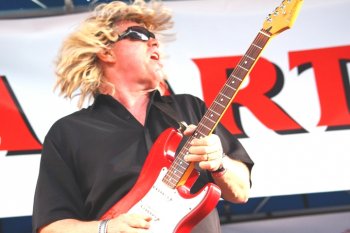 Recent California appearances include The House Of Blues, Biscuits & Blues, Café Boogaloo, the Julian Blues Bash and some of California's biggest events.
Brad's music is played on the radio in over 30 countries worldwide and over 40 U.S. states.
Legendary national blues show, "Blues Deluxe," which broadcasts throughout the U.S. featured Blues Magic August 6 - 11. "Wilson's sound is that of liquid metal, hot and smooth!"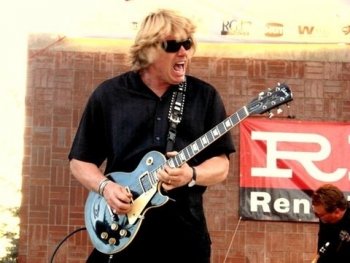 Brad was featured on the cover of Southland Blues, California's premiere Blues Magazine, who did an in-depth interview with this award-winning musician, where Brad discusses his work with NBC Television, Paramount Films and his tours throughout the country.
Brad's music was featured in John Carpenter's last two films and soundtracks, Vampires and Ghosts Of Mars.
Thanks to all the fans who have made the Blues Magic Tour a success to date and for your continued support. We look forward to seeing you on November 11, 2012.
Buy Blues Magic here:
http://cdbaby.com/cd/bradwilson5
FOR BOOKING CONTACT: Cali Bee Music Inc
LAURIE GORMAN 310-550-5256 / laurie3g@aol.com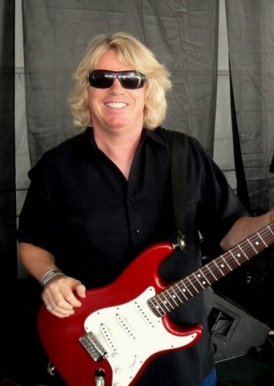 ________________________________________
RUF RECORDS ANNOUCES 2013 BLUES CARAVAN LINE-UP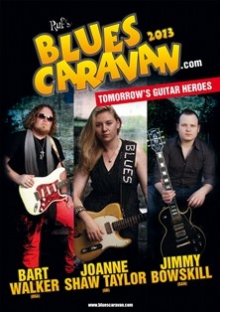 TOMORROW'S GUITAR HEROES
During the past two years, the popular "Girls with Guitars Tour" put a thoroughly feminine stamp on the Blues Caravan. But it's time to reshuffle the cards. On the latest edition of the annual tour presented by Ruf Records, a couple of rough-and-tumble guitarists from North America will go head-to-head with a dynamic British female singer and guitar player whose every show is a display of raw and emotional power. Rest assured: When this trio of hard-nosed pros step into the ring, they won't be pulling any punches.
The line-up features Bart Walker, Joanne Shaw Taylor and Jimmy Bowskill.
But no band is complete without a kick-ass rhythm section. Drummer Denis Palatin has been driving the Caravan for years and will be joined in the engine room by bassist Ian McKeown from the Jimmy Bowskill Band.
The musicians on the 9th Annual Blues Caravan take to the road in January 2013 and will be bringing it to clubs and at festivals throughout the year. For more information including current tour dates, go to: www.bluescaravan.com
---
NOV 3RD CELEBRATES COLUMBIA's 18TH ANNUAL BLUES FESTIVAL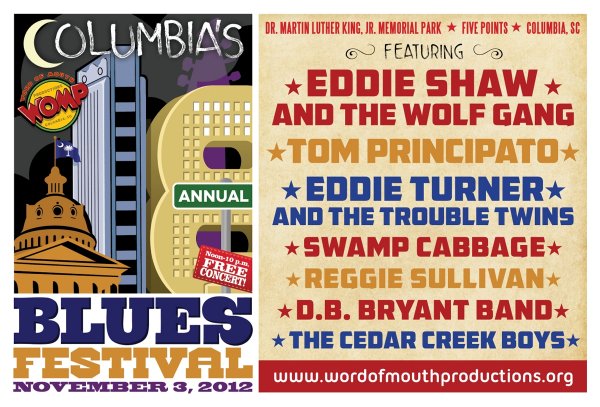 Columbia's 18th Annual Blues Festival (hosted by the nonprofit, Word of Mouth Productions) is slated for November 3, 2012 at Dr. Martin Luther King, Jr. Memorial Park (2300 Greene St.) in the Five Points section of Columbia, SC. This continuous, free concert usually positions itself in the civic calendar on the open date of the University of South Carolina's football schedule.
Word of Mouth has just turned 21. Our first show was a club date featuring Chris Smither. Since then we've treated audiences to a wide range of musical styles - English folk (Pete Morten), Irish traditional (Len Graham/Cathal McConnell), early Euro folk/rockers (Martin Carthy/Dave Swarbrick), Gospel killers (The Campbell Brothers), folk blues (Etta Baker), Miss. Hill Country (RL Burnside), electric Chicago (Hubert Sumlin), La. Delta (Tab Benoit) and a slew of our musical heros from J Winter, J Hammond, D Robillard, the subdudes, D Lindley, Sonny and Leo. Someday, we'll fix what we're missing - Buddy, BB, Bonnie and Taj.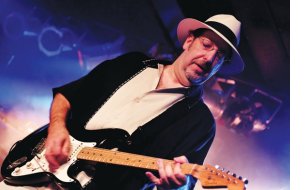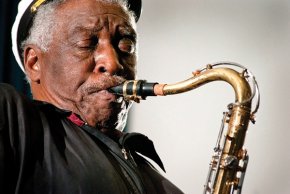 Tom Principato ~ Eddie Shaw
This year, the power packed guts of our show was booked early - Tom Principato and EddieTurner. Late in September we found Eddie Shaw (with his fabulous guitarist son, Vann Shaw) touring Florida, heading this way, and a group new to us, Swamp Cabbage, 100 miles away and finishing their tour the day before our show. Stay tuned, this is our mid-afternoon treat and, soon to be voted "best sleeper set" of what will be another gracious day in the park.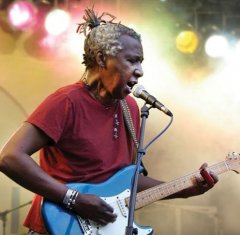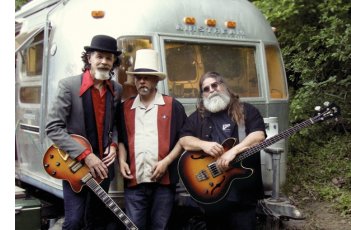 Eddie Turner ~ Swamp Cabbage
The 2012 schedule can be found on our site. Please take time to thank the 100 plus volunteers, our lovely local business advertisers and the City's Hospitality Tax grant funding.
________________________________________
DOCUMENTARY CAPTURES HISTORY OF
BAY ST. LOUIS BLUES HALL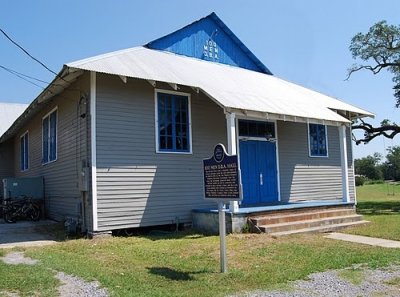 The rich history of the 100 Men Hall in Bay St. Louis is being immortalized in a documentary entitled "Call Before Demo: Resurrecting a Legendary Blues Hall."
(clarionledger.com) The 100 Men Hall gave black entertainers a place to perform during the days of segregation.
Many of the artists who performed there went on to become world famous musicians.
"After Katrina, I rode past here, and I saw a sign that said call before demo. And for reasons I don't understand, I said, 'You can't knock that place down. Call me. We will work something out. I will buy it from you,'" said Jessie Loya, who opens the documentary with those words.
When Jessie and Kerrie Loya purchased the building, they had no idea the building played an important role in American music history.
It was built in 1922 by the One Hundred Members' Debating Benevolent Association. Over the years, the association sponsored many events and rented the hall to promoters who brought in blues, rhythm and blues and jazz acts.
The One Hundred Members' Debating Benevolent Association was incorporated in Bay St. Louis in 1894. The Hall was restored in 2006.
Documentary co-producer Andrew Barrett said, "They would lease their building out to music promoters, mainly rhythm and blues act. It later became known as the Chitlin Circuit."
Some of those who performed at the Hall later became big name acts.
"They all got their start here: Fats Domino, Eddie Boo, Irma Thomas, B.B. King, Etta James, James Brown, just a number of entertainers that came through this Hall," Herman 'Rosomo' Williams Rieux said.
Co-producer Matt Barrett said, "Some of the people who played there years ago are back playing there again."
Bay St. Louis resident Willie C. Acker is one of 14 people interviewed for the documentary, so far.
Acker recalls his teenage years, coming to the hall.
"Entertainment that was second to none would be at the 100 Men Hall. You could also come here and get you a good meal. And I looked forward to that and the bands and the dances were outstanding."
"The stories of the 100 Men Hall are not written down anywhere. They only exist in the memories of people who lived them," said Andrew Barrett.
Documenting those memories is what "Call before Demo" is all about.
"The 100 Men Hall first approached us about doing a documentary, a short documentary that tourists could see, and they had actually gotten a grant from the Mississippi Arts Council as well some help from the Silver Slipper Casino to fund this project. We started looking into it. We were going to do a 10-minute video. There was so much information there, you could do a two-hour documentary easily," said Andrew Barrett.
Co-owner Kerrie Loya jokingly said, "We're hoping the film at some point will end, or we are going to be doing part two, really."
When finished, the documentary will be used as an educational tool for tourists and students who visit the hall.
"It is really an extremely exciting project," said Loya.
The documentary is expected to premiere in April.
---
REUNION BLUES STRIKES CHORD WITH SHOPATRON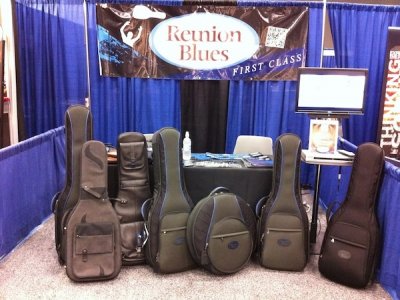 Reunion Blues, the legendary musical instrument bag and case designer, has teamed up with Shopatron to launch an online store. Now, fans of the trusted music brand can buy any of its products online and if they choose, can even pick them up at a local retailer with Shopatron's convenient ship-to-store delivery method.
Reunion Blues, a company known for legendary quality and affordable luxury, boasts many well-known musicians as fans, including Terri Clark, Buddy Guy, and Kevin Eubanks. Traveling musicians everywhere rave about the value of Reunion Blues' bags and cases for keeping their instruments safe during travel.
Using the Shopatron Integration Toolset, Reunion Blues was able to easily integrate Shopatron's solution into its existing website. The resulting eCommerce website uses Shopatron's patent-pending retail-integrated order exchange to enable customers to buy products online, and receive them from a local music shop.
More so, orders placed on reunionblues.com can be shipped to the customer or assigned for in-store pickup to a local shop chosen by the shopper. The ship-to-store option means that even if a product is out of stock locally, Reunion Blues will ship the ordered items to the shop for pickup. This allows Reunion Blues to fulfill online orders quickly and efficiently while driving foot traffic to retailers.
Customers love in-store pickup for its convenience and free shipping; retailers love it because it allows them to establish new relationships with customers and creates an opportunity for add-on sales.
"For more than 30 years, musicians have entrusted us to protect their instruments," said Leah Murphy, Director of Marketing for Reunion Blues. "Now, Shopatron's ship-to-store delivery option gives our fans the added convenience of online shopping paired with the in-person customer service that can only come from our valued retailers."
Shopatron supports more than 60 brands in the music industry, who work with more than 1,300 music dealers to deliver orders from the Shopatron Order Exchange.
---
BLUES MUSICIAN WALTER DAVIS RECIEVES GRAVE HEADSTONE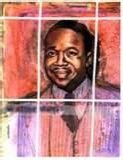 ________________________________________
YOUNG SINGER NATASHA MEISTER
HAILED AS AFRICA'S BLUES QUEEN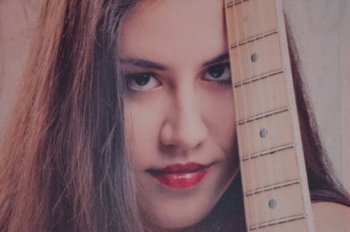 (voanews.com) When she was a teenager a few years ago, Natasha Meister strolled into a hazy bar in the country of her birth, Canada. She and her elder sister, Cherie, were there to perform in a music competition.
The sisters had been singing gospel music since they were toddlers. But, unbeknown to them, they'd signed up to compete with some of the area's best amateur blues artists.
​The awestruck teens walked into a crescendo of electric guitars, growling vocals and leather clad men singing about unfaithful women, liquor-soaked nights, murder, redemption and lost love.
"We didn't know it was like a full on blues competition with full on blues bands and everything, and we came on [stage] doing our gospel music! People were like, 'What's going on?' That's when I heard the blues for the first time," said Meister.
Amid the smell of beer, sweat and personal pain, she underwent a life-changing experience.
Natasha Meister: Canadian by birth, but practicing stunning blues guitar in Africa (Natasha Meister)
​​"I remember watching a guy who was in his early 20s. He was playing amazing blues guitar with this amazing band, and people were just cheering and getting off on it, and I thought to myself, 'I want to do that….'" Meister recalled.
Encouraged by her father, who bought her an acoustic guitar and taught her some basic chords, she began her blues education. She plunged into the works of legendary American blues guitar maestros BB King, Stevie Ray Vaughan and Buddy Guy, and soul divas Aretha Franklin and Etta James.
These were her teachers.
"I've never actually gone for proper guitar lessons or vocal lessons. I've just listened to a lot of music, and it's just all about the feel and the groove. It just has to feel good and that's what it's always been about for me," Meister said.
Passions
But it's two different things to love singing the blues and playing electric guitar as a teenager and actually doing it to the point where you become the first woman in Africa to be endorsed by legendary American guitar company, Fender.
Yet this is exactly what the 21-year-old Meister, based in Cape Town, has achieved, placing her in illustrious company. Many great guitarists have used, and continue to use, Fenders – including rock music's holy triumvirate of Jimi Hendrix, Eric Clapton and Jeff Beck.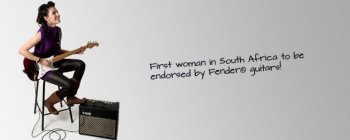 Not that Meister for one second believes that she deserves to be in this pantheon of guitar masters.
"I'm still learning; every day I learn something new. Playing guitar and singing are my passions. I honestly don't know where my skill came from. I've just been given this talent and I'm using it; that's all I can say," she told VOA after a recent rousing performance.
Sadness and suffering
Meister feels the electric guitar is an extension of her body and uses it to enhance her humanity.
Natasha Meister with her beloved electric guitar, the first woman in Africa to be endorsed by Fender guitars(Courtesy Natasha Meister)
​​"I love playing the guitar, and electric guitar especially, because it's the best way for me to express my emotions – whether frustration, anger or joy, the guitar for me is the perfect instrument to do this."
Singing and playing guitar also allow her to channel sadness and suffering.
"Once in a while / I just don't care / The pain is hard to bear / Now suddenly I'm scared…. I'm half way on my way / To nowhere," Meister sings on the title song of her new record.
"A lot of people ask me how can I play the blues, how can I understand the blues when I'm only 21? You know, I haven't been through all these hardships in life but I mean I have my own little hardships and I also get sad sometimes," she explained.
Raise The Roof: Campaign for the Blues Hall of Fame
YOU can make the Blues Hall of Fame a reality. Your support matters!

The Hall of Fame pays tribute to the greatest of the genre and educates new people about the genre. The Blues Foundation has been inducting into the Blues Hall of Fame for years; it was just a simple evening with web presence. Nothing permanent. But now we need physical presence, and with your help, we are going to get The Blues Hall of Fame building built in Memphis, TN!
Here is a link with more details about the Blues Hall of Fame campaign:
Doesn't this project sound important and exciting?
If not us, who? If not now, when?
Our goal is to raise awareness and funds to reach the goal of 3.5 million.
How to donate:
1. Make a multi-year pledge online or print out and sign form at: www.blues.org/capitalcampaign/index.php then mail to:
The Blues Foundation, 421 South Main, Memphis, TN 38104-4464;
OR fax to 901.529.4030; OR e-mail it to jay@blues.org.
2. Make a one-time donation by calling with a credit card or mailing a check.
or online at: http://www.blues.org/capitalcampaign/index.php .
3. Text the word " blues " to 80077 to donate $10. When you receive a message to confirm, confirm by answering "YES."
No effort is too small or unappreciated!

Note: Thanks to Tall City Blues Festival, Music Matters Entertainment, A Music Company Inc., and Garvin Gate Blues Festival for helping to raise awareness about the Blues Hall of Fame.
You too can get involved. Email us: Info@BluesFestivalGuide.com to get logos and links for your website or Facebook.
_________________________________________
RIVER CITY BLUES SOCIETY SPECIAL EVENT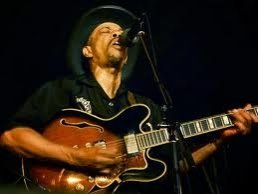 The Legendary John Primer from Chicago
Wednesday November 7th
7:00 pm to 10:00pm
Goodfellas in Pekin, Illinois
1414 N. 8th Street
Admission: $7.00 General Public
$5.00 RCBS members
__________________________________________
If you represent a Blues Society and have a very special announcement or a not-for-profit event coming up, send your brief news or Press Release (300 words or less) with "Blues Society News" in the subject line to: editor@bluesfestivalguide.com.
___________________________________________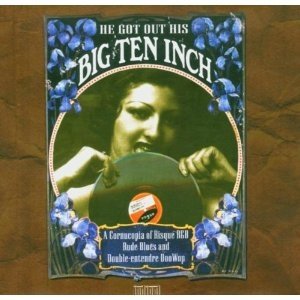 The blues can be dirty. This week Elwood proves that point. The art of the double meaning, with Bonnie Raitt, Rick Estrin, Marcia Ball, and Maria Muldaur. Then, Elwood moves back in time to the golden age of hokum, with Bessie Smith, the Swallows, Wynonie Harris, and Lil Johnson. Finally, old meets new as you hear Bull Moose Jackson and John Brim, alongside the modern reworkings of their nasty blues by Aerosmith and Van Halen. Take a cold shower, and then listen to new country blues from southern man, Davis Coen.
__________________________________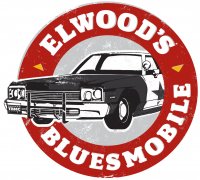 For a list of stations where you can find BluesMobile Radio
___________________________________________
More Risque Blues from Ruth Brown...
"If I can't sell it, I'll sit on it"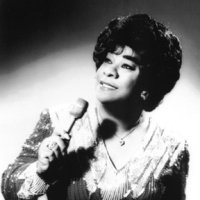 ___________________________________________
Did you know that I do Custom Comic Strips and Comic Pages as gifts?
____________________________________________
Roots Blues Airplay Charts
To view our entire calendar of more than 500 festivals click here!
ATTENTION:

FESTIVAL

PROMOTERS

LIST YOUR FESTIVAL

WITH US

FREE!

Website

E-Guide

Magazine
Friday-Saturday

November 2nd-3rd 2012

Rome, Georgia USA

Saturday

November 3rd 2012

Columbia, South Carolina USA
Saturday

November 3rd 2012

Florence, Sorth Carolina USA

Saturday-Sunday

November 3rd-4th 2012

Gainesville, Florida USA
Saturday

November 10th 2012

College Park, Washington DC USA

Saturday

November 10th 2012

Green Oaks, Illinois USA
Friday-Sunday

November 9th-11th 2012

Pembrokeshire, South West Wales UK

Saturday

November 10th 2012

Haringe, Belgium
Saturday

November 17th 2012

Cape Coral, Florida USA

Saturday

November 17th 2012

La Quinta, California USA
Saturday-Sunday

November 17th-18th 2012

Palatka, Florida, USA

Thursday-Saturday

November 22nd-24th 2012

Caxias do Sul, Rio Grande do Sul Brazil
Friday-Sunday

November 23rd-25th 2012

Boulder, Colorado USA

Saturday

December 1st 2012

Bradenton, Florida USA
Friday-Saturday

December 7th-8th 2012

Perry, Florida, USA

LEGENDARY RHYTHM

& BLUES CRUISE

~ CARIBBEAN ~

Saturday- Saturday

January 20th - January 27th 2013

Fort Lauderdale, Florida USA
Tuesday- Saturday

January 29th - February 2nd 2013

Memphis, Tennessee USA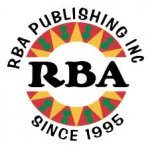 RBA Publishing Inc is based in Reno, Nevada USA. We are woman owned and operated.
We produce the annual Blues Festival Guide magazine (publishing our 10th annual in 2012), affiliated with the top-ranking website:
www.BluesFestivalGuide.com, and this weekly blues newsletter: The Blues Festival E-Guide with approximately 28,500 weekly subscribers.
We look forward to your suggestions, critiques and questions!
You can reach the E-Guide editor, Michele Lundeen at editor@bluesfestivaleguide.com or michele@bluesfestivalguide.com
Contact our home office to find out how to advertise in this e-weekly newsletter 775-337-8626.
Information, both editorial and advertising, in the Blues Festival E-Guide, is believed to be correct but not guaranteed. Double check info carefully before you attend any event or send money for anything. We do not write the news... we just report it!