Perhaps you've heard the expression: everything I ever needed to know about life I learned from my dog... or cat... or horse... Well, this touching story reminds us what good teachers animals are and how small acts of kindness can have profound results. Enjoy!
After the Tornado (author unknown)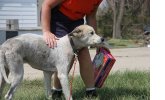 The story begins in Kansas after rescuers find Ralphie, scared and starved.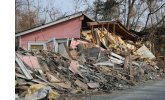 The devastation from the tornado is extensive.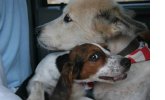 A female dog is also found among the wreckage. Scared but safe, she joins Ralphie in the rescuer's vehicle. Instantly friends, they comfort each other.
Add two more beagles found and now it's the more the merrier.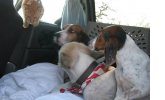 And then.... a cat needs shelter. Now just how is that going to work? (Remember, none of these animals know one another.)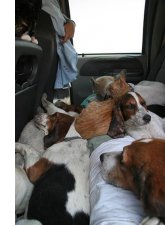 Well, each makes room for the other and it looks like it's going to work just fine!
The things we learn from our animals!
Imagine a world where all of humankind was this generous, kind, peaceful and harmonious.... no matter race, creed, beliefs.
The message these animals tell us is that it's just good to be alive and with others. Yes, it surely is.