ADD THIS TO YOUR 2013 ADVERTISING BUDGET FOR RESULTS!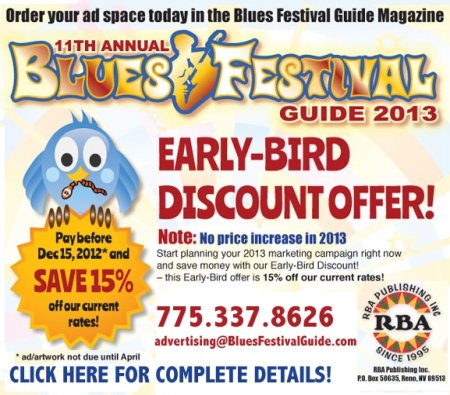 __________________________________________
BRING IT ON!... Send us your cool photos that display the Blues festival Guide magazine! We're so proud to be able to share the annual magazine with you for 10 years now! We'd love to see and share you enjoying it and helping spread the good word!
Send your BFG shots with subject, location, date and photo credit to editor@bluesfestivalguide.com
__________________________________________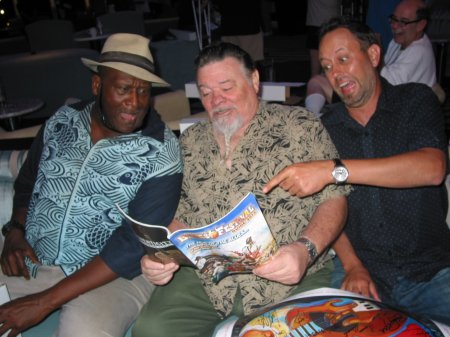 Taj Mahal, James Harman and Nathan James enjoy sharing their 2012 BFG during the autograph party onboard the Legendary Rhythm & Blues Cruise, Nov 2, 2012
Photo by Michele Lundeen
___________________________________
Phantom Blues Band : INSIDE & OUT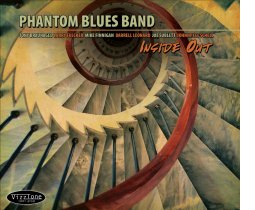 Originally formed as a backing band for master bluesman Taj Majal, Phantom Blues Band prove themselves a force to be reckoned with on their third release, Inside Out. Whether rocking the house with a southern fried blues tune or touching listeners' hearts with a moving soul ballad, Phantom Blues Band's passion and musicianship are relentless.
"So Far from Heaven" and "Change" are Inside Out's most powerful tracks. The searing, politically-charged lyrics and pulsating rhythms sound like a time warp back to the heyday of socially conscious soul. Mike Finnegan's organ injects these tunes with a strong dose of gospel grit, while Schnell lays down some razor-sharp rhythm guitar.
With Inside Out, (released on Vizztone Records), all the elements of their collective experience as players, producers and composers come together as they pay homage to their musical heroes and push forward with exciting new music. Their take on several old 1950's R&B chestnuts is refreshing in it's originality.
Inside Out features band members Tony Braunagel, Larry Fulcher, Mike Finnigan, Darrell Leonard, Joe Sublett and Johnny Lee Schell with a little help from world renowned session players Lenny Castro on percussion and Crusader founding member and keyboard player, Joe Sample.
This is music that goes down deep inside your heart and soul.
Listen to "Having A Good Time With The Blues"
___________________________________
Jake Lear : DIAMONDS AND STONES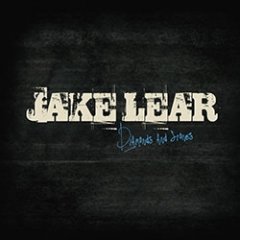 The scalding blues of singer, songwriter and guitarist Jake Lear instead proffers a combustible combination of deep emotion hot-wired to an insider's understanding of the music. The Memphis resident by way of Vermont honed his genuine credibility on Beale Street and his second full-length release reveals the tight arrangements and telepathic interplay of a road-tested power blues trio.
The eight originals and two covers on Diamonds And Stones feature Roy Cunningham (drums) and Carlos Arias (bass) in a pile-driving tandem contributing to a mammoth sound. With penetrating gruffness over the massive work song thump of his guitar, Lear confides, "Well, the night is falling and the darkness is coming right through my door" in the opener "Strange Things," making every weighty note count over the throbbing, minor key 12-bar progression dark as river mud. "Going Back Home (North Mississippi Bound)" chugs and clangs like a smoking 100-car freighter through the Delta as he intones the title repeatedly like a mantra. Lear has the chops and finely-tuned ear to phrase vocally and instrumentally with consummate skill and drama while creating a seamless, hypnotic wall of sound. Segueing smoothly into the equally driving stomp of "Wasting Time," Lear employs the sneer of early Dylan to describe his existential state of mind.
___________________________________
VAL STARR & THE BLUES ROCKET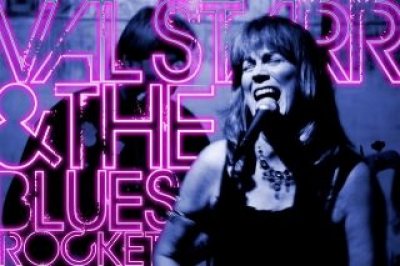 Val Starr & The Blues Rocket is a band that loves to entertain and play the blues. Our musical line-up features original songs based on traditional blues, boogie, shuffles and jump blues, all with the "Val Starr twist". She is rapidly taking her place among the women of blues serving up her own brand of contemporary California blues!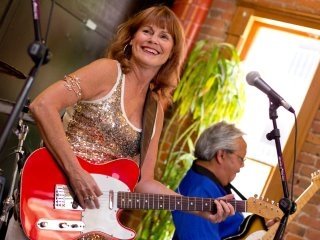 Val Starr is an extraordinary singer and songwriter who writes tales gleaned from everyday life, love, friends and family. She is an explosive performer who always brings the audience to their feet and out onto the dance floor with blues that lift you up. The one-two punch is Val Starr and David "Holokai" Tan on the lead solos, ripping out the cheers or the tears from the audience with his taste, finesse and ferocious energy. He can't keep his feet still when he's playing, and neither can the audience. Holokai is one of the best guitarist and entertainers playing the blues. The solid and smooth foundation is laid down by Jimmy Collazo on drums and JohnE Sandwich on bass. They lock together like peanut butter and jelly and feed your soul with that rich bottom you want to hear in the blues.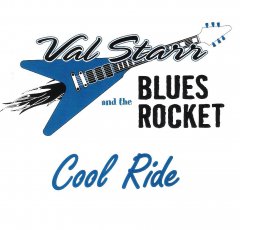 Val Starr & The Blues Rocket released their first CD in 2012 entitled Cool Ride, and it is available at ITunes, Amazon, Spotify, Reverbnation, Rhapsody, Zune and most other download portals. The second CD, Blues Away, is in pre-production and will be available Spring of 2013.
Now Booking 2013
916-225-0209
www.valstarrandthebluesrocket.com
________________________________________
"GEORGIA GIVES A DAY" HELPS THE SEAN COSTELLO
MEMORIAL FUND TO BENEFIT BIPOLAR RESEARCH

The Sean Costello Memorial Fund to Benefit Biopolar Research has, as an organization, established a three prong mission: Education, Research and Intervention. This year, they have help in communicating what they are all about with the targeted giving campaign. "Georgia Gives A Day," sponsored by the Georgia Council of Nonprofits. The goal is to reach $5000, the amount needed to finalize funding of the MOJO project. Please consider donating as a gift for Christmas. They will send a holiday card to a designated person, upon request, recognizing your gift. No gift is greater than the gift of hope for a healthier life. December 6 is the date of the public campaign but you can donate today here.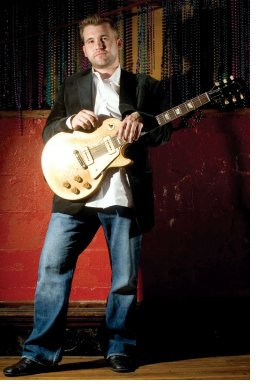 In the education realm, they have an informative website, which includes links to many resources on Bipolar Disorder. Last year they partnered with Emory University to present "Beautiful Minds," an educational series with performances by talented individuals challenged with bipolar disorder. The MOJO project will develop mobile and internet program for identifying sleep disruptions that can lead to mania which often leads to reckless, even dangerous behavior. Musicians have an irregular work and sleep schedule that puts them at additional risk.
Diagnosis takes 8-10 years, on the average, during which time people self-medicate. This compounds the problem of diagnosis and requires expert treatment. Medication that may work for the average person, often results in diminished creativity - an obvious issue for a musician. One tenet of treatment is a scheduled life, again, difficult at best for someone who tours for a living and has a mandatory irregular schedule. Sleep disorders are a known trigger for mania which often leads to dangerous, sometimes lethal, behavior. Both creativity and social anxiety have been linked to the disorder, and they are frequently indigenous to the musical community.
Intervention is much more complicated for many reasons. Any treatment must be based on evidence, and that requires research. We can offer hope of more effective treatment as we learn more. We cannot be satisfied with what is known about bipolar disorder, especially with this uniquely challenged population. Hopefully, with future interventions, not one other person will be lost while trying to get help.
Learn about Bipolar Disorder and talk about it and Sean. His is a beautiful, sad, compassionate story. We need to eliminate the stigma of mental health problems by bringing them into the light.
________________________________________
RARE ROBERT JOHNSON RECORD FOUND IN BOX FROM ATTIC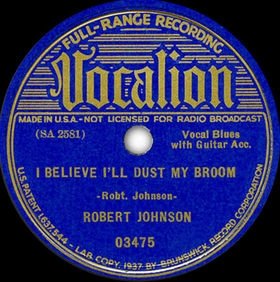 A Pittsburgh used record store owner named Jerry Weber found an old copy of bluesman Robert Johnson's 1936 record "I Believe I'll Dust My Broom (on Vocalion)," in a box of records he'd paid $50 for that had been sitting in someone's attic for decades.
It's the second song ever recorded by late Mississippi blues legend Robert Johnson. Weber calls it the "holy grail" of '78s.
"It's the most expensive record I've ever found," Weber told the Pittsburgh Post-Gazette, "and it's in real nice shape." He says the book value is between $6,000 and $12,000. There are about 15-30 copies of the record in that condition around the country.
According to his legend, Robert Johnson got his ability to play the blues by selling his soul to the devil at a crossroads in rural Mississippi. He died mysteriously in 1938 at age 27.
________________________________________
FRANK ROSZAK ... A VITAL SPOKE IN THE BLUES WHEEL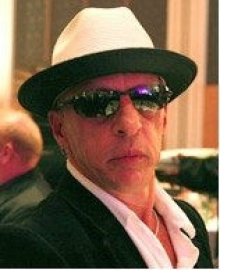 Suncoast Blues/Twelve Bar Rag
Blues Stalker (By Monte Adkison)
A blues musician once told me that in the music industry we all are spokes in a wheel holding it together in order for it to revolve. Musicians, fans, promoters, disc jockeys, producers, sound engineers, agents, blues societies, stage managers, club owners, publicists and others all are an intricate part of the music we love. Many people "behind the scenes" work unselfishly to keep the blues alive. One of those "spokes" happens to be one of the most respected in the business of independent radio and marketing promotion, Frank Roszak. Frank has been and still is an engineer, mixer, producer, promoter, marketing wizard and radio persona extraordinaire. His experience and versatile background has made him one of the essential people to know in the blues business. Born in Brooklyn, Frank's career began in the 70's at Soundmixer Studios in New York City. After the success of a hit single, he took his talent to England where he co-produced the Pet Shop Boys and mixed and produced a who's who of hits by many top recording artists such as Bobby Womack, the Temptations, Bahamen, Stanley Clarke and many more until 2003.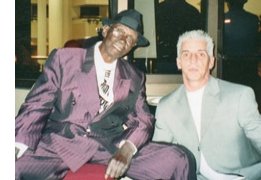 For the next six years Roszak was the Director of Radio, Promotion, and Press for Delta Groove and Eclecto Groove Records whose projects included such notable artists as the Mannish Boys, Elvin Bishop, Sean Costello, Candye Kane, Ana Popovic, Bob Corritore and Friends and many others. He also booked the top music festivals in Norway, France, Spain, Switzerland, Holland as well as many of the major blues and music festivals in the United States.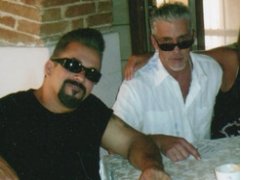 Making the decision to branch out on his own, in January, 2011, Frank became CEO and founder of Frank Roszak Promotions, an independent radio and marketing company that markets projects to radio and press, including tour support. When you see a successful chart climb by an artist or nominations for awards... there is a good chance that Frank Roszak is the person responsible for the success. His contacts are extensive and the testimonials of satisfied clients speak for his phenomenal success. This is a person you want as your front man. I became acquainted with Frank recently through Vicente Zumel of La Hora del Blues in Barcelona, but after communicating with him several times I felt as though I had known him for decades and had been in the music trenches with him. If I was an artist needing or wanting promotion, there is no doubt I would want Frank Roszak working the room for me.
To read the entire interview click here & scroll to pg. 6 "The Blues Stalker"
_______________________________________
2013 INTERNATIONAL BLUES CHALLENGE TICKETS ON SALE!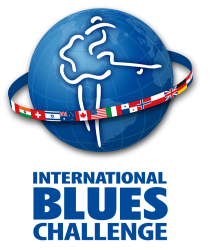 The 29th International Blues Challenge is set to begin Tuesday, January 29, 2013 and conclude on Saturday February 2, 2013. The competition will be held in Memphis, TN in the Beale Street entertainment district. Tickets are available online now.
The Blues Foundation has special prices and direct lines and links to a number of Downtown Memphis hotels for the 2013 International Blues Challenge. Reserve your room early to get what you want--best price, closest to Beale, most luxury--whatever you want. Click here.

The Keeping The Blues Alive Awards luncheon will also be held February 1, 2013, at the Doubletree Hotel in downtown Memphis, Tennesse e. The KBA ceremony will be part of the International Blues Challenge (IBC) weekend of events.
For complete information about the 2013 International Blues Challenge weekend click here.
__________________________________
FIND YOUR GROOVE ON THE LEGENDARY RHYTHM & BLUES CRUISE!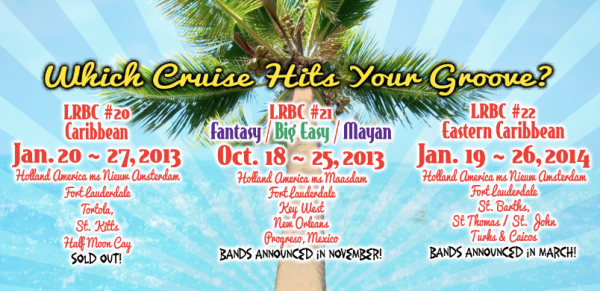 Legendary Rhythm & Blues Cruise #20 Jan. 20 ~ 27, 2013 Caribbean
Ft. Lauderdale, FL to Tortola, St. Kitts & Half Moon Cay.
Sold out - join waitlist!
#21 Oct. 18 ~ 25, 2013 Fantasy/Big Easy/Mayan
Ft. Lauderdale, FL to Key West, New Orleans & Progreso, Mexico
Now Pre-Booking w/ $250 per person full refundable deposit.
Bands announced in November.
#22 Jan. 19 ~ 26, 2014 Eastern Caribbean
Ft. Lauderdale, FL to St. Barths, St. Thomas / St. John & Turks and Caicos
Now Pre-Booking w/ $250 per person full refundable deposit.
Bands announced in March.
www.BluesCruise.com or (816) 753-7979 reservations & info.
You HAVE to experience this at least once in your lifetime!
___________________________________
MISSISSIPPI VALLEY BLUES SOCIETY HOSTS MAGGIE BROWN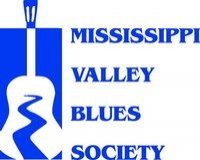 Chicago singer and educator Maggie Brown returns to the Quad Cities for Blues in the Schools sponsored by the Mississippi Valley Blues Society (Davenport. IA). Brown will be the MVBS Blues in the Schools artist-in residence in Quad City area schools during the week of November 26-30.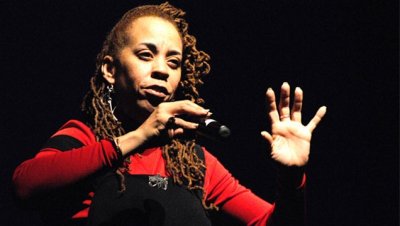 Maggie Brown will also appear at four open-to-the-public performances:
- Monday Nov. 26, 6:30 pm
Davenport Public Library, 6000 Eastern Ave., Davenport, IA
- Wednesday Nov. 28, 10:00-11:00 am
CASI, 1035 W. Kimberly, Davenport, Iowa
- Thursday Nov. 29, 11:00 a.m.
Black Hawk College, 3901 25th St., Moline, Illinois
- Thursday Nov. 29, 7:00-9:00 p.m.
River Music Experience Café, 2nd and Main, Davenport Iowa
The MVBS Education Committee was introduced to Maggie Brown, daughter of the late Oscar Brown Jr, originally when Nate Lawrence brought her to Davenport for the Polyrhythms Third Sunday Jazz program at the River Music Experience. We were so impressed with her performance that we asked Maggie to come back to conduct three days of workshops for kids the week of the 2012 BluesFest, and then to bring those kids and her talent to BlueSKool at the festival.
More info: MVBS, "Quad Cities Online" and "Downtown Davenport"
__________________________________________
If you represent a Blues Society and have a very special announcement or a not-for-profit event coming up, send your brief news or Press Release (300 words or less) with "Blues Society News" in the subject line to: editor@bluesfestivalguide.com.
___________________________________________
Raise The Roof: Campaign for the Blues Hall of Fame
YOU can make the Blues Hall of Fame a reality. Your support matters!

The Hall of Fame pays tribute to the greatest of the genre and educates new people about the genre. The Blues Foundation has been inducting into the Blues Hall of Fame for years; it was just a simple evening with web presence. Now we need physical presence, and with your help, we are going to get The Blues Hall of Fame building built in Memphis, TN!
Here is a link with more details about the BHF campaign:
Doesn't this project sound important and exciting?
Our goal is to raise awareness and funds to reach the goal of 3.5 million.
How to donate: 1. Make a multi-year pledge online or print out and sign form and mail to: The Blues Foundation, 421 South Main, Memphis, TN 38104-4464;
OR fax to 901.529.4030; OR e-mail it to jay@blues.org.
2. Make a one-time donation by calling with a credit card or mailing a check or find online.
3. Text the word " blues" to 80077 to donate $10. When you receive a message to confirm, answer with "YES."

No effort is too small or unappreciated!
If not us, who? If not now, when?
Note: Thanks to Tall City Blues Festival, Music Matters Entertainment, A Music Company Inc., and Garvin Gate Blues Festival for helping to raise awareness about the Blues Hall of Fame.
You too can get involved. Email us: Info@BluesFestivalGuide.com to get logos and links for your website or Facebook.
_________________________________________
JOHN LEE HOOKER JR & JIMI HENDRIX
John Lee Hooker is a tough act to follow. But John Lee Hooker, Jr. is a tough customer in his own right. And he has made his own way. Tune in to hear his story and his music.
Then, in the second hour of the program…the great Jimi Hendrix has been gone a long time, but his legacy lives on.
John Lee Hooker, Jr. PLUS Jimi Hendrix...
Next time, in The BluesMobile.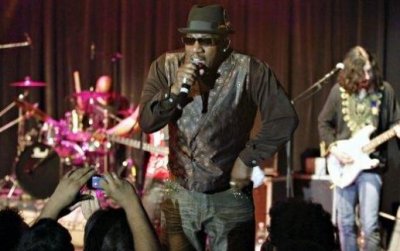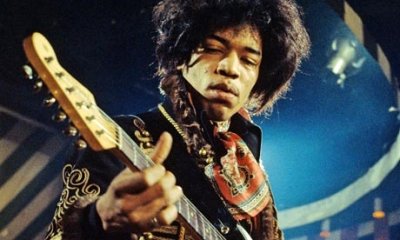 __________________________________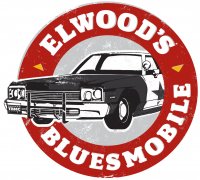 For a list of stations where you can find BluesMobile Radio
___________________________________________
"Happy Thanksgiving Weekend"... here's
Biscuit Miller doing "Butter My Biscuits"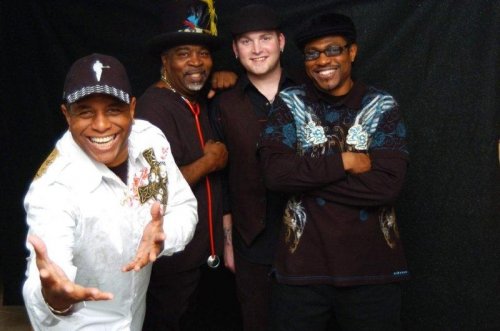 ___________________________________________
Did you know that I do Custom Comic Strips and Comic Pages as gifts?
____________________________________________
FYI: Below are the Roots Music Report for the week ending 11/19 ...PLUS THIS week's Report for the week ending 11/23
Roots Blues Airplay Charts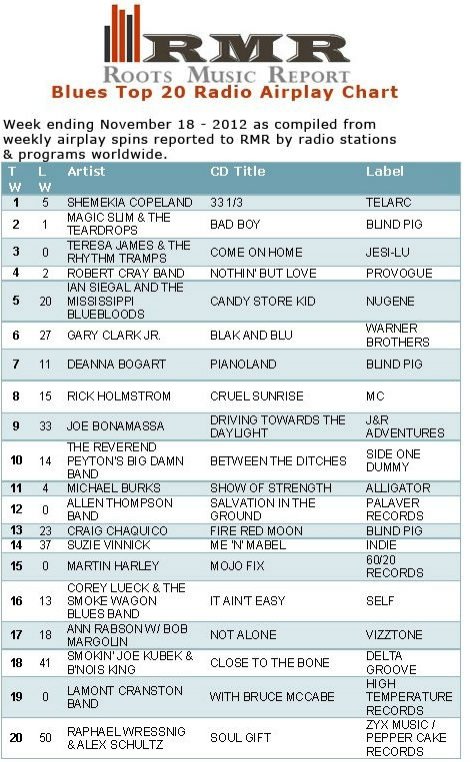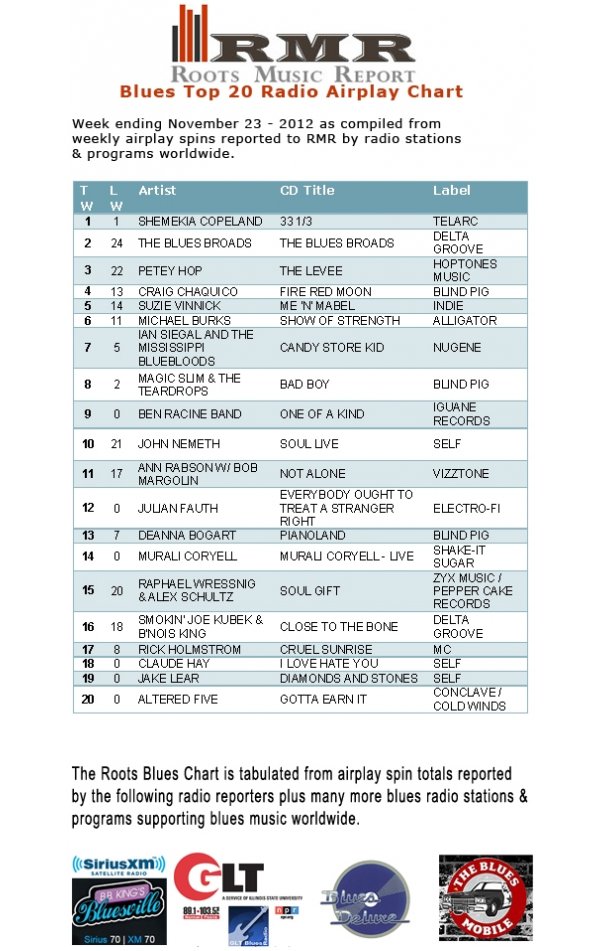 To view our entire calendar of more than 500 festivals click here!
ATTENTION:

FESTIVAL

PROMOTERS

LIST YOUR FESTIVAL

WITH US

FREE!

Website

E-Guide

Magazine
Thursday-Saturday

November 22nd-24th 2012

Caxias do Sul, Rio Grande do Sul Brazil

Friday-Saturday

November 23rd-24th 2012

Rock Hill, New York USA
Friday-Sunday

November 23rd-25th 2012

Boulder, Colorado USA

Saturday

December 1st 2012

Bradenton, Florida USA
Friday-Saturday

December 7th-8th 2012

Perry, Florida, USA

Thursday-Sunday

January 17th-20th 2013

Ft.Lauderdale, Florida USA
Saturday- Saturday

January 20th - January 27th 2013

Fort Lauderdale, Florida USA

Tuesday- Saturday

January 29th - February 2nd 2013

Memphis, Tennessee USA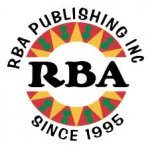 RBA Publishing Inc is based in Reno, Nevada USA. We are woman owned and operated.
We produce the annual Blues Festival Guide magazine (publishing our 10th annual in 2012), affiliated with the top-ranking website:
www.BluesFestivalGuide.com, and this weekly blues newsletter: The Blues Festival E-Guide with approximately 28,500 weekly subscribers.
We look forward to your suggestions, critiques and questions!
You can reach the E-Guide editor, Michele Lundeen at editor@bluesfestivaleguide.com or michele@bluesfestivalguide.com
Contact our home office to find out how to advertise in this e-weekly newsletter 775-337-8626.
Information, both editorial and advertising, in the Blues Festival E-Guide, is believed to be correct but not guaranteed. Double check info carefully before you attend any event or send money for anything. We do not write the news... we just report it!