| | |
| --- | --- |
| Make a Joyful Noise | December 2012 |
Let Your Heart be Light
Hi,
Ever notice how the holiday version of the blues can sneak up on you, steal your joy, and render you hapless? Got just what you need. The power of creativity you can replenish your haps regularly; you can in FACT be capable of multiple haps. With proper attention, this could lead to hap-piness.

This issue of the Muse Flash includes some ways to survive not only the holidays, but also to transcend the subterranean abyss that tries to lure us to the dark side all year long when we're not paying attention. Creative people can be prone to the abyss due to that sensitivity thing. But we also have endless resources inside that guide us to amazing places of thought and action.
I wish for you the joy that can come from the intoxication of creativity. Have fun restocking your haps.
May your blues be cereleum, azure, and midnight,

Restoring Haps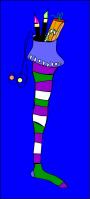 Creative Hap Restorer Number One:
Attend a Teleconference at no charge
If there's a Complimentary Creative Restoration Call in the next week.. JOIN IN. I just happened to know that there in fact IS one
THIS Monday, December 10, 2012, 4 pm pacific/5 mtn/6 central/7pm eastern.
All you have to do is hold the phone to your ear. (Dialing the number first is also highly recommended.)

Join me on a creative guided imagery call
to summon your creative resources and rich imagination through vivid suggestions and the other worlds of possibility. Followed by guided writing and doodling. Give this free gift to yourself. On the sign-up state any blocks you have and I will give some short antidotes to some of them.
Sign-up here
Oh Wait.. Here's ANOTHER ONE!
Attend the Cowgirls and Crayons Call (Also Free)
Tuesday, December 11, 4pm pacific/5pm mountain/6pm central/7pm eastern
We are getting requests to talk about what our February Austin and March Sedona retreats are all about so Workshop Wonder, Kat Kirby and I will give you a sampler of what to expect on this call. It will be recorded, so sign-up to get the MP3 link after the call even if you can't make it. The retreats are all about unleashing the wild creative self through creative writing, SoulCollage(R), movement, laughter, and art. Hear more on Tuesday.
Sign-up and Giddy-up
Creative Hap Restorer Number Two:
MUSIC & MOVEMENT

You can move your body while you're sitting there reading if you don't want to get up. Take turns tensing and releasing your left and right butt cheek, shimmy those shoulders, let your hands
dance to the beat of Harry Belafonte
. Notice your mood. "Jump in the line! Rock your body in time. OKAY.. I believe you."
Do you have your mood-changer songs downloaded on your i-pod? If not go do that now, don't get distracted by shiny things on the way.. cuz, you KNOW how that happens. Music can transform you. I've restored many haps by dancing hip hop (now have hip hop haps).


Emergency Reprint of Last Month's Dysfunctional Family Survival Guide Here
The New Book is Almost Here
BUT if you want to give it as a holiday gift, send your amazon confirmation to info@themuseisin.com and an address for the recipient or you, and a card and a bookmark will be sent with art from the book announcing its imminent arrival in January.
The book is filled with whimsical illustrations, inspiration, irreverent owner's manual advice as well as all the info you'll need to get your creativity running like a well-oiled machine. In the Daily Maintenance Section there is a creative prompt for every day of the year. The Troubleshooting Section has solutions for procrastination, overwhelm, self-sabotage and more. Plus it's got Gizmos, Directons, and Settings of all kinds.

I made it for you myself. And I think your friends and loved ones will love it too. Maybe even Fred.
Hope to see you at one of The Muse is IN book signings:
January 12, 2013 1:30 pm The Muse is IN, San Diego

Janaury 19, 2013 Romance Writers of San Diego Conference

February 17, 2013 2:30 pm Book People Austin, Tx
March 7, 2013 6:30 pm Brunswick-Glynn County Library Auditorium, Brunswick, GA

March 14, 2013 Changing Hands, Tempe, AZ
April 7, 2012 New Renaissance Bookshop, Portland, OR

Creativity Events, Trainings, and Workshops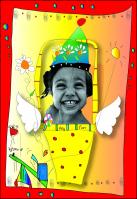 Scan this list and let your intuition guide you to your next adventure. Or do all of them. That would be my recommendation.

Monday, December 10, 2012,
Creative guided imagery call
to beckon your creative resources and rich imagination through vivid suggestion and the other worlds of possibility.
Sign-up here
We mentioned that above...remember?
Tuesday, December 11,2012 Cowgirl and Crayons Sampler
4 pm pacific/5 mtn/6 central/7pm eastern. Link is up above.

Monday January 8, 2013 Creative Realignment Journal Workshop
All you need is the phone to attend this excellent way to kick off your 2013. With inspiration and guidance from Jill Badonsky, as well as PDFs of artwork (and if you register by December 12 a free desk calendar with Badonsky-art).
More information here
.
Saturday January 12, 2012 The Muse is IN: An Owner's Manual Book Release Party!!!!!

1:30-4:30 pm
The Muse is IN Headquarters
3023 1st Ave, San DiegoChampagne, singer-songwriter, Bill Hartwell, featured poets, surprises, and a How-to demonstration from the Muse.
January 15-March 26, 2013 Begins the next Modern Day Muse Facilitator Training
Become trained as a Creativity Group Leader
: 12 weeks of a experiencing a creative journey that you then teach to others. A great way for kindred spirits to connect and celebrate creativity. With Janet Whitehead and Jill Badonsky. Early registration ends December 11.
Look here for more about THAT


February 13-May 29, 2013 or August 21-December 11, 2013
Next Kaizen-Muse Creativity Coaching Certification Trainings
More information here
Now accepting applications. Payment plans available. Become certified as a Creativity Coach and experience your own creative breakthrough in all areas of your life as well with tools proven since 1997 from the books of Jill Badonsky, with author, Robert Maurer, Ph.D. The value goes way beyond the cost.
February 15-17, 2013 Cowgirls and Crayons goes to Austinand March 15-17, 2013 back to Sedona
Release your bold, creative sassy self through writing, SoulCollage(R), art, movement, and a LOT of laughing. Take home art and writing souveneirs and reminders. With Jill Badonsky and Kat Kirby. More here. Cowgirl up! Reply to this email or email info@themuseisin.com for more information. OR Join us this coming Tuesday for a sampler call at 4pacific/5/6/7eastern pm.
Sign-up and Giddy-up
July 9-13. 2013 Taos Creative Thunder Retreat
Be a part of Jill and friends's annual sojourn to the Mabel Dodge Luhan House in the enchanted land of Taos to restore creativity, energy, and joy. Includes creative writing, expressive art, energy work, SoulCollage(R), evening salons with local singer/songwriters.
More about that here
Again and again ~ Return like mountain ~ Release like ocean ~ Relax like sky ~ And rest ~ Rest in the heart of pure awareness. ~Living Buddha
Yule Be Great.. Have a beautiful Christmas and Hanukkah ,
Click here for Classes and Workshop Page at The Muse is IN