Take a Look "Inside the Gaithersburg Book Festival"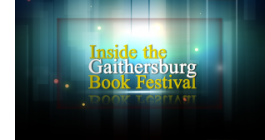 If you've never been to the GBF and wonder what the buzz is all about, now you can find out. On December 4, Montgomery Community Media premiered a 30-minute show called "Inside the Gaithersburg Book Festival," which recaps the 2012 festival, features one-on-one interviews with authors and organizers, and looks ahead to 2013.
Originally aired on MCM in early December, you can now watch the show on the station's website.
And Our List Keeps Growing
It's not even 2013 yet, but our line-up is starting to take shape, with about two dozen featured authors already confirmed:
~ Non-Fiction ~

Paul Dickson is the author of several classic baseball books, including his latest, "Bill Veeck: Baseball's Greatest Maverick," as well as "The Dickson Baseball Dictionary," "The Unwritten Rules of Baseball," "The Hidden Language of Baseball" and "The Joy of Keeping Score." Dickson is being honored with the Jerome Holtzman Award by the Chicago Baseball Museum for his contributions to the promotion of Chicago baseball and the preservation of its history and tradition and he won the 2011 Tony Salin Award from the Baseball Reliquary for his role in preserving baseball history. He also is the author of "Drunk: The Definitive Drinker's Dictionary," the classic narrative history "Sputnik: The Shock of the Century" and the co-author of the acclaimed "The Bonus Army: An American Epic." He lives in Garrett Park, Md.

Sam Kean is author of The New York Times best-sellers "The Disappearing Spoon" and "The Violinist's Thumb." Both books were also Amazon Top 5 science books of the year. He and his work have been featured on "Radiolab," "All Things Considered" and "Fresh Air." He lives in Washington, D.C.

John Schwartz is the author of "Oddly Normal: One Family's Struggle to Help Their Teenage Son Come to Terms with His Sexuality" and a national correspondent for The New York Times, where he has covered law, science, technology, business and a broad range of other topics. His writing has appeared in The Washington Post, Newsweek, The Wall Street Journal, GQ, Texas Monthly and other publications. Schwartz and his wife, Jeanne, have three kids, Elizabeth, Sam and Joseph, and live in New Jersey with two difficult cats.

Jill Smokler is best known for her blog, Scary Mommy, where she writes about motherhood — the good, the bad and the scary. Her honest take on parenting has appeared on CNN, Good Morning America, The Today Show, Huffington Post and more. Smokler's first book, "Confessions of a Scary Mommy," hit The New York Times best-sellers' list in its first week. Her second book, "The Scary Mommy Handbook," debuts in April 2013.
~ Children's ~

Mac Barnett is the author of several children's picture books, including The New York Times best-selling "Extra Yarn," which won the 2012 Boston Globe-Horn Book award, "Chloe and the Lion" and "Guess Again!" His latest book is "Oh No! Not Again! (Or How I Built a Time Machine to Save History) (Or at Least My History Grade)." He also writes the Brixton Brothers series of mysteries. Barnett lives in Berkeley, Calif.

Dave Roman is the author of several graphic novels, including his latest, "Astronaut Academy: Zero Gravity," as well as "Teen Boat!" and "Agnes Quill: An Anthology of Mystery." He has contributed stories to "Explorer: The Mystery Boxes" and "Nursery Rhyme Comics," and is the co-author of two New York Times best-selling graphic novels, "X-Men: Misfits" and "The Last Airbender: Zuko's Story." Roman is a graduate of the School of Visual Arts and worked as a comics editor for the groundbreaking Nickelodeon Magazine from 1998 to 2009. He lives in Astoria, N.Y., with his wife, comic artist, Raina Telgemeier.

Jennifer Roy's books span several genres, including historical fiction, young adult and pre-teen fiction. She is best known for "Yellow Star," an award-winning novel based on her Aunt Sylvia's childhood during the Holocaust. Aunt Sylvia was one of only 12 children to survive Poland's Lodz Ghetto and she now lives in Rockville. Roy's other books include the award-winning "MindBlind," about a teenage boy with Asperger's Syndrome, and "Cordially Uninvited," in which an average American seventh-grader is asked to be a junior bridesmaid in the Royal Wedding.
High School Student Short Story Contest Accepting Entries Until Feburary 15
Once again, the Gaithersburg Book Festival is sponsoring a short story writing contest for Washington, D.C., metropolitan area high school students.
To participate, individuals must be enrolled in grades 9-12 at a public or private school, or in a homeschool program, for the 2012-13 school year, and reside in Maryland, Virginia or the District of Columbia. Stories must be no longer than 1,000 words and start with one of the following three lines, which were provided by New York Times best-selling writer Caroline Leavitt, author of "Pictures of You," "Girls in Trouble" and "Is it Tomorrow," which will be released in May 2013:
The first time he saw her, she was homeless, sitting in Union Station eating crackers from a paper bag...

I was 16 the year my brother vanished...

Every summer, whether he or she wanted to or not, one person was chosen to go to the moon...
Stories must be submitted as a Word document to writingcontest@gaithersburgbookfestival.org by midnight ET on Friday, February 15, 2013.
Up to 15 stories will be selected as finalists and posted on the Gaithersburg Book Festival website prior to the festival on May 18, 2013. The first-, second- and third-place winners will be announced at the festival and will be awarded $100, $50 and $25 gift certificates, respectively, courtesy of the Johns Hopkins Montgomery County Campus.
Complete rules and regulations for the contest can be found online.
Building the 2013 Children's Village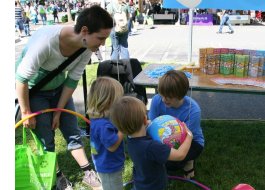 Organizers are well on their way to building an exciting Children's Village for the 2013 festival. We've got entertainers eager to take center stage on Imagination Station. Writopia Labs D.C. is busy designing activities for the Children's and Teen's Workshop Tent. And a host of in-kind sponsors are brainstorming about literary crafts, stories and projects that children and families will enjoy.
Imagination Station, our children's performance stage, will be filled with storytellers, puppeteers, jugglers, authors and even a little magic. The curtain will rise with two shows from Penny Theatre brought to the GBF by Friends of the Library, Quince Orchard Chapter and the Noyes Library Foundation. Penny Theatre dates back to Victorian England, where for one penny a child could buy a kit to create a small theatre box with cut-out characters. Imagination Station will bring back the nostalgia for Penny Theatres and retell classic stories with drop-in sets, puppets and audio. Other featured performances on the stage include:
In addition to wonderful entertainers, Imagination Station also will become the stage for children to put on their own performance. Creative Kids, produced byLenore Blank Kelnore & Co., will return to help children bring stories to life through drama. Finally, Imagination Station will be transformed by the magician, musician and Mandarin speaking entertainer, Uncle Shu Shu. Uncle Shu Shu is traveling all the way from China to share his magic tricks, songs and stories that are sure to entertain children of all ages while teaching some Mandarin words and phrases. Uncle Shu Shu's message is that reading is fun in any language, so why not try it in another one!
The Children's Village also will offer free writing workshops for children and teens. Writopia Lab D.C., a nonprofit creative writing center for children and teens, will be back this year. In the Workshop Tent, children will get instruction for perfecting their writing styles. Workshops will include childrens' storytelling, poetry and a behind-the-scenes look at how the judging process works for competitions like the Scholastic Writing Awards. Writopia also will provide some hints for high school students on how to write impactful college essays. Check back in the weeks to come to see a final workshop schedule.
Around the Children's Village, kids will be able to make bookmarks, reading buddies and other crafts. Plus, they'll find creative ways to express their love of books. We are excited to have Family Services Inc., Frederick Keys, Girls on the Run, the Girl Scout Council of the Nation's Capital and Montgomery College Early Childhood Education Group helping to organize fun activities that encourage reading.
There also will be a StoryTime Tent with authors and local storytellers who will share their tales with the youngest Festival attendees. The premier presenter in our StoryTime Tent will be Leah Taylor, author of "Horses of the Presidents" and "The Adventures of Oreo and Algonquin." Leah and her pony, Oreo, will be telling stories of horses that have lived in the White House, and children will be able to pet Oreo and feed her carrots.
Don't Keep Us a Secret: Share the GBF News with Friends and Family
Share the GBF News with your friends, family and especially book club members so they can stay up-to-date with what we're planning for 2013... and beyond.
Simply click the "Send to a Friend" button at the top of the newsletter to pass along this issue.
To become a regular GBF News subscriber, visit the festival website and click "Join Our Mailing List." Subscriber contact information will be used solely for the newsletter and will not be shared or sold to other parties.
4th Annual Gaithersburg Book
Festival
____
Saturday
May 18, 2013
____
On the Grounds of
City Hall in
Olde Towne Gaithersburg, Md.
Featured Author Applications Due
January 15
Are you a writer who has dreamed about sharing the spotlight with our best-selling and award-winning authors? Well, your dreams could come true at the 2013 Gaithersburg Book Festival.
If you are an author who has published a book within the last year, or has a new work coming out by May 2013, we invite you to submit an application to present at the fourth annual Gaithersburg Book Festival. If selected, you could present individually, be paired with other featured authors or be featured in a panel discussion.
The deadline to submit your application is January 15, 2013. For more details, visit the GBF website.
It's never too early to start planning ahead. That's why the GBF is looking for some great volunteers now!
As a volunteer, you'll be able to play an important role in the success of the fourth annual GBF, and have a unique chance to meet and interact with some of today's top authors. High school students ages 16+ also have the opportunity to earn SSL hours.
If you are interested in volunteering to set up on Friday, May 17, or assist the day of the festival, Saturday, May 18, please visit the GBF website for more information or to sign up.
Sponsor the GBF and Gain Visibility
It's not too late to include the Gaithersburg Book Festival in your company's 2013 charitable giving or sponsorship plans.
A GBF sponsorship is a highly visible way to show that you support the community and value the arts.
The festival has quickly become a prestigious annual event, attracting 17,000 attendees in 2012, many of whom are among the region's best-read and most well-educated individuals. Because of the sheer scope of the Gaithersburg Book Festival, the City of Gaithersburg is able to fund only a modest percentage of the event's expenses. For the rest, we rely on the generosity of corporate partners, foundations and individual donors to help us deliver the world-class event that our attendees have come to expect.
To find out more about sponsorship opportunities, visit the GBF website.
Want to be one of the first to know about the latest news from the Gaithersburg Book Festival and our featured authors?
If so, visit the Gaithersburg Book Festival blog or follow us in the social media universe on Twitter and Facebook.