HAPPY HOLIDAYS FROM US ALL OF US AT RBA PUBISHING!!
Attention Festival Promoters
TIME TO POST YOUR FESTIVALS!
It's time to post your 2013 festival information on the
Blues Festival Guide website: www.bluesfestivalguide.com it's FREE!
The sooner you put the information on our website the sooner fans will see it and be able to plan their Blues Festival adventures!
ADD THIS TO YOUR 2013 ADVERTISING BUDGET FOR RESULTS!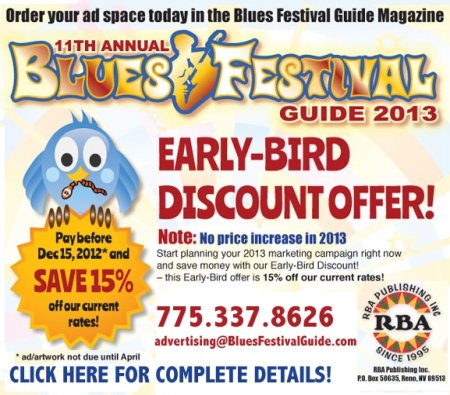 __________________________________________
BRING IT ON!... Send us your cool photos that display the Blues festival Guide magazine! We're so proud to be able to share the annual magazine with you for 10 years now! We'd love to see and share you enjoying it and helping spread the good word! Send your BFG shots with subject, location, date and photo credit to editor@bluesfestivalguide.com
__________________________________________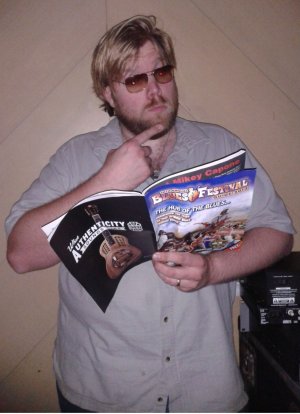 Christoffer "Kid" Andersen, the Norwegian/West Coast blues guitarist who currently plays with Rick Estrin & The Nightcats, shows off his 2012 BFG in San Diego, CA after helping record a Little Walter Tribute.
Photo: Michele Lundeen
___________________________________
Willie Buck : CELL PHONE MAN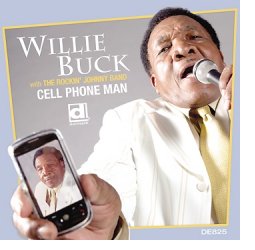 Willie Buck has been leading his own bands for over 40 years. He's been on the scene since his arrival in Chicago as a teenager in the midst of the heyday of Chicago blues in 1953. He put out his only album in the early 80s which became a collector's item over the years and was re-issued in 2010 as The Life I Love (Delmark 805). At that time it was decided Willie would create a new album for Delmark but it wasn't until Rockin' Johnny stepped forward that the project got off the ground.
Cell Phone Man features 16 songs with a heavy dose of Muddy Waters Chicago Blues. Rockin' Johnny Band is Rockin' Johnny, Rick Kreher, guitar; Barrelhouse Chuck, piano; John Sefner, bass; Steve Bass, drums and special guest Bharath Rajakumar, harmonica.
___________________________________
Doug Demming & The Jewel Tones : WHAT'S IT GONNA TAKE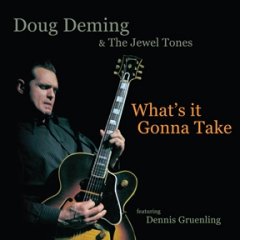 Eastside Detroit native Doug Deming, now hailing from Florida's Gulf Coast, has garnered widespread attention for his deft guitar work and memorable songwriting. With a nod to the likes of T-Bone Walker and Charlie Christian, as well as Luther Tucker and Robert Jr. Lockwood, Doug leaves his own mark whether swingin' on the big jazz box, or playing straight up blues on the solid body Fender guitar.
In Detroit Doug spent years backing many of the days' top touring blues artists, including Fabulous Thunderbirds frontman Kim Wilson, Lazy Lester, Gary Primich, Chicago greats Johnny "Yard Dog" Jones, and A.C Reed, as well as Detroit's own Queen of the Blues, Alberta Adams.
With a decade of touring and recording to his credit, Doug Demming has earned his position as a prominent figure in today's blues scene. Leading his band, The Jewel Tones, Doug continues to bring noteworthy traditional and original roots music to his audiences.
Doug's latest recording, What's it Gonna Take exhibits the outstanding guitar work and remarkable singing and songwriting that have become Doug's calling card. Paired with acclaimed harp man and touring partner Dennis Gruenling, and backed by the new Jewel Tones line-up of Andrew Gohman on upright and Fender bass, and Devin Neel on drums, Doug is once again taking to the road for a series of tours in support of the new release.
Listen to "What's It Gonna Take"
___________________________________
JOE BONAMASSA TO RETURN TO DOHENY BLUES FESTIVAL IN MAY
Join us for the 16th Anniversary of the Doheny Blues Festival, May 18-19, 2013 at Doheny State Beach in Dana Point, California.
Blues-rock titan Joe Bonamassa returns to Doheny, his first U.S. festival appearance in three years. Joe is the 2nd top-selling Billboard Blues Artist of all time (behind B.B. King and tied with Stevie Ray Vaughan). His last nine albums debuted at #1 on the charts.
2013 Grammy Nominee Shemekia Copeland also returns to the beaches of Dana Point - her first Doheny appearance in ten years. And from across the pond are retro soul band, James Hunter Six (new album due in February) and British newcomer, Joanne Shaw Taylor.
Many more artists will be announced in the New Year!
The Doheny Blues Festival will feature 24 sets of LIVE music on three different stages!
Give The Gift Of 'Blues On The Beach'! This holiday season give the gift of Doheny Blues Weekend Passes to your family and friends. The Winter Weekend Passes are the best holiday deal for your favorite blues buddy!
___________________________________
"SIMPLY THE BLUES" IS BACK DEC 27TH IN MUMBAI, INDIA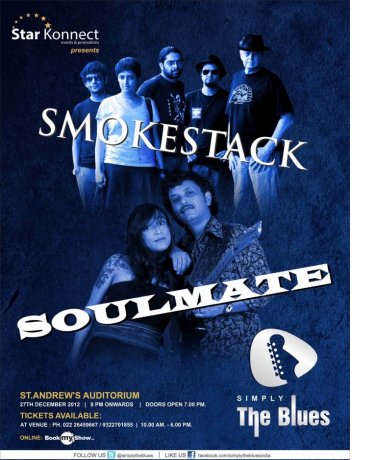 MUMBAI - Mumbaiites definitely love their Blues and their favourite Blues concert series "Simply The Blues" is back with the 3rd Edition of its concert series, to be held on 27 December at St Andrews Auditorium, Bandra, India.
Coming all the way from Shillong is the country's best Blues band, Soulmate. Joining them on stage are the Pune based, Blues Jazz-World Groove band, Smokestack, dishing out their signature style and shades of Blues.
Conceptualized and produced by Starkonnect Events & Promotions, this on-ground event is planned as a four part concert series, with one event every month. Blues Music festivals in India, are few and far between and this event will promote Blues music not just in Mumbai, but expand its reach across India. "Simply The Blues" was created to provide a credible and consistent platform to Indian Blues artists from across the country.
___________________________________
MARATHON TO BENEFIT MISSISSIPPI BLUES COMMISSION

The 6th annual Mississippi Blues Marathon and Half-Marathon will take place on Saturday, January 5, 2013, in Jackson, Mississippi. Presented by BlueCross and BlueShield of Mississippi, the race start times are as follows: Wheelchair and handcycle participants start at 6:50 a.m., marathon and half-Marathon start at 7:00 a.m., and the Kids' Marathon at 8:00 a.m. Both the marathon and half-marathon will be open to walkers and physically challenged competitors as well. There is a separate wheelchair category for both the marathon and the half-marathon.
A portion of the proceeds will benefit the Mississippi Blues Commission. Additionally, the race brings attention to the state and its rich blues heritage. The positive economic impact of this event will be experienced by restaurants and hotels patronized by competitors and visitors. Since the inaugural race in 2008, the Mississippi Blues Marathon has donated more than $40,000 to the Blues Commission.
________________________________________
PLAN TO ATTEND THE 2013 INTERNATIONAL BLUES CHALLENGE?
ORDER LRBC MICHAEL BURKS COMMEMORATIVE SHIRTS NOW!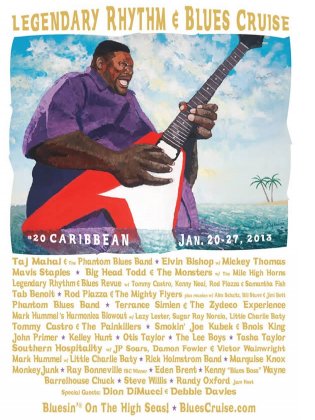 Just in time for the Holidays! LRBC #20 Commemorative Shirts! Here's a preview of LRBC #20 January 2013 Commemorative Art honoring Michael Burks by Dane Tilghman. These items are available for a limited time only for Holiday orders. Please place orders by December 18th to ensure Holiday delivery.
Red, Chocolate Brown, Khaki and more! Please note there will be a wider variety of colors and styles available at the Pre-Party and in the Bluesin' Bazaar on the ship.
Allow 5-7 working days for shipping.
Orders shipped USPS Priority Mail.
_______________________________________
FIND YOUR GROOVE ON THE LEGENDARY RHYTHM & BLUES CRUISE!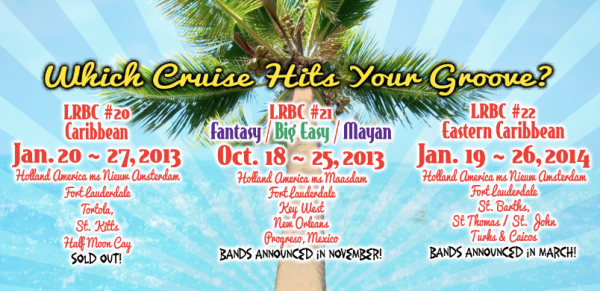 www.BluesCruise.com or (816) 753-7979 reservations & info
You HAVE to experience this at least once in your lifetime!
__________________________________
DELTA GROOVE & ELECTRO GROOVE RECORDS ARTISTS
FEATURED AT FESTIVALS EXCLUSIVE


Festivals Exclusive, LLC is a booking agency specializing in booking Blues, Roots & Music Festivals worldwide. Festivals Exclusive will initially focus solely on booking artists on the Delta Groove Music and Eclecto Groove Records labels. They are dedicated to providing the highest quality in live music and performances. They will work in conjunction with the Delta Groove and Eclecto Groove labels to assure you the highest level of professionalism and an assortment of jaw dropping packages that will include various artists from the labels. Whether you book a solo act or a monster package, your festival is guaranteed to get an unbelievable show!
___________________________________________
OC BLUES SOCIETY HOSTS HOLIDAY FOOD DRIVE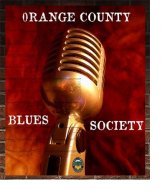 Real Blues Festival/Orange County Blues Society founder Papa J hosts a Holiday Food Drive at the House of Blues Anaheim (1530 S. Disneyland Ave, Anaheim, CA), Thursday, December 27. Proceeds benefit the Orange County Food Bank.
Blues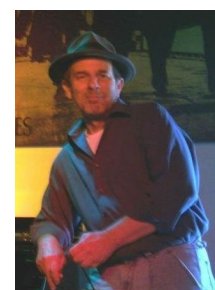 harpist/vocalist Papa J (pictured at rt) and Delta blues guitarist K.K. Martin are among the scheduled performers.
Papa J (Jeffrey Hudson) is also the founder/creator of both the Real Blues Festival of Orange County and the Orange County Blues Society. This 2012 Los Angeles Music Awards "Best Americana, Blues, or Roots Artist" nominee has been one of the hardest-working. most influential people on the Orange County blues scene for nearly two decades.
_________________________________
If you represent a Blues Society and/or have a very special announcement for a not-for-profit event coming up, send your brief news or Press Release (300 words or less) with "Blues Society News" in the subject line to: editor@bluesfestivalguide.com.
___________________________________________
A VARIETY OF CHRISTMAS BLUES WITH ELWOOD
Elwood knows you WANT to be merry. You want to release that jolly old elf inside you. Dash through the snow. You want to twinkle. To chortle. But a part of you also wants those merry gentlemen to just give it a rest.
A part of you wishes that Frosty the Snowman would just melt already. A part of you thinks that if you hear Rudolph the Red Nosed Reindeer one more time, you may grow antlers and run amok. Don't worry. Elwood is there to help. Experience the musical alternative. Christmas blues.
Have a blue Christmas with Elwood. Next time, in The BluesMobile.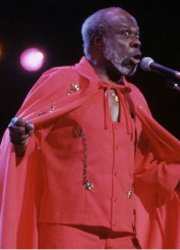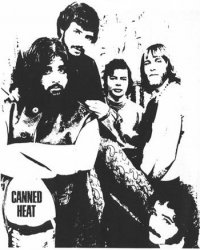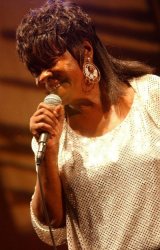 For a list of stations where you can find BluesMobile Radio
___________________________________________
Maxine's "Crabby Christmas Blues"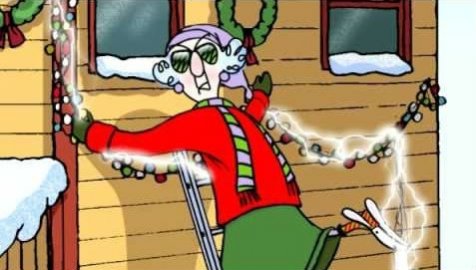 ___________________________________________
Raise The Roof: Campaign for the Blues Hall of Fame
YOU can make the Blues Hall of Fame a reality. Your support matters!

The Hall of Fame pays tribute to the greatest of the genre and educates new people about the genre. The Blues Foundation has been inducting into the Blues Hall of Fame for years; it was just a simple evening with web presence. Now we need physical presence, and with your help, we are going to get The Blues Hall of Fame building built in Memphis, TN! Here are details about the BHF campaign
How to donate: 1. Make a multi-year pledge online or print out and sign form and mail to: The Blues Foundation, 421 South Main, Memphis, TN 38104-4464;
OR fax to 901.529.4030; OR e-mail it to jay@blues.org.
2. Make a one-time donation by calling with a credit card or mailing a check or find online.
3. Text the word " blues" to 80077 to donate $10. When you receive a message to confirm, answer with "YES."
No effort is too small or unappreciated!
If not us, who? If not now, when?
You too can get involved. Email us: Info@BluesFestivalGuide.com to get logos and links for your website or Facebook.
_________________________________________
Did you know that I do Custom Comic Strips and Comic Pages as gifts?
____________________________________________
BLUES FESTIVAL GUIDE SITE OFFERS GIG/CONCERT LISTINGS

Our top-ranking blues website, www.BluesFestivalGuide.com, well-known for its comprehensive list of blues festivals throughout the world, has a new FREE feature: Gig/Concert listings to benefit fans, bands, and venues!
Go to www.BluesFestivalGuide.com, click on SUBMIT GIG/CONCERT and fill in the blanks. It will appear in our Gig/Concert calendar within 24 hours. Fans can search by date, band, venue, city, state and country....
Find dozens of festivals at www.BluesFestivalGuide PLUS a Blues Link Directory for everything blues: bands, labels, venues, etc.
Our website, e-newsletter and print magazine are all published by RBA Publishing Inc, 775-337-8626, info@BluesFestivalGuide.com
12-28-12
______________________________________
The Roots Blues Airplay Charts are "frozen" for the holidays
and will appear here again after Jan 1, 2013
______________________________________
The Roots Blues Airplay Charts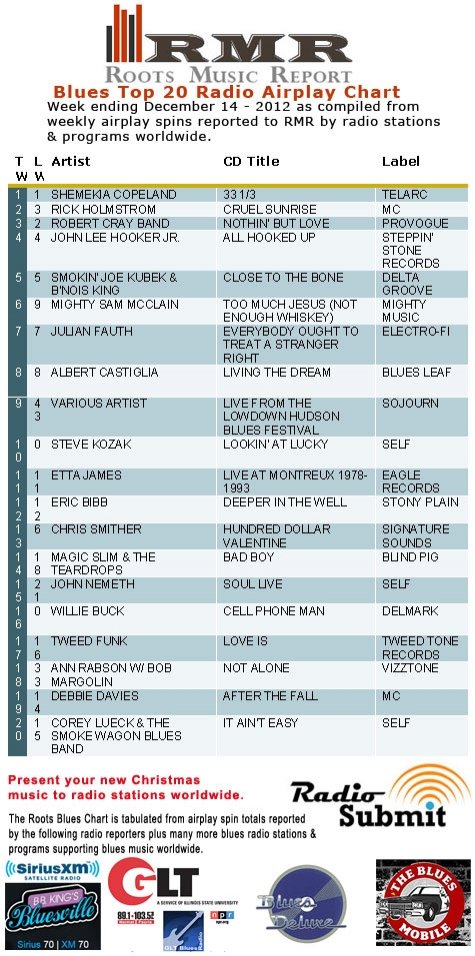 To view our entire calendar of more than 500 festivals click here!
ATTENTION:

FESTIVAL PROMOTERS

LIST YOUR FESTIVAL WITH US

FREE!

Website

E-Guide

Magazine

If you host or know of a Blues Festival you don't see here or in

our online listings...

Please get us the info or POST!

________________
Thursday-Sunday

January 17th-20th 2013

Ft. Lauderdale, Florida USA

Saturday- Saturday

January 20th - January 27th 2013

Fort Lauderdale, Florida USA
Thursday-Sunday

January 24th-27th 2013

Coral Gables, Florida USA

Thursday-Sunday

January 24th -January 27th, 2013

Clarksdale, Mississippi USA
Tuesday-Saturday

January 29th - February 2nd 2013

Memphis, Tennessee USA

Friday-Sunday

February 8th-17th 2013

Charleston, South Carolina USA
Saturday-Sunday

February 16th-17th 2013

Clearwater, Florida USA

Monday-Sunday

February 25th - March 3rd 2013

Saskatoon, Saskatchewan Canada
Thursday-Sunday

February 28th - March 3rd 2013

Boquete, Chiriquo Panama

Saturday

March 2, 2013

Greenwood, Mississippi USA
Saturday

March 9th 2013

Phoenix, Arizona USA

Friday-Sunday

March 22nd-24th

San Felipe, Baja, Mexico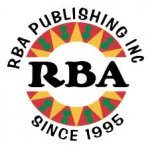 RBA Publishing Inc is based in Reno, Nevada USA. We are woman owned and operated.
We produce the annual Blues Festival Guide magazine (publishing our 10th annual in 2012), affiliated with the top-ranking website:
www.BluesFestivalGuide.com, and this weekly blues newsletter: The Blues Festival E-Guide with approximately 28,500 weekly subscribers.
We look forward to your suggestions, critiques and questions!
You can reach the E-Guide editor, Michele Lundeen at editor@bluesfestivaleguide.com or michele@bluesfestivalguide.com
Contact our home office to find out how to advertise in this e-weekly newsletter 775-337-8626.
Information, both editorial and advertising, in the Blues Festival E-Guide, is believed to be correct but not guaranteed. Double check info carefully before you attend any event or send money for anything. We do not write the news... we just report it!