HAPPY HOLIDAYS FROM US ALL OF US AT RBA PUBISHING!!
Attention Festival Promoters
TIME TO POST YOUR FESTIVALS!
It's time to post your 2013 festival information on the
Blues Festival Guide website: www.bluesfestivalguide.com it's FREE!
The sooner you put the information on our website the sooner fans will see it and be able to plan their Blues Festival adventures!
ADD THIS TO YOUR 2013 ADVERTISING BUDGET FOR RESULTS!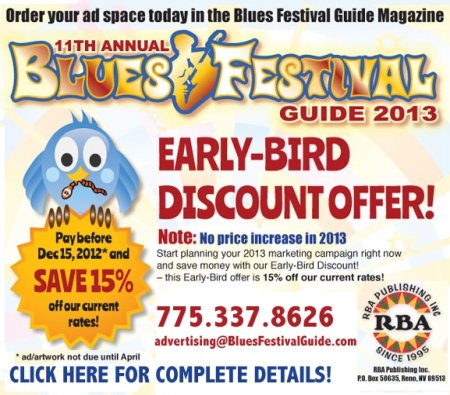 __________________________________________
BRING IT ON!... Send us your cool photos that display the Blues festival Guide magazine! We're so proud to be able to share the annual magazine with you for 10 years now! We'd love to see and share you enjoying it and helping spread the good word! Send your BFG shots with subject, location, date and photo credit to editor@bluesfestivalguide.com
__________________________________________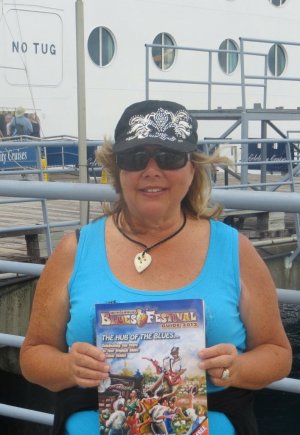 Terri Mills of Reno, NV shows off her 2012 BFG while getting ready to explore St. Lucia in the Carribbean, one of the cool stops during the Oct 2012 Legendary Rhythm & Blues Cruise.
Photo: Michele Lundeen
___________________________________
Buddy Guy : LIVE AT LEGENDS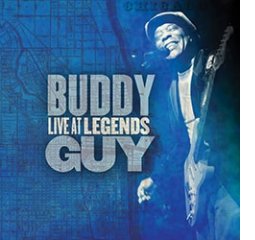 If you've never had the chance to experience the great blues icon Buddy Guy perform live, now is your chance to be enthralled by his musical magic on Live at Legends, recently released by Silvertone/RCA Records.
Live at Legends features the Guy's last live recordings from his now-shuttered original Legends blues club in Chicago, captured during his January residency there in 2010. The album features a number of Buddy Guy live favorites including two amazing medleys: John Lee Hooker's "Boom Boom" into Cream's "Strange Brew;" and Jimi Hendrix's "Voodoo Child" into Cream's "Sunshine of Your Love." In addition to the live recordings, Live at Legends includes three previously unreleased studio recordings from Guy's critically acclaimed Living Proof album sessions: "Polka Dot Love," "Coming For You," and "Country Boy."
The recipient of over 30 awards and accolades, Guy was recently selected to receive this year's Kennedy Center Honors alongside Dustin Hoffman, David Letterman, Natalia Makarova and Led Zeppelin. In a career that spans nearly 50 years with over 50 albums released, the illustrious Buddy Guy has received 28 Blues Music Awards (formerly W. C. Handy Awards), 6 Grammy Awards, Rock and Roll Hall of Fame induction, the first annual Great Performer of Illinois Award, a Billboard Music Awards' Century Award for distinguished artistic achievement and the Presidential National Medal of Arts.
___________________________________
Various Artists : TORONTO BLUES NOW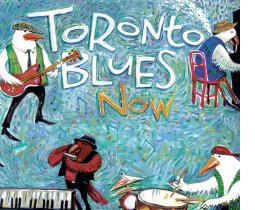 Toronto Blues Now features some of Toronto's best blues recording artists and is a sweet sample of the sounds being created on Toronto, Canada's vibrant scene. This release includes a range of sounds from acoustic roots to big band funk to gospel harmony and straight-up electric blues.
"Toronto blues musicians live in a sophisticated city and the songwriting on Toronto Blues Now reflects that character," says Toronto Blues Society president, Derek Andews. "The urban environment seeps into songs like "Photograph" by Paul Reddick, or Treasa Levasseur's "A Little Pride," Rita Chiarelli's "French Kiss" and "Gotta Thing For You" by the gritty punk blues group, catl.
For nearly three decades, the Toronto Blues Society has been nurturing the scene through the annual Maple Blues Awards, a talent search, showcases like a Women's Blues Revue and educational programs. It's also released several compilations and the latest, Toronto Blues Now, is an excellent snapshot of the current scene. It features young guns like the 24th Street Wailers, catl, Steve Strongman and Treasa Levasseur alongside veterans like Jack de Keyzer, Downchild and Fathead. But it also debunks the perception that the blues is a boys club. "We wanted to represent the evolving Toronto sound," says Andrews. "Toronto Blues Now is an ultimate playlist of the best tunes being recorded in our city. And seven of the 15 tracks feature women."
Toronto Blues Now features Canadian artists: Paul Reddick, Downchild Blues Band, David Wilcox, Jack de Keyzer, Suzie Vinnick, Harrison Kennedy, Treasa Levasseur, Fathead, Rita Chiarelli, Steve Strongman, Shakura S'Aida, Julian Fauth, Diana Braithwaite & Chris Whiteley, The 24th Street Wailers, and catl.
Available online via the Toronto Blues Society or CD Baby. Individual tracks are exclusively available directly from the artists' digital retail sites.
___________________________________
ROBERT RANDOLPH FAMILY BAND & KARL DENSON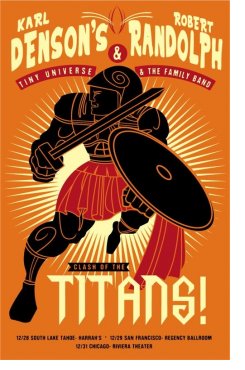 Lake Tahoe: Don't miss your chance to see Karl Denson's Tiny Universe and Robert Randolph & the Family Band on the "Clash of the Titans Tour." This very limited New Year's Eve run will stop at Harrah's South Shore Room, Lake Tahoe (CA) for one night only, Friday, December 28. Tickets are $44 and the show is at 7 pm.
Robert Randolph and the Family Band, the blues-rock, funk and soul band led by virtuoso pedal steel guitarist Robert Randolph, includes drummer Marcus Randolph, bass guitarist Danyel Morgan, vocalist Lenesha Randolph, keyboardist and guitarist Brett Andrew Haas, and one of three rotating rhythm guitarists: Joey Williams of Blind Boys of Alabama, Adam "Shmeeans" Smirnoff, and Cousin Ray-Ray. Jason Crosby (keyboards and fiddle) and John Ginty (organ) are former members. Rolling Stone included Robert on their list of the 100 greatest guitarists of all time.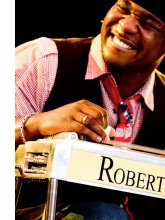 Karl Denson has led a storied career as a multi-faceted recording and performing artist who first came to prominence as a member of Lenny Kravitz' band. He formed The Greyboy Allstars in the 90s, which became world renowned as the ultimate groove band, spreading their "West Coast Boogaloo" style worldwide. Denson took this formula to the next level by putting more emphasis on vocals and adding some funk, R&B and hip hop elements.
Tickets available at the door. For more information contact Harrahs, (775) 588-6611 or Ticketmaster
___________________________________
KICKOFF 2013 BY ORDERING A CUSTOMIZED BLUES BRICK
Now here's a cool way to kickoff the New Year... Purchase and donate a custom engraved brick to help support museums like the Delta Blues Museum and Highway 61 Blues Museum. Many worldwide have been coming together for this sort of unique fundraising effort.
The Delta Blues Museum offers a custom engraved blues brick for $50 that will be used to complete their new addition. You have three lines, 15 characters maximum, to fill. Orders received together will be laid together so you can purchase several bricks to create a unique expression of your own. Brick location will be determined by architectural design. Delta Blues Museum reserves the right for copy approval/refusal. More info...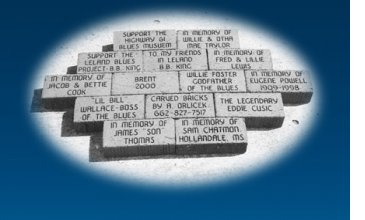 You can also become a key figure in preserving the Mississippi Delta's rich heritage by donating one of the specially engraved bricks for the Highway 61 Blues Museum in Leland, MS.
These beautiful, hand-engraved bricks may contain up to 3 lines of 14 characters each, with your personal dedication, a simple acknowledgment of your donation or recognition of your favorite blues artist. The cost of one brick, engraved, is only $50.00 (US). These bricks will be used to construct the walkway leading to the museum's main entrance or placed prominently in a wall at the museum site. More info...
_________________________________
FACEBOOK VOTES HELP BLUES FOUNDATION GET FREE PR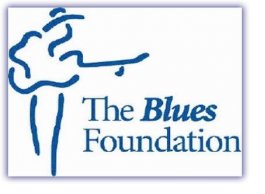 The Blues Foundation and the Fire Museum of Memphis will receive 180 days of free public relations services from Obsidian Public Relations in 2013, as winners of the firm's PR 180 initiative.
The Blues Foundation and Fire Museum were two of five finalists in the competition, which Obsidian first launched in 2011. Last year's winners were Memphis Roller Derby and On Our Own, an organization that provides social interaction for adults with physical, mental and emotional disabilities. Those winners received free PR work this year.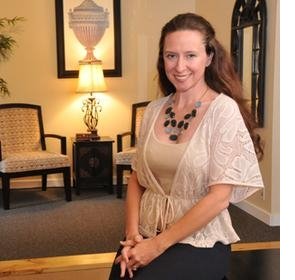 (Lt) Courtney Liebenrood Ellett, founder and owner of Obsidian, launched Obsidian's PR 180 Project last year, a contest which
awards nonprofits six months of free public relations services.
The other finalists this year were The Dorothy Day House of Hospitality, which provides temporary housing for homeless families; Special Kids & Families, an organization for children with special needs and their families; and Memphis PREP Program, an organization that provides summer leadership programs for rising high school juniors and seniors.
Courtney Liebenrood Ellett, founder and owner of Obsidian, said 25 companies initially applied before the five finalists were chosen. The winners were selected by public voting on Obsidian's Facebook page.
"I love the fact that we turned over this decision-making process to the Mid-South public last year," Ellett said. "It's been so much fun to watch residents support their favorite causes with such enthusiasm and sincerity. Our entire team is thrilled about working with The Blues Foundation and the Fire Museum of Memphis — both of which are such important assets to this community. It means a lot to us that we'll be involved in communicating their mission."
________________________________________
PLAN TO ATTEND THE 2013 INTERNATIONAL BLUES CHALLENGE?
ORDER LRBC MICHAEL BURKS COMMEMORATIVE SHIRTS NOW!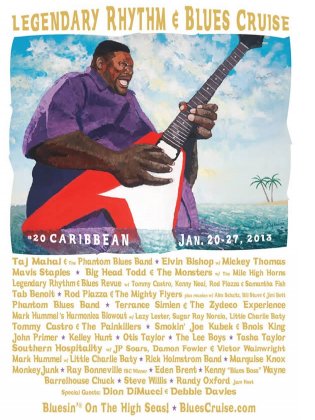 Just in time for the Holidays! LRBC #20 Commemorative Shirts! Here's a preview of LRBC #20 January 2013 Commemorative Art honoring Michael Burks by Dane Tilghman. These items are available for a limited time only for Holiday orders. Please place orders by December 18th to ensure Holiday delivery.
Red, Chocolate Brown, Khaki and more! Please note there will be a wider variety of colors and styles available at the Pre-Party and in the Bluesin' Bazaar on the ship.
Allow 5-7 working days for shipping.
Orders shipped USPS Priority Mail.
_______________________________________
FIND YOUR GROOVE ON THE LEGENDARY RHYTHM & BLUES CRUISE!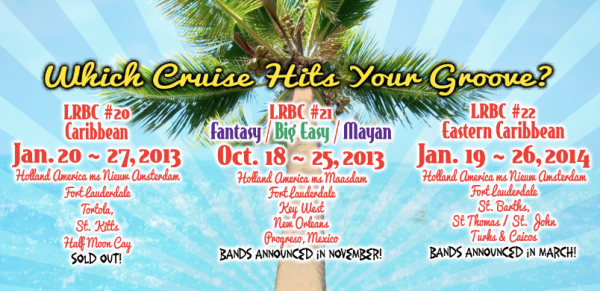 www.BluesCruise.com or (816) 753-7979 reservations & info
You HAVE to experience this at least once in your lifetime!
__________________________________
DETROIT BLUES SOCIETY
"GOIN' DOWN TO MEMPHIS" FUNDRAISER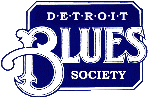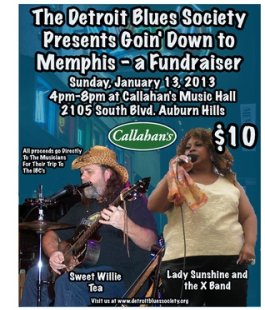 The Detroit Blues Society (DBS) IBC Fund-Raiser, "Goin' Down To Memphis," will be held, Sunday, January 13, 2013 at Callahan's Music Hall (2105 South Blvd., Auburn Hills, MI). The event will feature DBS Challenge winners Sweet Wille Tea and Lady Sunshine & The X Band. Doors 3:00 pm with show: 4:00 pm. Admission is $10 at the door. Door proceeds go directly to these artists to assist with their associated expenses to compete in 2013 International Blues Competition in Memphis, TN.
_________________________________
If you represent a Blues Society and/or have a very special announcement for a not-for-profit event coming up, send your brief news or Press Release (300 words or less) with "Blues Society News" in the subject line to: editor@bluesfestivalguide.com.
___________________________________________
Elwood Blues invites you to join him in the BluesMobile, as he sets off on a road trip to discover the wild world of Canadian Blues.
Experience acoustic blues, screaming guitar blues, jump and jive blues, along with rhythm and blues from Jeff Healey, Treasa Levasseur, Colin James, and many more of Canada's best.
Dress warmly for the Canadian Blues, next time in The BluesMobile.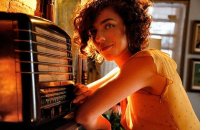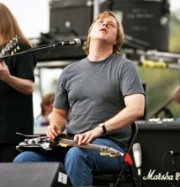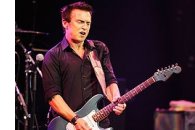 For a list of stations where you can find BluesMobile Radio
___________________________________________
Beth Hart & Jeff Beck "I'd Rather Go Blind"
during Buddy Guy's Kennedy Center Honors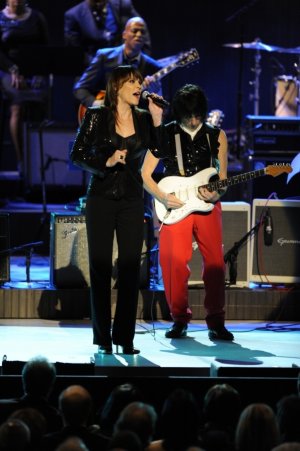 ___________________________________________
Raise The Roof: Campaign for the Blues Hall of Fame
YOU can make the Blues Hall of Fame a reality. Your support matters!

The Hall of Fame pays tribute to the greatest of the genre and educates new people about the genre. The Blues Foundation has been inducting into the Blues Hall of Fame for years; it was just a simple evening with web presence. Now we need physical presence, and with your help, we are going to get The Blues Hall of Fame building built in Memphis, TN! Here are details about the BHF campaign
How to donate: 1. Make a multi-year pledge online or print out and sign form and mail to: The Blues Foundation, 421 South Main, Memphis, TN 38104-4464;
OR fax to 901.529.4030; OR e-mail it to jay@blues.org.
2. Make a one-time donation by calling with a credit card or mailing a check or find online.
3. Text the word " blues" to 80077 to donate $10. When you receive a message to confirm, answer with "YES."
No effort is too small or unappreciated!
If not us, who? If not now, when?
You too can get involved. Email us: Info@BluesFestivalGuide.com to get logos and links for your website or Facebook.
_________________________________________
Did you know that I do Custom Comic Strips and Comic Pages as gifts?
____________________________________________
BLUES FESTIVAL GUIDE SITE OFFERS GIG/CONCERT LISTINGS

Our top-ranking blues website, www.BluesFestivalGuide.com, well-known for its comprehensive list of blues festivals throughout the world, has a new FREE feature: Gig/Concert listings to benefit fans, bands, and venues!
Go to www.BluesFestivalGuide.com, click on SUBMIT GIG/CONCERT and fill in the blanks. It will appear in our Gig/Concert calendar within 24 hours. Fans can search by date, band, venue, city, state and country....
Find dozens of festivals at www.BluesFestivalGuide PLUS a Blues Link Directory for everything blues: bands, labels, venues, etc.
Our website, e-newsletter and print magazine are all published by RBA Publishing Inc, 775-337-8626, info@BluesFestivalGuide.com
12-28-12
______________________________________
To view our entire calendar of more than 500 festivals click here!
ATTENTION:

FESTIVAL PROMOTERS

LIST YOUR FESTIVAL WITH US

FREE!

Website

E-Guide

Magazine

If you host or know of a Blues Festival you don't see here or in

our online listings...

Please get us the info or POST!

________________
Thursday-Sunday

January 17th-20th 2013

Ft. Lauderdale, Florida USA

Saturday- Saturday

January 20th - January 27th 2013

Fort Lauderdale, Florida USA
Thursday-Sunday

January 24th-27th 2013

Coral Gables, Florida USA

Thursday-Sunday

January 24th -January 27th, 2013

Clarksdale, Mississippi USA
Tuesday-Saturday

January 29th - February 2nd 2013

Memphis, Tennessee USA

Friday-Sunday

February 8th-17th 2013

Charleston, South Carolina USA
Saturday

February 16th 2013

Fort Lauderdale, Florida USA

Saturday-Sunday

February 16th-17th 2013

Clearwater, Florida USA
Monday-Saturday

February 18th-23rd 2013

Calgary, Alberta Canada

Monday-Sunday

February 25th - March 3rd 2013

Saskatoon, Saskatchewan Canada
Thursday-Sunday

February 28th - March 3rd 2013

Boquete, Chiriquo Panama

Saturday

March 2, 2013

Greenwood, Mississippi USA
Friday-Saturday

March 8th-9th 2013

Walla Walla, Washington USA

Friday-Saturday

March 8th-9th 2013

Bonita Springs, Florida USA
Saturday

March 9th 2013

Phoenix, Arizona USA

Friday-Sunday

March 22nd-24th

San Felipe, Baja, Mexico
Friday-Saturday

April 5th-6th 2013

Fayetteville, Arkansas USA

Sunday

April 7th 2013

Charleston, South Carolina USA
The Roots Blues Airplay Charts are "frozen" for the holidays
and will appear here again after Jan 1, 2013
______________________________________
The Roots Blues Airplay Charts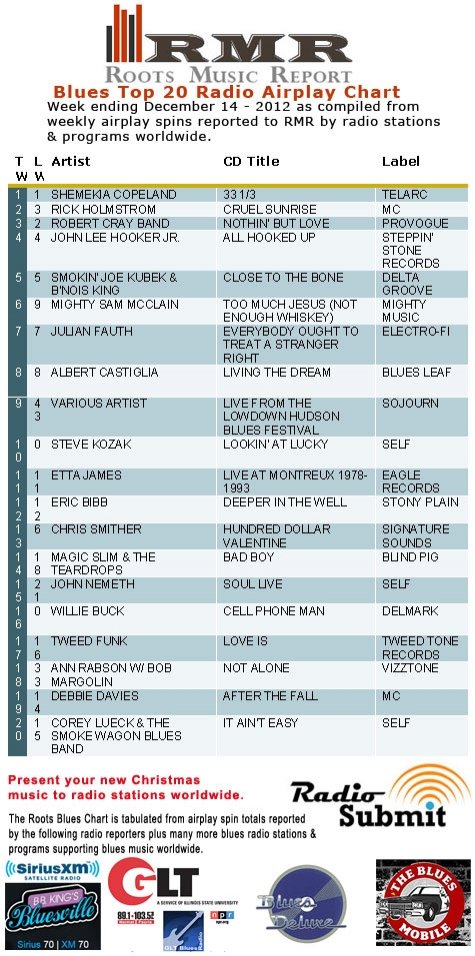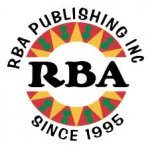 RBA Publishing Inc is based in Reno, Nevada USA. We are woman owned and operated.
We produce the annual Blues Festival Guide magazine (publishing our 10th annual in 2012), affiliated with the top-ranking website:
www.BluesFestivalGuide.com, and this weekly blues newsletter: The Blues Festival E-Guide with approximately 28,500 weekly subscribers.
We look forward to your suggestions, critiques and questions!
You can reach the E-Guide editor, Michele Lundeen at editor@bluesfestivaleguide.com or michele@bluesfestivalguide.com
Contact our home office to find out how to advertise in this e-weekly newsletter 775-337-8626.
Information, both editorial and advertising, in the Blues Festival E-Guide, is believed to be correct but not guaranteed. Double check info carefully before you attend any event or send money for anything. We do not write the news... we just report it!