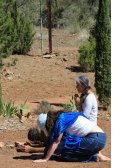 If you have been thinking about coming to Wisdom of the Earth's Sacred Level II Retreat, now is a great time to register. The early-bird registration ends on March 17th. We have totally re-vamped the program to allow you to immerse even more deeply into your knowing, your intuition, and your experience with the essences.
The program is geared toward consultations, protocols, essence families (new and uncommon), and ceremonies that will give you ample time to be mentored in becoming a qualified aromatherapist. It is a five-day retreat, filled with dreaming and bonding with each other, the Earth and the Essences...truly a delicious time to immerse your learning while in the beautiful Sonoran High Desert of Arizona. The land here speaks clearly, and your ability to listen will be an asset to go home with, especially with all the changes upon us.
It is no small statement to say that this retreat is a life changing experience. There is nothing like being wrapped in the buffalo skins under the starlight, within the sacred circle of the medicine wheel, while the harps and drum sound lightly as you sink into the mother and become one with her. The integration and deepening of this knowledge is an opportunity to really find your voice and move forward in the world in a brand-new way.
If the Earth is calling you to respond to this offering, please give us a call and register today.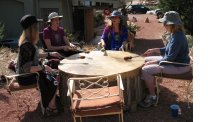 If you have taken the course before and would like to audit, give us a ring. Meanwhile. we are calling all level I students to join us.
April 17-April 21, 2012
928-649-9968