A Comparison of SweetWater Seasonals and Dank Tanks vs. Terrapin Seasonals and Side Projects
Owen Ogletree, Thel Melton, Nick Allen, Mark Hall and Jeff Rapp sat down in "beer judge mode" to see how similar-themed specialty products from Atlanta's SweetWater Brewing and Athens' Terrapin Beer Company stacked up to each other. Please keep in mind that some of these beers had been aged for several months, but their high gravity nature meant that most of them held up quite well.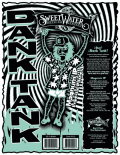 MASSIVE PILSNERS
SweetWater Magnum IP Imperial Pilsner - 9% ABV
- Herbal, citrusy aromas. Hops seem resiny and floral. Rich, honey like malts, vanilla.
Terrapin All American Imperial Pilsner - 8.9% ABV
- Earthy malt, woody hops, cellar-like. More flavoring hops than the SW beer, not quite as rich and malty as SW perhaps.
Verdict: Terrapin may be closer to style, but the hops and rich malt of the SW seem juicy and mouthwatering. These are a pair of sweet, malty brews worth sipping.
OKTOBERFEST & WHEAT BEER ON STEROIDS
SweetWater Danktoberfest - 8.5% ABV
Imperial Oktoberfest
- Very light aromas of Munich malt. Creamy, a little toasty, moderately sweet, caramel, burnt honey notes. Flavor much more intense than aroma. Very drinkable and pleasing. Will definitely fire up your lederhosen.
Terrapin Gamma Ray - 11% ABV
Wheat-wine ale with honey
- Honey, rum, raisins, schnapps, white wine like, prunes. Aging has really mellowed this strong beer. Slight tartness in the finish. Hint of sherry. When young, this beer will leave radiation burns on your tongue.
Verdict: Terrapin has more complexity and depth - especially in aroma, and the SW is younger and has fresh malt flavors. Two very different, but fantastic, beers.
HAPPY ANNIVERSARY!
SweetWater 15 - 10% ABV
Imperial ESB
- Caramel, toasted nuts, slight hoppy aroma, honey hints. Caramel flavors, raisins, sweet malt with hoppy balance. Great example of an imperialized ESB.
Terrapin 10th Anniversary Ale - 9.969% ABV
Strong ale with spices
- Clove, spices, triple-like, orange peel, fruity, allspice notes, golden malt intensity.
Verdict: Two great ales to celebrate two brewing milestones in Georgia. SW is very clean and UK oriented, while the Terrapin is more Belgian-like with layers of spicy complexity. We loved both these beers.
MOVIE NIGHT!

SweetWater The Gimp - 10.3% ABV
Old Ale
- Reminds us of spaetzle gravy in aroma. Earthy, oxidative notes, bitter, burnt sugar, overripe apricots, hints of roasted malts, meaty flavors.
Terrapin Phlux Capacitor- 9.8% ABV
Oak-aged American Ale
- Fruity, dark caramel character, floral aromas. Flavors of a new oak barrel with lots of raw tannins and vanilla. Toasty, crystal malts with hints of figs and mincemeat. Flavors that surpass 88 miles an hour.
Verdict: Of these two movie themed ales, we approved of the complexity and flavor of the Terrapin - even with the rough, fresh oak notes. With its intense, fruity, malt backbone, the Gimp is also an intriguing beer that could possibly get "medieval on your arse."
STRANGE BREWS
SweetWater Ghoulash - 8.5% ABV
Black Double IPA
- Chicory coffee, floral hops, roasted malts, hints of tropical fruits. Flavors reminiscent of a cigar humidor, molasses, dark fruits, sweet, dark fruits, cocoa.
Terrapin / Shmaltz Reunion Ale '12 - 8% ABV
Dark ale with cinnamon, cocoa nibs and vanilla
- Spicy aromas mingled with dark malts. Bold flavors of chocolate, allspice, vanilla, mole sauce-like, chocolate cream pie in a bottle. Quite a complex, satisfying dark ale.
Verdict: These two beers both kick ass. SW has pure hop and malt goodness, while the Terrapin contains layers of malt, hop and spicy notes, along with rich fermentation esters.
STOUTS WITH MUSCLES


SweetWater Happy Ending - 9% ABV
Imperial stout
- Coffee, dark raisins, dark malts, rich earthy roasted malts. Bold, full body with background of coffee, prune, roasted malts. Slightly sweet coffee tones balanced by mild hop notes, relatively clean. A delicious dark ale.
Terrapin Big Daddy Vlady's Russian Imperial Stout - 10.25% ABV
Imperial stout
- Fresh espresso, light fruits, alcohol notes with herbal, toasty hints. Flavors of licorice, sweet coffee - not quite as complex as SW, but very malty and sweet. Like rich coffee with lots of cream and sugar.
Verdict: Two thick, full-bodied black ales with loads of character, but Terrapin seems more warming and sweet, while SW offers malt complexity.