Originally published in Southern Brew News.
By Owen Ogletree
The Southeast has developed an insatiable, growing thirst for craft beer. In response, fueled mainly by fervent homebrewers wanting to turn their beloved hobby into a career, an impressive number of upstart microbreweries and brewpubs are springing up from Louisiana to North Carolina.
This exciting time for southeastern craft beer drinkers also translates into a few challenges for both new and established brewers. An eager new microbrewery owner soon realizes the frustrations associated with locating used equipment, signing multiple-year hop contracts and securing a distributor in a market already filled with tasty brands. Once holding a majority of the craft beer market share, older breweries are now forced to work a little harder to continue to spark the imagination of a new generation of southern beer geeks.
Are brewers worried or excited? Cautious or inspired? Optimistic or disconcerted? We chatted with brewery representatives from around the Southeast, getting a few of their thoughts on this brave new world of craft beer expansion in our neck of the woods.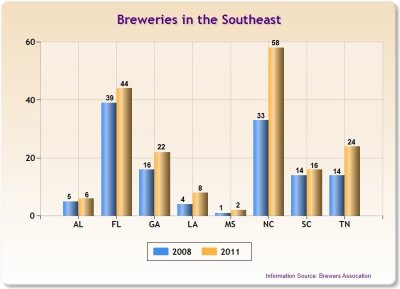 Competition is Key
Most craft brewers in the Southeast view competition as positive. "The craft beer industry has thrived because brewers strive to raise the bar in order to be recognized," notes Kevin McNerney of 5 Seasons brewpub in Atlanta. "When the bar is continuously raised, the craft beer consumer is intrigued and remains engaged. When the consumer is engaged, they demand more craft beer. Breweries that excel in quality will always have customers, and those that focus on non-quality issues will be forgotten. The moment you think there are too many breweries on the block, a young, new brewer with innovative ideas will inspire you."
The United States now boasts a record number of breweries - with hundred of new applications being processed. Terrapin's John Cochran reports, "Our Georgia Craft Brewers Guild website went live last October, and within 24 hours we received five applications for 'breweries in planning' in Georgia alone - five in one day! For me, these potential new breweries represent another avenue in reaching the 80+% of the population who have never heard of or tried craft beer. This can only benefit the existing breweries."
Out-dated alcohol laws and beer prejudices and misconceptions led to the Southeast being considered a craft beer wasteland for many years. Alabama and Mississippi are just beginning to emerge from these restraints, and brewers in these two states see competition from new craft breweries as totally welcome and completely positive. "We've been expecting and looking forward to the Mississippi craft beer 'explosion' for quite some time," says Leslie Henderson of Lazy Magnolia. "This means that new suppliers may set-up shop near me, or at least dedicate more customer service reps to our area. Store shelves in Mississippi still have a lot of room for new and exciting products. Many breweries are reluctant to distribute to our state at all, so we need to grow that variety right here at home."
Continued Spirit of Collaboration
Taylor Yates, of Georgia's new Burnt Hickory Brewery, agrees that the state's influx of fresh breweries produces more competition, but this progression necessitates renewed creativity, consistency and collaboration. "Collaborations between breweries both old and new should raise the bar for the current status quo for the consumer," Yates explains. "At the end of the day, the individual who stands to benefit the most from the current surge in new breweries is the craft beer drinker, and we brewers have a unique opportunity to concoct an exciting, new destination for craft beer lovers here in the Southeast."
NOLA Brewery in New Orleans feels that the craft industry is just beginning to take off in the Gulf South, and owner Kirk Coco expects continued, rapid craft beer expansion in the near future. "I see growth here until we hit the 35-40% market share that craft beer is seeing in the Pacific Northwest," he says. "The more craft breweries, the faster this expansion will occur - so we are very excited to see more breweries starting up and more varieties hitting the shelves. Collaboration has always been a cornerstone of the craft brewing guilds, and we will definitely continue to see this in brewing beers together and, most importantly, in drinking beers together!"
Brave New Brewing World
Justin Stange (pictured below) of Tampa's Seventh Sun Brewing envisions the Southeast as soon equaling the beer cultures of Colorado, Oregon and California. "As craft grows in this region, with it will come even more innovative and inspired beers. The educated and curious consumer exists here, and many breweries outside of this region have already noticed."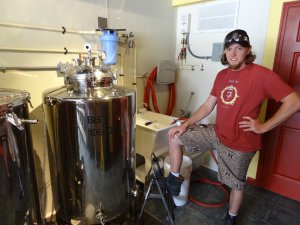 Feeling optimism, balanced by a bit of caution, Spike Buckowski, co-owner and head brewer of Terrapin, expresses, "I think at this point the Southeast is wide open - just ask Sierra Nevada, Oskar Blues and New Belgium who are installing brewing plants in North Carolina. We have an awful lot of room to grow down here, but at some point there will be saturation. Just like in the late nineties, the bubble will burst and the 'foam of the crop' will rise to the top."
Linus Hall of Yazoo in Nashville adds, "If you look at how much capacity will be coming online from breweries located in the Southeast in just a few years, it's almost equivalent to what Sam Adams sells nationally right now. It's going to be an interesting next three or four years, but I think that brewers who have a strong local following will be fine."
It's All About Perspective
The Southeast may be in a hyper-growth mode when it comes to new breweries, but the region as a whole remains in catch-up mode with most of the nation in regard to breweries per capita. "We're minting passionate new fans of craft beer on an hourly basis, and the market is still so immature," says Nick Purdy, president of Wild Heaven Craft Beers in Georgia. "In the same way you don't know what a six-year-old kid will grow up to be, the future of the Southeast's craft beer market is mostly uncharted territory."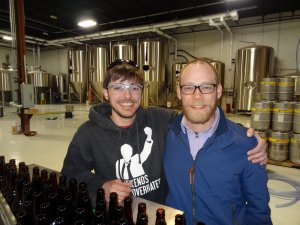 Jonathan Baker (pictured above, right) of Monday Night Brewing in Atlanta shares, "The Southeast has a unique culture with unique demographics, and we'd be lying to ourselves if we thought we knew how this exciting influx of new beers and breweries is going to impact the industry long-term. That said, we're one of these new entrants, so we obviously think there is still room and demand for southeastern beer, and we're excited for the future!"
Considered by many as a "founding father" of southern microbrewers, Highland Brewing's Oscar Wong still holds tremendous enthusiasm and optimism for the future of his pioneering North Carolina craft brewery. "The Southeast's late, but dramatic, arrival to the craft beer party will result in more competition and better beers with a uniquely southern twist," he states. "The region, the country and the world will see a resurgence of southern spirit in great beer. The South shall rise again!"