My First Year: Newcomer's Observations
I had the honor of becoming the Director, APCSS in January 2012. I thought that I knew the Center well from my time as the Deputy Commander, U.S. Pacific Command, and from interaction while I was in the defense industry. That was true enough; I had sufficient information to take the position knowing that it would be richly challenging and rewarding to be
on a great team doing worthy work. But I found there was much I did not know.
This report details the activities and impact of the team's efforts in 2012, so I will merely highlight what I learned
during this first year about what we do. Read More... (go to page 2)
The APCSS Annual Report (2012) is now available online at: http://www.apcss.org/wp-content/uploads/2013/05/annualreport2012-spread.pdf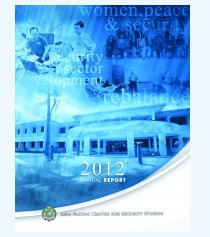 Table of Contents
Director's Message
Alumni Survey Results
Focus Areas:

Security Sector Development
Women, Peace & Security
Rebalance to the Asia-Pacific

Courses:

Advanced Security Cooperation
Transnational Security Cooperation
Asia-Pacific Orientation Course
Senior Executive Asia Pacific
Orientation Course
Comprehensive Crisis Management
Comprehensive Security Responses to Terrorism

Designed for Education
Alumni Map
Faculty/Publications
Workshops
Federal Executive Board Honors APCSS Employees
APCSS Fact Sheet
USPACOM State Partnership Program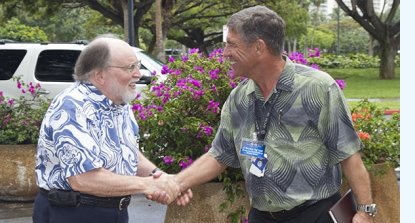 Hawaii Govenor Neil Abercrombie is greeted by APCSS Director Lt. Gen. (Ret.) Dan Leaf upon his arrival at the Center April 23. The governor met briefly with National Guard leadership who are attending the "U. S. Pacific Command State Partnership Program Senior Leaders Workshop" at APCSS.
The three-day Senior Leaders Workshop 2013, "Partnering in the Rebalance," was recently held at APCSS. This workshop provided an opportunity to review and facilitate the USPACOM State Partnership Program in light of the rebalance to the Asia-Pacific with the goal of enhancing security cooperation efforts with seven key regional partners. Workshop participants included USPACOM and National Guard (NG) senior leaders and other SPP stakeholders from Washington, Alaska, Oregon, Guam, Idaho, and Hawaii. Participants were briefed on recent developments impacting theater processes and operations and were afforded opportunities to build valuable relationships while sharing, collaborating and learning from the experiences of fellow security cooperation practitioners. In addition to enhancing coordination and best practices, this workshop highlighted lessons learned and measures of effectiveness to bolster overall success of the SPP in the USAPACOM Area of Responsibility.
Hawaii Elected Officials Address ASC 13-1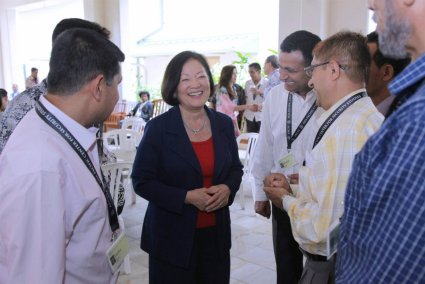 Senator Mazie Hirono visited APCSS on April 5. In addition to her Center tour, she had an oppportunity to address current Advanced Security Cooperation Course Fellows. Click here to see more photos.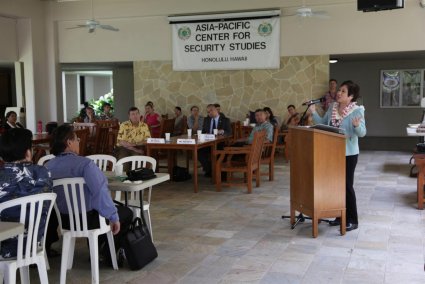 Hawaii Rep. Colleen Hanabusa and Mr. Allen Doane (seated yellow shirt) joined APCSS Director Lt. Gen. (Ret.) Dan Leaf on the lanai at the Center to speak to ASC 13-1 Fellows on the topic of "Whole of Society" during a working lunch April 29. To see more pictures go to this link.
Pacific Air Forces Commander speaks to ASC Fellows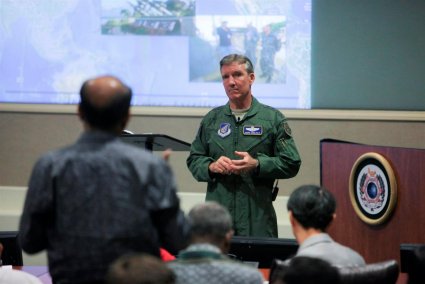 In April, U. S. Pacific Air Forces Commander General Herbert "Hawk" Carlisle visited APCSS to brief ASC 13-1 Fellows on strategic decision making and transnational leadership. At the end of his presentation, Gen. Carlisle answered several questions from enthusiastic Fellows and posed for photos.
Maritime Cooperation in the Indo-Pacific Region: China, India, and U.S. Perspectives
May 21-23 in Honolulu, HI.
Asia-Pacific Orientation Course
June 3-7
Advanced Security Cooperation (ASC)
Apr. 4 - May 8
U.S-South Asia Leader Engagement Program: Charting the Water Future of South Asia
With Harvard Kennedy School and Near East South Asia (NESA) Center
Apr. 28 to May 3 in Cambridge, Mass.
Over the last few months many subscribers within DoD have gotten new email addresses.
If you have a new email please update your subscription to ensure you are getting the latest APCSS updates. Mahalo.
If you have any questions please contact the editor at markovinovicm@apcss.org
APCSS hosts a number of Communities of Interest on APCSSLink, also known as GlobalNet:
These communities are open to all APCSS Alumni. Please note you must be logged onto APCSSLink for these links to work properly.