Tune In To Your Animal Friend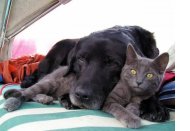 Dear ,
That special bond and connection with our animals is one of unconditional love and they want us to live happily. So why not take them up on it?
When we live from our heart center, life is sweeter, gentler, more satisfying and ultimately happier. Everything seems more quiet and calm; we feel a sense of balance and satisfaction.
You already know this state of being as a result of your heart to heart connection with your animal companions. Notice how you feel when you are fully present snuggled up with your dog or cat; touching their fur, hearing the vibration of their purr or feeling their heartbeat. Or perhaps the sensations you experience when your body is in sync with your horse as you ride in unison together. This connection with our animals is so soothing, comforting and healing on every level: physical, emotional, psychological and spiritual. When we are fully present in those moments, it is effortless and nothing can upset that balance.
So how do we maintain that sense of balance or reclaim it at any time. One way is to practice being present in the moment. Animals are wonderful teachers of this lesson and they enable us to maintain this way of being. Gently be aware of your breath, feel your body grounded to the earth and allow yourself to tune into your animal friend's energy, heart to heart. Feel their vibration, get in touch with that soft space of connection and communication and receive their feelings, messages and thoughts. The loving messages from your animal companions are good medicine for living a happier life.
Wishing you joy and many blessings,
Rain
Animal Communication Practice Session - May 23
Ongoing monthly Tele-Class Animal Communication Practice Sessions offer you the opportunity to practice telepathic communication with your animal companions and/or other group participant's animals. Click here to see details or send an email to me if you have questions or would like to participate. The next Practice Session is Thursday, May 23 at 7pm, $37. Space is limited.
Advanced Animal Communication Workshop - September
The next Advanced Animal Communication in-person workshop will be held in September in Asheville, NC. Dates to be scheduled soon. Watch for upcoming announcements. Click here for details about this workshop.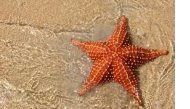 The Starfish (author unknown)
Once a man was walking along a beach. The sun was shining and it was a beautiful day. Off in the distance he could see a person going back and forth between the surf's edge and the beach. Back and forth this person went.
As the man approached, he could see that there were hundreds of starfish stranded on the sand as the result of the natural action of the tide. The man was struck by the the apparent futility of the task. There were far too many starfish. Many of them were sure to perish.
As he approached, the person continued the task of picking up starfish one by one and placing them into the surf.
As he came up to the person, he said: "You must be crazy. There are thousands of miles of beach covered with starfish. You can't possibly make a difference." The person looked at the man. He then stooped down and picked up one more starfish and placed it back into the ocean. He turned back to the man and said: "It sure made a difference to that one!"
If you find my newsletter helpful, please help me spread the word to friends and family. I want to make my services available to anyone who would like to deepen their relationship with their animal companions... and themselves. Thank you! It's a pleasure and privilege to be of service to you. Just click "Tell A Friend" below.

Have A Tip or Story to Share?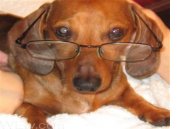 Do you have a favorite story about your animal companion? Perhaps a cute video, helpful tip or suggestion, maybe a favorite rescue story? Please send them to me to share with other animal lovers who read my blog and newsletters. Send a photo of your animal to include too!

I really love being in contact with you and sharing stories and insightful information to help you deepen your relationship with your animal companions as well as sharing inspiring messages for you.
To "follow" my blog via email, which means you'll receive an email whenever a new post is made, click here or, if you'd like to follow my blog via RSS Feed, click here.
There is a comment button at the bottom of each blog post. Please share your thoughts and feedback. I'd love to know what you think!

The Animal Rescue Site provides money to rescued animals. The sponsors of the website pay for food and care and 100% goes to charity. You can help by visiting their site. It's FREE and it only takes 5 seconds. Please consider clicking on this link to help animlas in need. Thank you.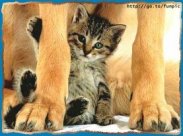 Click on any heading to learn more about that service.
Have you ever wondered what your animal companion was trying to tell you? A consultation can help you understand your animal and enhance your relationship.
Soul Journey: Receive insights, guidance and healing directly from your Spiritual Guides in a Soul Journey....like a bridge that connects you more deeply with your Divine Essence.
Reiki: Experience the powerful and gentle healing energy of Reiki for yourself or your animal companion.
Mentoring: Offering personalized mentoring to deepen your intuitive abilities. Also Reiki training.
Workshops: Basic Animal Communication, Advanced Animal Communication, Monthly Practice Sessions, Journeying with Animals, Reiki Training and more. Click here for details.
For more information, please go to my website: www.rainhummingbird.com, call me at (828) 337-4686, or send an email to me at Rain@RainHummingbird.com.
Would you like to deepen your intuitive abilities, learn to communicate more deeply with your animal companions or journey for yourself? I offer personalized mentoring sessions to assist you on your path. Please contact me to discuss your needs. I look forward to being of service to you. For more information, click here.