It has been said that silence is God's first language. Whatever your concept of "God" is, before the Big Bang, before the cosmos, we may surmise, there was a silence. There was a stop.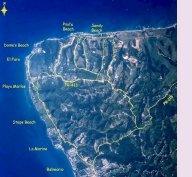 I am sending this from my family vacation in Rincón, Puerto Rico's western tip (Rincón= Spanish for corner) known as El Pueblo de los Bellos Atardeceres "town of the beautiful sunsets." Place that the sun sets down. A st
op.
This July, I took two vacations, which for me is a giant halt, pause, stop. During these, I am seeking to deepen my

quietness practices of

prayerful meditation, what I think of as abiding or abhaya ["Ah-Bye-Yeah"] practices. I am seeking to balance my "less talk, more Acro" outer mode with an inner mode; a still, silent, but equally powerful mode that one could call "less talk, more abiding" or "less talk, more Abhaya".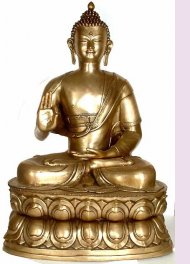 "Abhaya in Sanskrit means fearlessness, and the abhaya mudra symbolizes protection, peace, and the dispelling of fear."
"The gesture is an ancient one, demonstrating that the hand is empty of weapons and thus indicating friendship and peace. To western eyes, it looks like the gesture meaning 'stop.'
"
I love that the

mudra embodies both peace and

power. An

abhaya practice enters the still center within our heart ~

Elijah's still, small voice that he eventually hears in the cave, after the roaring wind, earthquake, and fire.
In our

inner sanctuary, we quieten ourselves, and we gradually become oblivious of our winds, quakes, fires, and rest in

our still center. Contemplatives of all traditions go there, into

that space within, where

we connect to the Source of everything. Here we are at peace and in power, fearless and able to bless others.
"According to Buddhist tradition, the historical Buddha made this gesture immediately after gaining enlightenment. Later, when the historical Buddha was about to be attacked by an angry elephant, he held up his hand in the fearlessness gesture and immediately calmed it."
May you find time to pause, to stop, to apply abhaya mudra in your life. May you find a refuge in your still center through your own abhaya practices. May you find your inner sanctuary so you can drop a pin on it, as it were, and let your inner GPS know and find your way there again.

W

hen your next angry elephant or stormy sea faces you, m

ay you be prepared and equipped to open your right palm outward and upward, May you practice abiding, in order to be ready to wield abhaya: Peace. Be still.
On August 10-11, the AcroYoga community comes together in New York City to offer a fabulous full weekend of AcroYoga teacher offerings, all levels from beginner to advanced, including therapeutics, acrobatics, Thai yoga, and inversion practices! One Festival Pass lets you choose from a head-spinning array of awesome, creative class offerings. Included is a Saturday evening Bodywork & Dessert party with soothing live music, and Sunday Central Park Jam! I am co-teaching three out of the nearly two-dozen amazing workshops, with fantastic co-teachers Taylor Dunham, Deven Sisler, and my fellow YogaSlackers Sam Salwei and Luz Raquel Hernandez-Cruz.

My classes: ELF POWER (intermediate flyers embolden their acrobatic basing powers), THAI & FLY (give & receive flying & grounded therapeutics); and SLACKRO (advanced partner acrobatics, YogaSlacker-style)! See FB Event
page for details! Buy your Festival Tier 2 tickets while supplies last; Tier 3 costs slightly more. Great introduction to the beauty & fun of AcroYoga! All weekend, 9 to evening, attend as you will; at Om Factory NYC ~ Fashion District.
Restorative Cooler ~ sweetness in the summer! ~ the healing, soothing practice of Restorative Yoga uses bolsters and props to let your body drape and melt deeply into delicious, easeful yoga postures.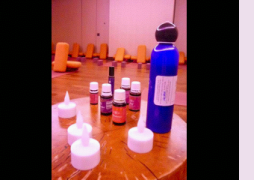 Surrender to this two-hour, chakra balancing journey, with aromatherapy oils, nurturing touch, soothing music, and guided chakra meditations. Priced for summer, and special gift bag treat for every guest!
Bring a friend; all levels are welcome, and no yoga experience required. Bliss in and bliss out ~ Sat., Aug. 24, from 3-5pm at Pure Yoga Eastside.
AcroYoga Elemental Immersion 8/17-21

The Elemental Immersion is a five-day deepening of your AcroYoga practice, whether you have done it awhile & are interested in the teacher training track, or if you are

a beginner

and just want to plunge in! It is the entry-level immersion of the of 3 AcroYoga immersion offerings, combining both the acrobatic (solar) and the therapeutic (lunar) aspects of our practice, in perfect harmony.
I am delighted to assist senior immersion instructor Adam Rinder the whole five days! To allow maximum flexibilty for students, we do offer weekend options (1 or 2-day) as well as the full five-day immersion election. At Om Factory NYC Fashion District, 9-5 daily from Aug. 17-21 (drop-in options 8/17 & 8/18). Purity Organic coconut water to fuel our Acroyogis daily! Aug. 1 is Early Bird deadline, so I encourage you to pre-register now.
Restorative L1 Teacher Training 10/25-27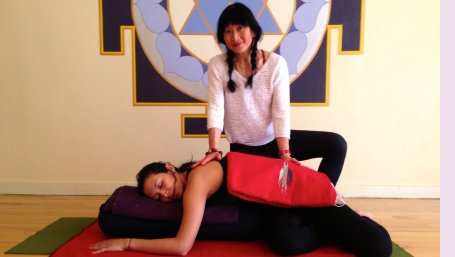 More abhaya ~ come to my Level 1 Mother Mary Restorative Teacher Training weekend October 25-27. This 17-hour or 14-hour training (with or without Thai/Fly option) will equip you to give a fully delicious Restorative class, whether private or group; or to expand your vinyasa, fitness or therapeutics practice to be able to incorporate restorative poses into it, in whatever proportion best suits your client or practice.
Friday evening to Sunday, at Om Factory NYC Fashion District.
Graduates receive a certificate of completion for 17 or 14 hours of CEU, required by Yoga Alliance for registered teachers, for Continued Education Unit hours. Pre-register to receive email updates, and recommended reading list. First 5 trainees registered will receive a complimentary copy of the

1995 trade edition of

Judith Lasater textbook Relax & Renew: Easeful Yoga for Stressful Times

,

our training textbook.
My weekly classes are a spectrum; from AcroYoga to Restorative and quite a bit in between, at my two NYC studio home
s:
Monday ~ 10:30-12:00 Slow Flow Meditation, Pure East
Tuesday ~ 12:30-1:30 Restorative, Pure East
Thursday ~ 11:00-12:30 YinYang, Pure West
Thursday ~ 5:30-6:30 Vinyasa 1/2, Pure East
Friday ~ 10:30-12:00 Chakra Slow Flow, Pure West
Friday ~ 5:30-6:30 Restorative, Pure East
*Comp

visitor

passes available through Pure, or from me.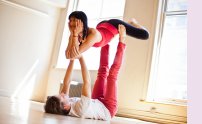 5:30-7:00 Acrobatic Flying~Basics
7:15-8:45 Jedi 1 Flying~Intermediate
"Calm Abiding" Meditation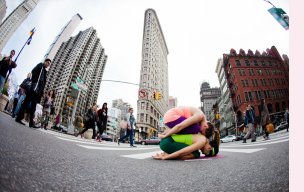 Every faith has a contemplative path, with some great similarities, and some unique distinctions.
I encourage you to find your inner sanctuary in whatever way resonates most deeply for you.
Don't be impatient with your path; if the journey takes its time, what else in fact, are we doing here?
Below are two classic practices, one Buddhist and one Christian.
Introduction:

"Shamatha meditation practice has its origins [in] Buddhism, but that does not mean that it is just for Buddhists. Because this refers to a state of being it is non sectarian. It takes no one's side. All major philosophies and cultures have some connection to the "being" shamatha points us to."
"Practice Calm-abiding sitting comfortably with the spine straight, the legs crossed or, sitting upright in a chair.
"The right hand rests lightly on the left palm and the neck slightly bent. The eyes have a soft focus down the bridge of the nose. The tongue held lightly against the upper palate.
"In the Dharma Fellowship the object of concentration is the breath and the point four fingers below the navel.
"The gentle inhalation-exhalation and expansion caused by the diaphragmatic breath is attentively observed."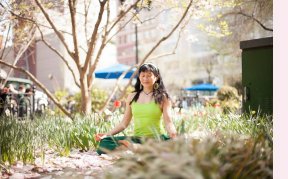 "The term calm abiding may be a bit misleading because, with this meditation or quality of being, the mind experiences everything, not just calm. As the technique is worked with and the practice is experientially developed, then the mind can abide with everything that arises.

"
Christianity and M

editation

join in Centering Prayer, a silent prayer of "resting in God" that derives from 3rd Century Desert Mothers and Fathers, revived in our time by Benedictine Fathers Thomas Merton and Thomas Keating
.
Simply put, we sit for 20 minutes and silently repeat a sacred word to help us surrender our thoughts, as they arise. As distinct from Shamatha, the aim is not attention but intention; not mindfulness, but heartfulness. It is "a naked intent direct to God."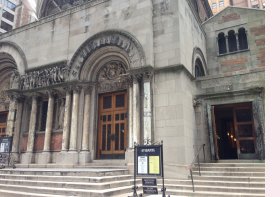 Meditation in groups greatly supports your private practice. For Centering Prayer, I go wh
enever I can on Saturday mornings at 10:45

to

St. Bart's Church on Park Avenue and 50th, NYC. We sit in 20 minutes of Centering Prayer, then wordlessly move to walking meditation; sit another 20 minutes in silent prayer, & then share a

group

reading and discussion.
Please feel free to send me any meditation

groups you recommend!
Students sometimes ask about yoga prop suppliers I like. My favorite wholesale suppliers are Yoga Direct and Yoga Accessories, both have little or no minimum order size for their discount prices and both

have given me good service.

Compare items and current promotions.
For bolsters, measure the ones that feel the most comfortable for you in class or in private sessions and match the shape and size when you shop. They usually come round (cylindrical) or flat/rectangular (standard), in sizes Regular, Junior, or Deluxe. Your body and your favorite poses are your best guide of what bolster to get.
Ask your teachers if you need guidance!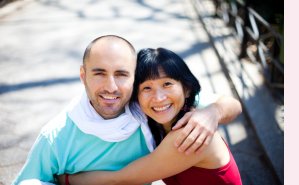 Thanks to the amazing Wari Om, pictured above, for Union Square lotus, on grass and on feet with Adam Rinder; and for Flatiron Double Child with Kristina Cubrilo and studio flight with Adam. Thanks Om Factory for Immersion & AcroFest pics. Thanks to Pure Yoga and Greg Franklin for Aromatherapy lotion & oils photo, and Greg for Double Bike Meditation, below. Thanks , Om Factory,

Kristina Cubrilo

, and model Michelle Velasquez, for Restorative pose!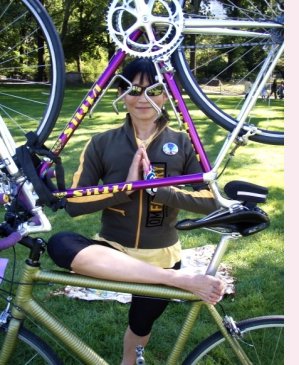 I value your privacy, and do not share email lists. Please feel free to Reply, Forward to a friend, or to Unsubscribe at any time. New friends may Subscribe directly from my ENewsletter, or from my website: www.maryaranas.com, where you can find my prior ENews links going back to 2006.
Till next we meet! On the mat or in the park. On retreat, or in meditation: that space where all meditators and all who pray share a universal radio frequency. May we meet in the infinite Silence of our still, small voice.
I wish you abhaya, fearlessness and blessing, refuge and power!
Abiding Peace be with you!