APCSS hosts Royal Thai Armed Forces Generals visit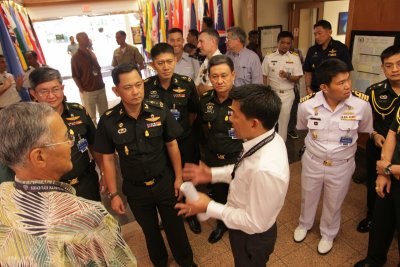 On September 6, APCSS hosted a visit from Lt. Gen. Tarnchaiyan Srisuwan, Maj. Gen. Parinya Khoonnasee, Maj. Gen. Wittaya Wachirakul and nine senior officers accompanied by four delegates from Joint U.S. Military Advisory Group Thai (JUSMAGTHAI). Intended to further cultivate a close working relationship, these officers received an orientation tour by the APCSS leadership and faculty.

See more…
Bio-Preparedness in the Asia-Pacific Workshop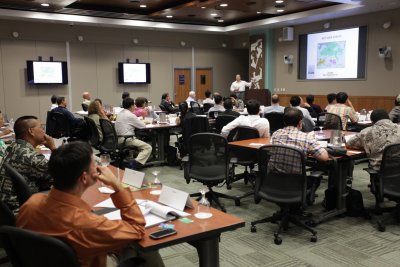 From 23-27 September, APCSS partnered with the
Defense Threat Reduction Agency
(DTRA)
and
U.S. Pacific Command
to conduct a "Bio-Preparedness in the Asia Pacific" workshop. This event, held at APCSS in Honolulu, welcomed 34 security practitioners and senior professionals from 13 different countries and territories. It provided an opportunity to explore and discuss the various challenges associated with effective preparation and response to a spectrum of biological threats in the region, while promoting greater coordination and cooperation efforts across government and non-government entities amongst the represented nations.

See more…
Comprehensive Crisis Management 13-1 course graduates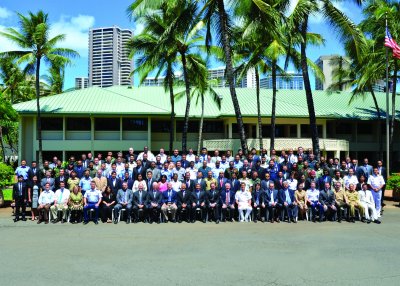 One hundred and five military and civilian Fellows from 35 countries and territories graduated from the Comprehensive Crisis Management course on September 17. As the course manager noted, there was an "exceptionally high level of critical thinking and analysis among the participants in this course, which stimulated strategic level discussion on second and third order effects of crisis leadership decisions."

Read more…
Dr. Saira Yamin

published, "Global Governance: Rethinking the US Role in Afghanistan Post 2014" in the latest Journal for South Asian Development.

Read more…
APCSS director, retired

Lt. Gen. Dan Leaf

, spoke to nearly 100 APCSS alumni in Kathmandu, Nepal on September 8 while on a regional engagement visit to multiple countries. During this visit to Nepal, he was part of a panel discussing the

U.S. Rebalance to the Asia-Pacific

, and allowed him to meet with other senior alumni and the Chief of the Nepal Army.

See more…
Mr. Carlton Cramer

, Dean of the College of Security Studies at APCSS, appeared on "

Hawaii News Now

" on September 11 to discuss international and inter-agency security cooperation in two live segments.

See more…
APCSS Celebrates 18th Anniversary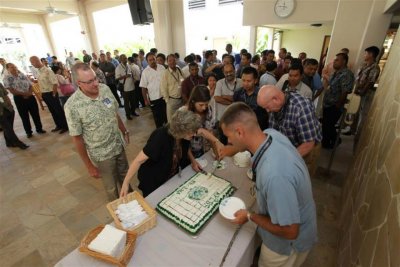 On September 4, APCSS Staff, Faculty and Fellows celebrated the Center's 18th Anniversary, having officially opened in 1995 and having produced 7,781 alumni to date.

See more…
Due to the U.S. Government shutdown and temporary furlough of civilian employees, a few courses have been rescheduled. See the updated list of upcoming courses by visiting the APCSS calendar. We sincerely apologize for any inconvenience this has caused to our Fellows and ask that you continue to check the APCSS

website

or APCSS

Facebook

page for additional updates, as they occur.
Asia-Pacific Orientation Course (APOC)

APCSS-NZDF CSC Joint Workshop

Transnational Security Cooperation (TSC) Course

Over the last few months many subscribers within DoD have gotten new email addresses.

If you have a new email please update your subscription to ensure you are getting the latest APCSS updates. Mahalo.

If you have any questions please contact the editor at markovinovicm@apcss.org

You can find past issues of the APCSS Activities Report and the Military Construction newsletter online here.
Copies are also posted on GlobalNet and APCSSLink.
The latest edition of Currents magazine is now available online at:
APCSS hosts a number of Communities of Interest on APCSSLink, also known as GlobalNet:
These communities are open to all APCSS Alumni. Please note you must be logged onto APCSSLink for these links to work properly.