GBF Launches Annual Writing Contest for High School Students
What happens when you ask a satirist to write the opening lines for a short story contest? You end up with themes that involve psychics, fish-eyeball pizzas and pirates.
I've seen some odd things delivering food for Ned's Pizza, but nothing beat the lady that ordered a half-mushroom, half fish-eyeball pie, then hit me with this request at the door…

The trouble began since my cell number is one digit off from Madam O'Wiggy's, the psychic, which is how I came to be answering questions about the future to begin with…

The main thing to know, if pirates commandeer the cruise ship you're on during family vacation, is that they do much less dancing and singing than in movies…
Stories must be no longer than 1,000 words and written by individuals enrolled in grades 9-12 at a public or private school, or in a homeschool program for the 2013-14 school year.
Up to 12 stories will be selected as finalists and posted on the Gaithersburg Book Festival website prior to the Book Festival.
The first-, second-, and third-place winners will be announced at the Gaithersburg Book Festival on Saturday, May 17, 2014, and will be awarded $100, $50 and $25 gift certificates, respectively, courtesy of the Johns Hopkins Montgomery County Campus.
Flocking to 2014 Book Festival
Even though we've just recently put out our call for presenters at the 2014 Gaithersburg Book Festival, we've already confirmed some great authors, including some favorites of the elementary and middle school set. Here's a look at the early birds who will be joining us in May 2014.
~ Children's & Young Adult ~


Tom Angleberger is the best-selling author of "The Strange Case of Origami Yoda," which won the 2010 E. B. White Read Aloud Award for middle readers; "Darth Paper Strikes Back;" "Horton Halfpott," a 2012 Edgar Award finalist, which Kirkus dubbed "a romp from start to finish;" and "Fake Mustache: Or, How Jodie O'Rodeo and Her Wonder Horse (and Some Nerdy Kid) Saved the U.S. Presidential Election from a Mad Genius Criminal Mastermind." His newest book in the Origami Yoda series is "The Surprise Attack of Jabba the Puppett." He lives in Christiansburg, Va., with his wife, author and illustrator Cece Bell.

Brian Floca is the author and illustrator of "Moonshot: The Flight of Apollo 11," a Robert F. Sibert Honor Book and a New York Times Best Illustrated Book; "Lightship," also a Sibert Honor Book; and "The Racecar Alphabet," an ALA Notable Children's Book. His most recent book is "Locomotive," which explores America's first transcontinental railroad. Floca has illustrated Avi's Poppy Stories, Kate Messner's Marty McGuire novels, and Jan Greenberg and Sandra Jordan's "Ballet for Martha: Making Appalachian Spring," a Sibert Honor Book and winner of the Orbis Pictus Award. Floca has an MFA from the School of Visual Arts and lives in Brooklyn, New York.

Ben Hatke's first graphic novel was "Zita the Spacegirl." He has published comics stories in the Flight series as well as Flight Explorer. In addition to writing and drawing comics, he also paints in the naturalist tradition and, occasionally, performs one-man fire shows. Hatke lives and works in the Shenandoah Valley with his wife and their boisterous pack of daughters.

Gareth Hinds is the acclaimed creator of the graphic novels "The Odyssey," "Beowulf," "The Merchant of Venice" and "King Lear." He says his latest graphic novel, "Romeo and Juliet," is "the gold standard for romantic tragedy, this play features some of the most brilliant rhymed verse ever written. It was a joy to work with the text and spend time with these characters. And I had a great time drawing the sword fights!" Gareth lives in Takoma Park, Md.

Uma Krishnaswami is the author of numerous critically acclaimed books for young readers, from picture books through novels, including the multiple-star-reviewed book, "The Grand Plan to Fix Everything," which Kirkus Reviews called "a delightful romp." She is published in the USA, Canada, India, and Australia, and is on the MFA faculty in Writing for Children and Young Adults at the Vermont College of Fine Arts. Krishnaswami's latest novel, "The Problem With Being Slightly Heroic," is a sequel to "The Grand Plan to Fix Everything" and is a Junior Library Guild selection. She lives in northwest New Mexico and travels regularly to India.
George O'Connor is the author of the hit series, Olympians, which includes two New York Times best-sellers ("Hades" and "Poseidon"). The series has found a devoted fan-base among readers and educators. "Aphrodite: Goddess of Love" is the latest installment in the series. He lives in Brooklyn, NY.

Dave Roman is the author of several graphic novels including "Astronaut Academy: Re-entry" and "Astronaut Academy: Zero Gravity," as well as "Teen Boat!" and "Agnes Quill: An Anthology of Mystery." He has contributed stories to "Explorer: The Mystery Boxes," "Nursery Rhyme Comics," and is the co-author of two New York Times best-selling graphic novels, "X-Men: Misfits" and "The Last Airbender: Zuko's Story." Roman is a graduate of the School of Visual Arts and worked as a comics editor for the groundbreaking Nickelodeon Magazine from 1998 to 2009. He lives in Astoria, N.Y., with his wife, and fellow comic artist, Raina Telgemeier.

Rachel Renée Russell is the author of the popular "Dork Diaries" series, which has been on The New York Times best-seller list for more than 80 weeks. She is also an attorney who prefers writing tween books to legal briefs. Her hobbies include growing purple flowers and doing totally useless crafts. Russell lives in northern Virginia with a spoiled pet Yorkie who terrorizes her daily by climbing on top of a computer cabinet and pelting her with stuffed animals while she writes.
~ Fiction ~


Anthony Marra is the winner of a Whiting Award, a Pushcart Prize, and the Narrative Prize, and his work was anthologized in Best American Nonrequired Reading 2012. His first novel, "A Constellation of Vital Phenomena," is presently short listed for the Flaherty-Dunnan First Novel Prize and long listed for the National Book Award. He holds an MFA from the Iowa Writers' Workshop and was a Stegner Fellow at Stanford University, where he now teaches.

Sarah Pekkanen is the author of "The Best of Us," "These Girls," "Skipping a Beat," and "The Opposite of Me," her best-selling 2010 debut. Her next novel, "Catching Air," is due out in May 2014. Pekkanen writes a regular humor column for Bethesda Magazine, occasional book reviews for The Washington Post, and has previously worked as a journalist for such outlets as USA Today and the Baltimore Sun.
Congrats to 2013 Drawing Winners
Wondering who won last year's Attendee and Volunteer survey drawings? Wonder no more!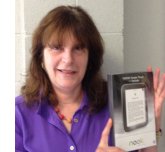 Montgomery County resident Nina G. is the winner of this year's Attendee Survey drawing. Her prize: a NOOK SimpleTouch. Nina has attended the festival every year since it began in 2010 and says she thinks it's "a great day for learning about new books and how authors write." In 2013, her favorite author presentations were Jami Attenberg ("The Middlesteins") and Phillip Margolin ("Sleight of Hand"). On Nina's reading list for her new NOOK: "The Middlesteins" by Jami Attenberg, "Notorious Nineteen" by Janet Evanovich and "Maya's Notebook" by Isabel Allende.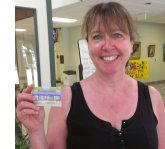 Jamie W. is the proud recipient of a $50 Politics & Prose gift card from the Volunteer Survey drawing. The 2013 festival was Jamie's second year volunteering for us, and we're excited that she's planning to volunteer again in 2014. In 2013, Jamie served as the stage manager in the Gertrude Stein Pavilion, where her favorite author presentation was the Stand-Up Comedy panel featuring John Debellis, Sylvia Traymore Morrison and Jimmie Walker. Jamie already knows what books she'll buy with her gift card: "George Washington: A Biography" by John R. Alden, "Angel in the Whirlwind" by Benson Bobrick and "Rise to Rebellion" by Jeff Shaara.
5th Annual Gaithersburg Book

Festival

____

Saturday

May 17, 2014

____

On the Grounds of

City Hall in

Olde Towne Gaithersburg, Md.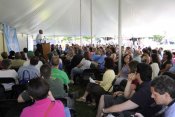 This could be you...one of the hundreds of authors who have joined us on the stages of the Gaithersburg Book Festival.




In its fifth year, the Festival has established itself as one of the Washington, D.C., metropolitan area's premier literary events, featuring prominent, best-selling and award-winning authors, poets and songwriters.




If you are an author who has recently published a book, or have one that will be out by May 2014, we invite you to submit an application to present at the 2014 Gaithersburg Book Festival, taking place Saturday, May 17 on the grounds of City Hall in Olde Towne Gaithersburg. If selected, you could present individually, be paired with other featured authors or be featured in a panel discussion.



Subscriber contact information will be used solely for the newsletter and will not be shared or sold to other parties.
Want to be one of the first to know about

the latest news from the Gaithersburg Book Festival and our featured authors?