The holidays- whether it's Thanksgiving, Christmas, Hanukkah or Kwanzaa- are often times when families gather. As we enter this holiday season, we thought we'd celebrate the special connection grandparents develop with their "grands." And as always, we have three wonderful giveaways for you to share with your classroom, children, or your own grandchildren!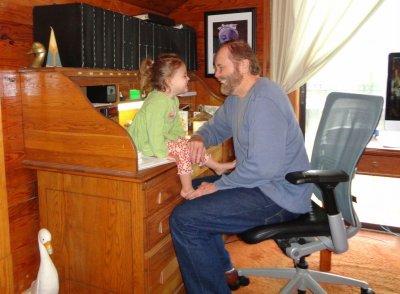 Father
Goose sharing a special moment with
his granddaughter, Charlotte Rose
by Charles Ghigna (also known as Father Goose)

It's no wonder we call them GRAND children and they call us GRAND parents! From the moment they arrive, they transform us into the grandest we have ever been and ever will be. They give us new names, and we are never the same. They fill our worlds with love and wondrous gifts of GRANDeur.
The first time my sweet Charlotte Rose called me "Gooooose," short for Grandpa Goose, a derivative of Father Goose, I knew I had been anointed. Oh the smiles and giggles and stories we share, so full of joy and endless inspiration.
That inspiration often comes during precious spontaneous play times when we allow our silly selves to lead us into imaginative play. One of those recent creative times resulted in a new character in one of my stories.
Charlotte Rose and I were playing in my tree house. She likes to sit on my desk surrounded by my little geese miniatures and other little toys. Charlotte picked up the tiniest geese miniature and asked, "What's her name?" I asked if she would like to name it for me. Without hesitation, her eyes lit up and she gleefully said, "Lucy! Lucy Goose!"
Thanks to Charlotte Rose, Lucy Goose now appears in several new stories.
**********

Charles Ghigna is a prolific writer, poet, and generous friend to Talking Story readers. He is giving away an autographed first edition copy of Animal Tracks: Wild Poems to Read Aloud -a great read aloud! Check out his advice to parents and grandparents on the importance of reading. His twelve latest books are dedicated to his two grandchildren!
by Joyce


Grandparents often have unusual habits and quirky personalities. Invite students to share something fascinating about one of their grandparents with the class. Then do one of the following.
1. Using Mike Emberley's illustration of grandparent and child crossing the street (see article above) have students create their own picture and caption showing how they would babysit their grandparent.
2. Share three grandparent picture books with the students. (Or read grandparent passages from three novels.) Ask the students to choose one of the grandparents from those books and write about one of the following:
Compare and contrast one of the grandparents in the story to their own grandparent.

Pretend their grandparent meets the one from the book they chose. What advice would the student's grandparent give to the book character? Would the real grandparent and the book grandparent get along? What kind of trouble might they encounter together?
Turn the finished project into a grandparent gift by making a book or mounting it on attractive paper or card stock and decorating with stickers, ribbons, or other ephemera.
3 Brothers Introduce 3 Grandparent Books

by Abram, Wilson, and Landis Hunsberger

Abram Wilson Landis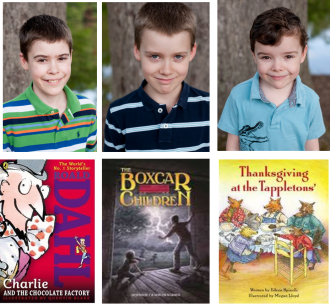 by Roald Dahl

Recommended by Abram - age 12

In Charlie and the Chocolate Factory, Charlie, his parents, and his four grandparents live together in the same house, because his grandparents are too old to live alone. Charlie wins a ticket for two to tour a mysterious candy factory owned by Willy Wonka, and Charlie chooses to bring his grandfather along. In the Factory, Charlie and his grandpa have an exciting adventure together with many mysterious surprises.

by Gertrude Chandler Warner
Recommended by Wilson- age 9
When four children's parents die, they run away instead of going to live with the grandfather they do not know. The children learn to stick together. They find out that their grandfather is not like they had imagined and they learn to trust him. If you like reading this book, there are lots of other books in the series.
Recommended by Landis - age 6
Thanksgiving at the Tappletons' has lots of funny parts. My favorite part is when the turkey slides out the front door. At the end, the grandma reminds the family to be thankful because they are together.
Abram, Wilson, and Landis Hunsberger live in Holly Springs, North Carolina where they attend home school. Thanks to each of them for their delightful introductions to 3 books about grandparents.

Writer-in Residence Workshop or Author Visit?
We'd love to hear from you!
We each offer our own author visits or we'll conduct writer residencies together. Contact us and we will design a program that meets your students' needs.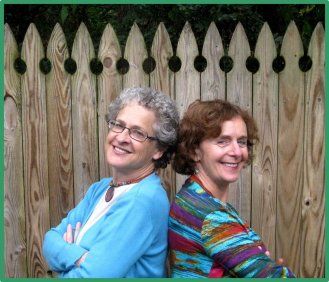 For best results,

look at

(on pale yellow bar at the top.)
by Charles Ghigna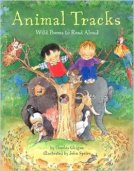 Send us an email and we'll enter your name to win one of these three giveaways.
Enter before November 18 (Or better yet, enter right now!)
by John Micklos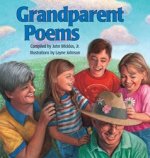 From this poem, you can tell how much "Papa Goose" loves being a grandparent.

far beyond the moon
where angels sing
and cherubs swoon
where grandpas play
with teddy bears
who kneel to say
their nightly prayers
every day

Congratulations to our winners!

Mryna Strickland and Ann Einstein each won a copy of Comfort.

by Janet Oberholtzer.

We Welcome Young Reviewers!

Do you have a middle school or high school teen who loves to read? We'd love to hear from you with name and contact information. We ask reviewers to read three books and write brief introductions.
This is a great opportunity for your son, daughter, or student to get writing experience.
Please
email us if you know someone who would be interested! Thanks.
A big thank you to:

*Charles Ghigna, Gretchen Griffith, and Boyds Mills Press for books.

*Michael Emberley for sharing an illustration.

*Abram, Wilson & Landis Hunsberger for reviewing books.

*Joanne Hunsberger for proofreading.

Consider creating a "Talking Story" folder where you file old issues. That way you'll have them handy when you've got time to read, and you'll always be able to view past issues. This works for
us!
OUR NEXT ISSUE:

WAR AND CHILDREN