Hard at Work on 2014 Programming
Not only have we already secured numerous award-winning (and fun!) children's authors, we've also begun building an impressive line-up of fiction, non-fiction, mystery and young adult writers. Take a look below at the latest authors added to the 2014 line up.
~ Children's & Young Adult ~


Kathi Appelt is the author of the "The Underneath," which received the Newbery Honor and the PEN USA Literary Award and was a National Book Award finalist. She also is the author of the National Book Award Long Listed Novel, "The True Blue Scouts of Sugar Man Swamp," and numerous picture books. Kathi is a member of the faculty at Vermont College's Master of Fine Arts program. She has two grown children, lives in Texas with her husband, and once helped her grandma raise a baby raccoon.

Tad Hills is the author and illustrator of the highly acclaimed New York Times best-selling picture books "How Rocket Learned to Read," "Rocket Writes a Story," "Duck & Goose" and "Duck, Duck, Goose." His board books include the ALA-ALSC Notable Children's Book "What's Up, Duck?," "Duck & Goose: It's Time for Christmas," and, most recently, "Duck & Goose: Goose Needs a Hug." His forthcoming book, "Duck & Goose Go to the Beach," will be published in April 2014. Tad lives in Brooklyn with his wife, their two children, and a real dog named Rocket.

Laurie Keller is the acclaimed author-illustrator of "Do Unto Otters," "Arnie, the Doughnut," "The Scrambled States of America," "Open Wide: Tooth School Inside" and "Bowling Alley Bandit, Book One in The Adventures of Arnie the Doughnut." The off-Broadway musical "Arnie, the Doughnut" is now a traveling show. Her forthcoming book, "Invasion of the Ufonuts," which is part of the Arnie the Doughnut series, is due out in February 2014. Laurie lives on the shore of Lake Michigan.

Kevin O'Malley is the author and/or illustrator of more than 70 books for kids. Of those books that are still in print and haven't been turned into third world fuel or Ikea table tops, his more popular titles include "Once Upon A Cool Motorcycle Dude," "Cinder Edna" and the long-running Miss Malarkey series of books. Kevin has been on The New York Times Best Seller List and people have given him awards. Both these facts surprise nobody more than his parents.

Geoff Rodkey is the author of the Chronicles of Egg middle grade adventure-comedy series and the Emmy-nominated screenwriter of such hit films as "Daddy Day Care," "RV" and the Disney Channel's "Good Luck Charlie, It's Christmas." The first Chronicles of Egg book, "Deadweather and Sunrise," was an Amazon Best Book of 2012 and was shortlisted for the Waterstones Children's Book Prize in the U.K. His newest Chronicles of Egg book, "Blue Sea Burning," will be released in April 2014.

Chris Van Dusen is the creator of many outstanding books for children, including "Randy Riley's Really Big Hit," "King Hugo's Huge Ego," "The Circus Ship" and many others. About his latest illustration adventure, "President Taft Is Stuck in the Bath," he said, "This is just the kind of outrageously silly story I love to illustrate. Plus, President Taft was a blast to paint!" Chris lives in a beautiful, little town on the coast of Maine with his lovely wife Lori, his two tall sons, Ethan and Tucker, and a yellow lab named Pearl.
~ Young Adult ~


Tanya Lee Stone is the award-winning author of "Almost Astronauts," winner of the Robert F. Sibert Medal and Flora Stieglitz Straus Award, and honors from Boston Globe-Horn Book, Young Adult Library Services Association Excellence in Nonfiction, Orbis Pictus and Jane Addams Society. Her books also have received a Golden Kite Award, and been included on ALA Notables list and state award lists. Her latest books are "Courage Has No Color," a 52 Great Reads from the Center For the Book at the Library of Congress, which tells the unknown story of the first black paratroopers in WWII, and "Who Says Women Can't Be Doctors?," about Elizabeth Blackwell, the first woman doctor in America. Tanya studied English at Oberlin College and was an editor of children's nonfiction for many years. She teaches writing at Champlain College.

James L. Swanson is the Edgar Award-winning author of The New York Times best-sellers "Manhunt: The 12-Day Chase for Lincoln's Killer," and its sequel "Bloody Crimes: The Funeral of Abraham Lincoln and the Chase for Jefferson Davis." His other works include the young adult bestseller "Chasing Lincoln's Killer." He has two new books out this fall: "End of Days: The Assassination of John F. Kennedy" (William Morrow) and, for young adults, "The President Has Been Shot! The Assassination of John F. Kennedy." He has held a number of government and think-tank posts in Washington, D.C., including at the U.S. Department of Justice.
~ Fiction ~


David O. Stewart's latest work, "The Lincoln Deception," is an historical mystery about the John Wilkes Booth Conspiracy. It was released in late August 2013 to praise from Publishers Weekly, which called it an "impressive debut novel." After practicing law for many years, David began to write history in 2007. His first book, "The Summer of 1787: The Men Who Invented the Constitution," was a Washington Post best-seller and won the Washington Writing Award as Best Book of 2007. Two years later, "Impeached: The Trial of President Andrew Johnson and the Fight for Lincoln's Legacy," was a Davis-Kidd Bestseller and was called "by all means the best account of this troubled episode" by Professor David Donald of Harvard. His book "American Emperor: Aaron Burr's Challenge to Jefferson's America," which is an examination of Burr's Western expedition, served as the basis for the Society of the Cincinnati's decision to award David the 2013 Cincinnati History Prize. David also is president of the Washington Independent Review of Books, an online book review.

Mary Kay Zuravleff's latest novel, "Man Alive!," tells the story of a Bethesda psychiatrist who is struck by lightning and now only wants to barbecue. The Washington Post called it "a family novel for smart people," and named it a 2013 Notable Book. People Magazine praised her "intelligence and sly humor." Her earlier novels, "The Bowl Is Already Broken" and "The Frequency of Souls," won the James Jones Award and the American Academy's Rosenthal Award. Mary Kay lives in Washington, D.C., where she serves on the PEN/Faulkner Foundation and is a co-founder of the D.C. Women Writers Group.

Tom Young's latest book is "The Warriors." His previous books, which include "The Mullah's Storm," "Silent Enemy" and "The Renegades," have received high praise and starred reviews from Publishers Weekly, Kirkus Reviews and other publications. Tom served in Afghanistan and Iraq with the Air National Guard. He has also flown combat missions in Bosnia and Kosovo, and additional missions in Latin America, the horn of Africa, and the Far East. Military honors include three Air Medals, three Aerial Achievement Medals, and the Air Force Combat Action Medal. He served more than 20 years in the Air Guard and retired as a Senior Master Sergeant. In civilian life, Tom spent 10 years as a writer and editor with the broadcast division of the Associated Press, and he flew as a first officer for Independence Air. He holds B.A. and M.A. degrees in Mass Communication from the University of North Carolina at Chapel Hill.

Dan Morse is the author of "The Yoga Store Murder," the true crime account of the lululemon athletica killing in Bethesda, Md., in 2011. Dan is a staff writer at The Washington Post, covering criminal justice in Montgomery County. Prior to working for The Washington Post, he worked for The Wall Street Journal, Baltimore Sun and Montgomery Advertiser. Dan grew up in Urbana, Ill., and is married to fellow Washington Post reporter Dana Hedgpeth.

Howard P. Willens is an attorney, author and historian who has practiced law in both the public and private sectors in Washington D.C., and also was a member of the Warren Commission. His new book, "History Will Prove Us Right: Inside the Warren Commission Investigation into the Assassination of John F. Kennedy," is the true story of what really happened during the Warren Commission's investigation of the assassination and is the only book written about the commission by someone who was part of the management team that supervised the largest criminal investigation ever conducted in the United States. After military service, Howard entered private practice, but soon thereafter went into public service. He served as deputy assistant attorney general in the Criminal Division of the U.S. Department of Justice, assistant counsel to the President's Commission on the Assassination of President Kennedy, and executive director of the President's Commission on Crime in the District of Columbia. He received his undergraduate degree in political science from the University of Michigan in 1953 and his law degree from Yale Law School in 1956.
Trying to Tap Into Oprah's Secret…
…And the Secret to
GBF Author Recruitment Success
In a recent blog post, GBF Author Recruitment Committee member Gene Taft lamented, "I've been a reader for more than 40 years and I've spent more than 20 years as a book publishing professional, so it may surprise you to learn that I'm still holding a grudge against Oprah. Yes, I am mad at Oprah Winfrey, the woman who 17 years ago almost single handedly resurrected the act of reading books and may have actually saved the book publishing industry with her Book Club…
So why was I mad at Oprah then, and remain so to this day?
I'm not mad at her because of the books she was or wasn't choosing. I am mad, or envious, I suppose, that she, a virtual stranger, was able to influence millions of people to read specific books while I often am unable to convince even my friends and family that a book I recommend is worth picking up. Oprah said 'Read this,' and people knocked each other over to get to the store or library to pick up a copy.
I'm mad at Oprah because she made successfully recommending books look easy!
Despite the sorcery of Ms. Winfrey, I firmly believe the art of choosing good books to read, or (horrors!) good books to recommend, is very difficult. So why in the world did I join the Gaithersburg Book Festival planning committee and become part of the author selection process? Well, I'm obviously a glutton for punishment, but I'm also an advocate for reading, a lover of books, and a diehard promoter of authors.
Click here to read more of Gene's insights into the secrets of our success….
Submissions for Annual H.S. Writing Contest Due Feb. 21
I've seen some odd things delivering food for Ned's Pizza, but nothing beat the lady that ordered a half-mushroom, half fish-eyeball pie, then hit me with this request at the door…

The trouble began since my cell number is one digit off from Madam O'Wiggy's, the psychic, which is how I came to be answering questions about the future to begin with…

The main thing to know, if pirates commandeer the cruise ship you're on during family vacation, is that they do much less dancing and singing than in movies…
Stories must be no longer than 1,000 words and written by individuals enrolled in grades 9-12 at a public or private school, or in a homeschool program for the 2013-14 school year.
Up to 12 stories will be selected as finalists and posted on the Gaithersburg Book Festival website prior to the Book Festival.
The first-, second-, and third-place winners will be announced at the Gaithersburg Book Festival on Saturday, May 17, 2014, and will be awarded $100, $50 and $25 gift certificates, respectively, courtesy of the Johns Hopkins Montgomery County Campus.
Relive the 2013 Festival in Video
Did you miss the 2013 festival? Or are you looking to catch footage of an author you didn't see last May? Gaithersburg's YouTube channel now hosts presentations from many of our 2013 featured authors, as well as those from previous festivals, including:
5th Annual Gaithersburg Book

Festival

____

Saturday

May 17, 2014

____

On the Grounds of

City Hall in

Olde Towne Gaithersburg, Md.

Presenting Author Applications Due January 15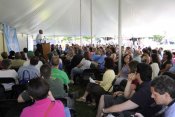 This could be you...one of the hundreds of authors who have joined us on the stages of the Gaithersburg Book Festival.




In its fifth year, the Festival has established itself as one of the Washington, D.C., metropolitan area's premier literary events, featuring prominent, best-selling and award-winning authors, poets and songwriters.




If you are an author who has recently published a book, or have one that will be out by May 2014, we invite you to submit an application to present at the 2014 Gaithersburg Book Festival, taking place Saturday, May 17 on the grounds of City Hall in Olde Towne Gaithersburg. If selected, you could present individually, be paired with other featured authors or be featured in a panel discussion.



Gaithersburg Library to Reopen January 4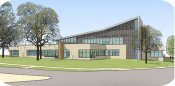 Come out and get to know the new Gaithersburg Public Library as its celebrates its reopening on Saturday, January 4.
Festivities will include a ribbon cutting with Montgomery County Executive Isaiah "Ike" Leggett, as well as fun activities for children and adults.
Friends of the Library will be on hand to give tours. A
nd don't forget that you can sign up for a library card and check out materials as well!
Gaithersburg Public Library Grand Reopening
18330 Montgomery Village Avenue
Subscriber contact information will be used solely for the newsletter and will not be shared or sold to other parties.
Want to be one of the first to know about

the latest news from the Gaithersburg Book Festival and our featured authors?