[watch out for Krampus, kids!]

Boise's biggest selection of new and used vinyl records!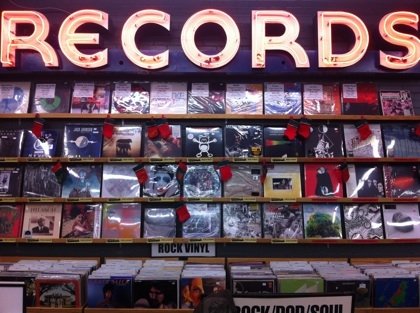 The Record Exchange has the biggest selection of new and used vinyl in Idaho. The store opened in 1977 and, even through the cassette and CD eras, we never got rid of our vinyl section. Vinyl has always been here and it always will. That's why we're called The Record Exchange.

Here in 2013, we recently expanded the vinyl — again. There is more wax on the floor than there has been in 20 years. New. Used. Collectible. All genres. All budgets. Have yourself a very vinyl Christmas.

Cruise with Crosley for $99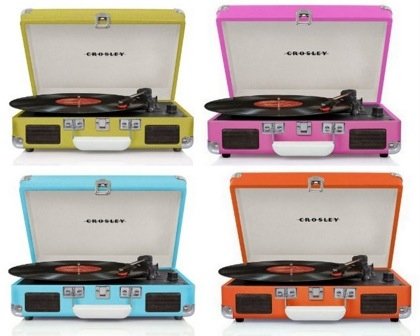 Love the rich, warm sound of vinyl, but wish it was a more moveable music format? Put down the iPod and mobilize your music with the Crosley Cruiser three-speed portable turntable ($99.99).

Constructed of wood and bound in a leatherette material, the briefcase-styled record player is lightweight and easily transported. Featuring built-in stereo speakers so you can listen to your music without having to connect it to a speaker system. Cruise over to a friend's house and experience vinyl's superior sound together.

Crosley Executive three-speed portable turntable with USB: $119.99

Go vintage for a great price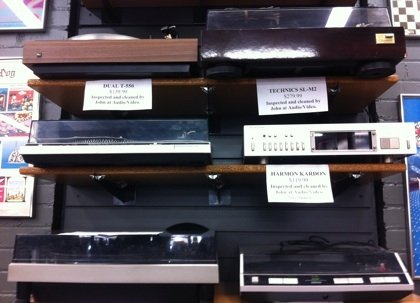 In addition to new turntables, The Record Exchange always has on hand a well-curated collection of vintage turntables and stereo equipment.

Ranging in price from approximately $100-$300, vintage may be the way to go if you're looking for quality at a great price. We don't just bring anything in to sell, and the pieces we do are cleaned and inspected by a professional audio repair company before they hit the floor.

Trusted name, affordable price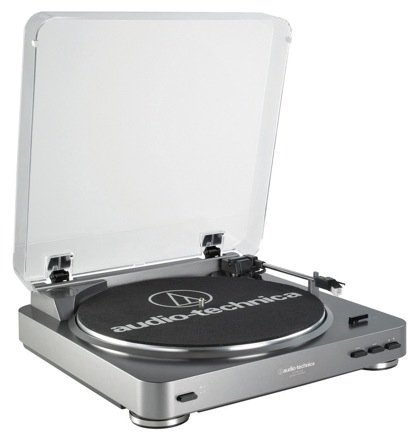 Audio-Technica is one of the most trusted names in the turntable business, and with their AT-LP60 ($129.99), you can a newbie started or rediscover your classic 33-1/3 and 45 RPM records on an affordable, fully automatic belt-drive workhorse.

With its built-in switchable phono preamp, the AT-LP60 may be connected directly to your computer, home stereo and to other components that have no dedicated turntable input. The turntable is supplied with an integral Audio-Technica Dual Magnet™ phono cartridge with replaceable stylus.

Pro-ject's class-leading sound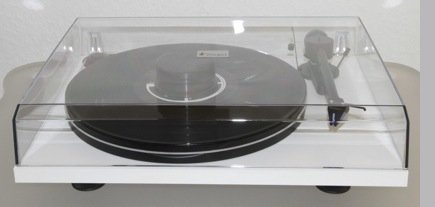 Turntable innovation for vinyl starters with class-leading sound quality and computer interface!

Pro-ject's Essential Phono USB turntable ($399.99) features a quiet-running synchronous motor with silicone belt driving a low-resonance platter made from MDF. The main chassis is made from lightweight, but very stiff particle board. Utilising a straight 8,6" aluminium tonearm with a single-pivot bearing made from steel, a spectacular good tracking of vinyl grooves is guaranteed. Due to the brilliant concept, unwanted resonances are effectively transferred into the tonearmbase and turntable chassis. Armtube and headshell are made from a single piece of aluminium.

Because Essential Phono USB comes with pre-mounted cartridge and built-in phono preamplifier with USB output, connection to both line-level input of your hifi system and PC/Mac easily can be used simultaneously!

Protect, accessorize your LPs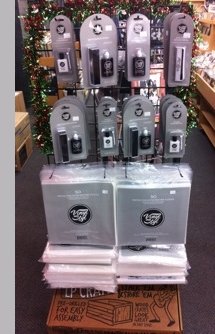 You have the turntable, you're building your collection.
Now it's time to protect your investment so you can enjoy it for years to come.

The Record Exchange has a large assortment of record and turntable accessories, including:

- Record brushes

- Record crates

- Poly outer record sleeves

- Replacement inner record sleeves

- Cleaning fluids

- Record cleaning kits

- Stylus cleaning kits