China Workshops and Outreach
Recently, a delegation of the Asia-Pacific Center for Security Studies traveled to China to conduct two workshops in the region. The first event was held in Beijing entitled, "US-China: Building Strategic Trust," co-sponsored with the Institute of American Studies (IAS) of the Chinese Academy of Social Sciences (CASS). The second workshop, held in Lanzhou, examined regional impacts of climate change and resulting security implications, and was conducted in partnership with the Chinese Academy of Sciences Environmental and Engineering Research Institute (CAREERI) and the U.S. National Center for Atmospheric Research (NCAR).

Read more…
TSC 13-2 Course Concludes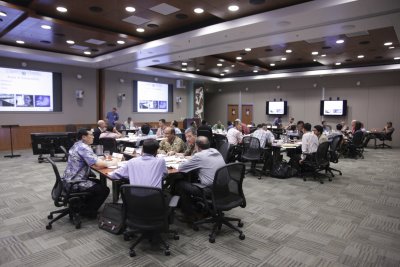 Twenty-nine senior executives from 27 locations completed the Transnational Security Cooperation 13-2 course on December 13 at the Asia-Pacific Center for Security Studies.

Read more…
Dr. Jeffrey Hornung

authored "

China's War on International Norms

." Additionally, he was quoted in an article for USA Today, "

USA upgrading in Asia, but 'pivot' questioned

," in the news blog entry, "

U.S. Forces Get Better, Not Bigger, in China Contest

," and provided input for the December 25th edition of the Asahi Shimbun (Japanese version), in the article, "Koukou no Jiyuu Kotonaru Omowaku" (Freedom of Navigation, Differing Expectations).
Dr. Steven Kim

spoke at the Korean Economic Institute of America on the topic of cyber conflict within the Korean Peninsula.

Read more...
Ms. Zenonida Brosas (EC 03-3, SSD 10-2) was appointed as deputy director general for the National Security Council (NSC), Republic of the Philippines.

Read more…
A distinguished alumnus of APCSS, Mr. Cyril P. Cusi (ASC 09-1) returned as a guest speaker to the TSC 13-2 course, held in Honolulu December 9-13.

See more...
U.S. Congresswoman Hanabusa visits APCSS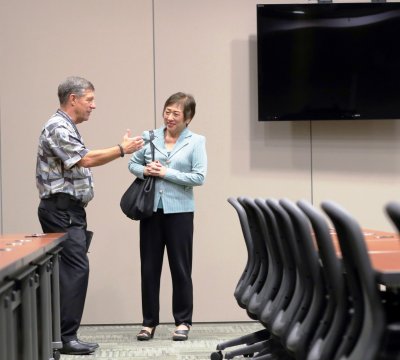 Congresswoman Colleen Hanabusa returned to the Center for another visit on December 17, receiving a detailed tour of from APCSS Director, retired Lt. Gen. Dan "Fig" Leaf.
Senior Asia-Pacific Orientation Course (SEAPOC) 14-1

Comprehensive Security Response to Terrorism (CSRT) 14-1
February 24 - March 19, 2014
Transnational Security Cooperation (TSC) Course 14-1
Over the last few months many subscribers within DoD have gotten new email addresses.
If you have a new email please update your subscription to ensure you are getting the latest APCSS updates. Mahalo.
If you have any questions please contact the editor at markovinovicm@apcss.org

You can find past issues of the APCSS Activities Report and the Military Construction newsletter online

here

.
The latest edition of Currents magazine is available at:
APCSS hosts a number of Communities of Interest on

APCSSLink

:
These communities are open to all APCSS Alumni. Please note you must be logged onto APCSSLink for these links to work properly.