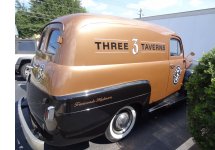 Story and photos by Owen Ogletree
Brian Purcell, Brewmaster and CEO of Three Taverns Craft Brewery, recalls a fateful, beer-indulgent night in Brussels back in 1994 that introduced him to the beauty, complexity and decadence of Trappist ales. Brian and his friends enjoyed themselves so much, that they were almost arrested while trying to drive across the French border later that evening. This one night formed a source of major inspiration for Brian in opening his own Belgian-themed brewery this year near the heart of Decatur, Georgia. His flagship brew is even called "A Night in Brussels."

Brian left his job with Coca-Cola in 1996 to open his own promotional marketing company geared toward soft drink manufacturers. "I never really took pleasure in running that business," he recalls. "I needed a more enjoyable, creative outlet."
Inspirational Origins

In 2000, Brian made a trip to Portland, Oregon to attend a wedding, and enjoyed his first taste of homebrew while there. Brian soon caught the homebrewing bug and started out with a five gallon extract kit. When he began to explore the idea of opening a commercial brewery, he graduated to a larger, all-grain brew system in 2008. This system (shown below with Brian) is now displayed in a place of honor in his Three Taverns brewery.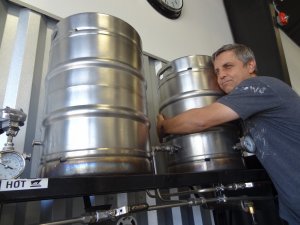 In what turned out to be a huge compliment, Brick Store Pub co-owner Mike Gallagher once mistook Brian Purcell's early homebrewed oatmeal stout for a popular commercial stout during a blind tasting and subsequently praised Brian's beer to his Brick Store partner Dave Blanchard. Brian adds, "After giving me valuable encouragement, Dave Blanchard then watched me plan Three Taverns with great impatience over the years. He would tell me, 'Brian, that's a great idea, but hurry up!'"
Brian loved the Brick Store ever since he moved to Decatur back in 2002. "A La Trappe ale at the Brick Store one night reawakened my interest in Belgian beer, and I knew another trip to Belgium was in my future."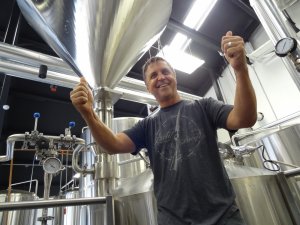 Mythical, Magical Belgian Ales

In the summer of 2012, Brian visited the St. Sixtus Trappist brewery cafe in Belgium, drank three potent Westvleteren 12 ales and then rode his bike back through the lovely countryside to his hotel. He describes the day as "beer nirvana."

"Brewing these magical, Belgian-style beers spoke to me," notes Brian. "Making a great product and doing events to bring people together to open them up to wonderful beer and conversation held a tremendous appeal."
Brian's mind was set. He began the process of raising 1.3 million dollars to start his brewery and then sold his marketing company to his neighbor. In the fall of 2012, Three Taverns leased space in a small business park within walking distance of downtown Decatur that was once the Push-
Push stage theater company.
A Bit of Belgian Influence

In the early planning stages, one of Three Tavern's biggest investors suggested hiring a Belgian brewer, and Brian considered this a brilliant idea. "Kevin McNerney from 5 Seasons was working for me as a brewing consultant," explains Brian. "Belgian brewer Peter Bouckaert, now with New Belgium brewery in Colorado, was visiting Atlanta for special events, and Kevin told me that Peter was going to Taco Mac Sandy Springs that night. Kevin and I met Peter at The Fred and discussed hiring a Belgian brewer. Peter told us that Belgians are 'born with a brick in their stomachs' and don't like to leave their country, but he did refer me to his nephew Joran Van Ginderachter who had worked as an intern at New Belgium and was inspired by brewing opportunities here in America."
27-year-old Joran will be moving to America and taking on the official role of head brewer at Three Taverns at that time. "My uncle inspired me, and it was always fun talking to him about beer," says Joran. "I was so interested, that I worked on a paper in high school about lambic beers and visited Oud Beersel and Frank Boon's brewery for research. Frank Boon got me hooked on sour beers - he is one of the smartest guys in terms of sours."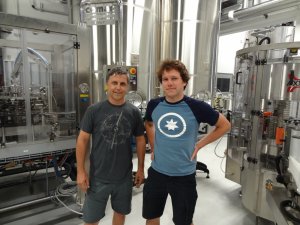 Joran (pictured above and to the right) brewed some interesting beers for Brouwers Verzet at De Ranke recently, and his bottled Oud Bruin is available at a few outlets in Atlanta now. Excited about helping start Three Taverns and being involved in the creation of new recipes, Joran also places emphasis on hard work and focus. "Brewing is fun, but you have to know when to be serious about it," he says.

Strong Beginnings

The night of July 19, 2013 saw the premier of Three Taverns' initial two brands at Brick Store, where a total of 15 half-barrel kegs were consumed. "To launch at Brick Store, where I found inspiration, was great," recalls Brian Purcell. "Mike Gallagher presented a heartfelt toast, gave me a bear hug and pulled me up front to speak to the crowd. I looked out and saw both friends and strangers - all happy, smiling and enjoying my beer. I realized then that Three Taverns is something bigger than me - the brewery is a gift to the beer-centric city of Decatur."
Three Tavern's sparkling new brewhouse - a 30-barrel, four-vessel model from Newland Systems in Canada - impressed Brian from the start with its efficiency and speed. The brewery's tasting room boasts taproom walls with old wood reclaimed from a barn in Kentucky, along with salvaged, 150-year-old bricks. Visible through a large window, the barrel-aging room is housed to the right of the bar, and a mezzanine lounge area sits above the serving area.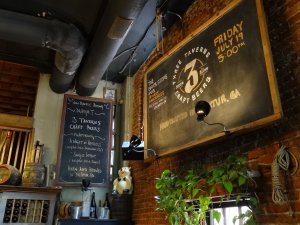 Recipes with Tradition & Flare

Single Intent comes in as a Belgian-style single - a lighter-bodied, abbey-style blonde ale usually reserved for the monks' personal consumption with meals. French Strisselspalt hops provide a spicy, floral aroma, and soft Belgian esters lend a complex, fruity backdrop in this 5% ABV beer with 35 IBUs.

As a Belgian-style IPA, A Night in Brussels contains Belgian malts, American hops, pure cane sugar and a spicy Belgian yeast strain. Brian calls the 7.5% ABV, 69 IBU beer "an American IPA on a Belgian road trip," and he's stepping up additions of aroma hops and dry-hops to boost the citrusy hop bouquet in recent batches.

When asked if his decision to open Three Taverns has made him happy, Brian Purcell quotes the American writer Fredrick Buechner who said, "Finding a sense of calling in your work is when your great happiness meets the world's great need."