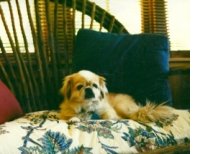 Here is some great advise on using essential oils on animals from Tresa Laferty/Speak to the Earth, one of our fabulous teachers who is also an animal communicator.
Applications
Smell/diffusion/inhalation(best, easiest option): Diffuse into air; oxygenate brain

Topical (dermal) absorption: Apply to skin or hair/fur

Internal/ingestion: Start very slowly. You can add certain essential oils to the food and water. Be sure to get the guidance of an aromatherapist specializing in animals to get you started.

Take extra care when introducing the essential oils to animals. They have a very accurate memory with scents so making sure they have a positive first experience is key!

Smell – best option for the hyper sensitive noses of our animal friends: Open bottle slightly or fully in the room (for smaller animals – put in center of the room so they can move closer or leave the room if they don't want to be that close). Put on hands, tissue or cotton ball:let animals smell (do not force right under nose) Put on bedding or towel:let animal choose to be there Spritz bottle:distilled or spring water, 3‐5drops of essential oil. Shake and spritz. (Diffuse: cold air diffuser – do not heat oils)

If the animal is jittery

, you can apply calming essential oils to yourself first . Let the animal become accustomed to the smell.
Let the animals "Choose"
Give them respect and start slowly. Give animals a choice – put 2, 3 or 4 out and let them select. Once you get to know them, you'll understand their "yes" and "no" indicators. Do not put an oil on and leave the animal – have initial experiences be calm & enjoyable. Start with "calming" oils before trying to "treat" with oils.
Remember: if they don't like a particular essence today, that doesn't mean they won't like it tomorrow. Vice versa is true. So if they "choose" an essence once, it doesn't mean they will always like it. Animals are very intuitive and will always select the best essence for them – even if it doesn't make sense to us. Trust them!

When treating a smaller animal, you can put them in a carrier – preferably one with closed sides. Additionally, you can drape a cloth over the carrier exposing only the opening. Put your essential oil of choice in a cold water, ultrasonic diffuser. Point the diffuser into the crate and turn it on. If this animal is new to essential oils, turn on for 1‐2minutes. Turn off and observe. You can extend it longer as you see how the animal is reacting. Always get the permission of the animal before doing any form of treatment. If they are unable to give their consent, then ask their "higher self" if this form of healing will be accepted.

Topical: (not in eyes, ears or "sensitive" spots)

You can apply the oils to the fur or feathers. These act as a wick and pull the essential oil into the body. You can also apply them directly to the skin, but be sure to observe any reaction the animal may have.
Multiple oils/layering: when first using, start with one oil, wait and observe (10-­‐15minutes). If all is ok, then apply any additional oils in same manner.
Spritz or spray bottle: for large, open wounds or hard to reach areas
Feet: The pads of the feet are very sensitive and many dogs/cats have an aversion to having their feet touched or handled. I don't typically apply essential oils to the feet unless that is the area of injury.

Ears: On edges (can apply to your hands first the run on animal's ears) but take care not get oils directly down the ear canal.

Other areas: Base of spine or along spine, shoulders, chest, under tummy, under chin – where ever needed.

Eyes: I use the hydrolets of Rose and Helichrysum for eye issues. I dilute 50/50 with saline solution and do a "test" in my own eyes first. If they burn my eyes, they will obviously not feel good in your animal's eyes.