Malaysia Defense Minister speaks to ASC 14-1
Malaysia's Minister of Defense, Datuk Hishammuddin Tun Hussein, visited APCSS on January 14 to address the class of ASC 14-1 on managing complexity, and conduct a tour of the Center. Pictured above with APCSS Director, retired

Lt. Gen. Dan "Fig" Leaf

, and various Malaysian Fellows.

See more

...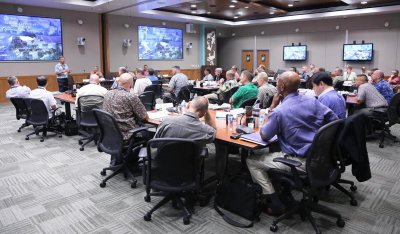 T
hirty-five Fellows completed the Senior Executive Asia-Pacific Orientation Course 14-1, held at APCSS January 14-17. The senior government, civil and military leaders participating in the course came from Canada, Taiwan, Japan, Republic of Korea, Singapore and the U.S.

Read more

...
New APCSS resident Army Fellow, Lt. Col. Nathan Springer, contributed a chapter to a recently published book, Culture, Conflict and Counterinsurgency. The book is currently only for sale, but can be viewed online,

here

.
Click here

to access additional publications and contributions from APCSS faculty and staff from the past few weeks.
Col. Bill Schwab (APOC 09-1), authored "

Polar Power

," featured in the latest Asia-Pacific Defense Forum.
Ratindra Khatri (ASC 09-1) published an Op-Ed in a recent edition of MyRepublica online, entitled "

Uncertain future

."
U.S. Ambassador Mozena visits APCSS
On January 31, APCSS hosted U.S. Ambassador to the People's Republic of Bangladesh, Dan W. Mozena, for a tour and overview of the Center's activities, providing him the opportunity to meet with numerous Fellows of ASC 14-1.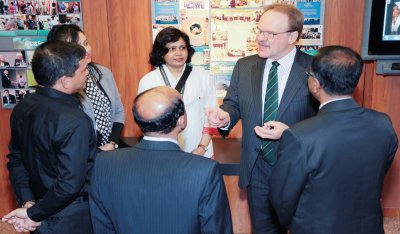 Comprehensive Security Response to Terrorism (CSRT) 14-1
February 24 - March 19, 2014
Transnational Security Cooperation (TSC) 14-1
Advanced Security Cooperation (ASC) 14-2

January 13: Adm Harry B. Harris Jr., Commander, U.S. Pacific Fleet (USPACFLT)

See more

...
January 22: Mr. Peter Verga, Chief of Staff, Deputy Under Secretary of Defense
January 22: AMB Ganbold Baasanjav (TSC 10-2), Ambassador of Mongolia to the Republic of Korea

See more

...
January 22: Parliamentary Vice Minister of Defense, MOD, Japan

See more

...
APCSS hosts a number of

Communities of Interest

on

APCSSLink

. These communities are open to all APCSS Alumni. Please note you must be logged onto APCSSLink to access the Communities of Interest forum pages.
If you have a new email please update your subscription to ensure you are getting the latest APCSS updates. Mahalo.
If you have any questions please contact the editor at markovinovicm@apcss.org

You can find past issues of the APCSS Activities Report and the Military Construction newsletter online

here

.
The latest edition of Currents magazine is available at: