APCSS Co-hosts Crime-Terror Nexus Workshop
ASC 14-1 Course Graduates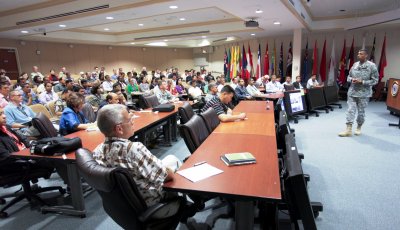 One hundred nine senior military and civilian government leaders from 32 locations graduated from the Advanced Security Cooperation course 14-1 on February 13. At the conclusion of this class, fellows presented APCSS with a Declaration of Amity and Cooperation, formalizing their commitment to adhere to the principles of security cooperation.

Read more

...
APCSS Hosts Director of the Thailand SSC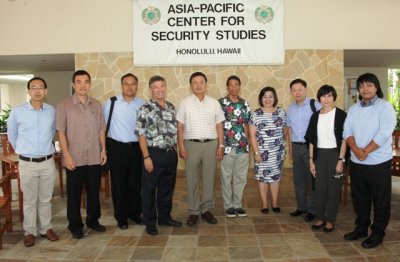 Major General Chaianan Jantakananurak (center), Director of the Strategic Studies Center (SSC) of Thailand's National Defense Studies Institute (NDSI), visited APCSS on February 4. After receiving an orientation tour and update on the Center's activities, he was able to interact with other Thai Fellows participating in ASC 14-1.

Transnational Security Cooperation (TSC) 14-1
Advanced Security Cooperation (ASC) 14-2

General Vincent Brooks, Commanding General of USARPAC, visited APCSS on February 5 to speak to the class of ASC 14-1 (pictured left).

See more

...
Lt. Gen Patricia Horoho, Surgeon General of the Army, visited APCSS on February 11.

See more

...
Assistant Secretary of Defense for SO/LIC, performing the duties of the Under Secretary of Defense for Policy, visited APCSS on February 25.
APCSS hosts a number of

Communities of Interest

on

APCSSLink

. These communities are open to all APCSS Alumni. Please note you must be logged onto APCSSLink to access the Communities of Interest forum pages.
If you have a new email please update your subscription to ensure you are getting the latest APCSS updates. Mahalo.
If you have any questions please contact the editor at markovinovicm@apcss.org

You can find past issues of the APCSS Activities Report and the Military Construction newsletter online

here

.
The latest edition of Currents magazine is available at:
| | | |
| --- | --- | --- |
| | | |
| | | |