U.S. Ambassador Yun returns to visit APCSS
U.S. Ambassador to Malaysia, AMB Joseph Yun visited the Asia-Pacific Center for Security Studies on March 21. An alumnus of the Executive Course (EC) 04-3, AMB Yun received a tour of and an update on the Center's recent activities and upcoming events. Pictured above with APCSS Director, retired U.S. Air Force
Lt. Gen. Dan "Fig" Leaf
.
TSC 14-1 Course Graduates
Air Marshall (AM) K. A. Gunatilleke (EC 04-2) was promoted to Commander of the Air Force for Sri Lanka. Read more...
APCSS Alumnae Dr. Anna Powles established an affiliate organization of Women in International Security (WIIS) in New Zealand. Read more...
CSRT 14-1 Concludes with 101 Alumni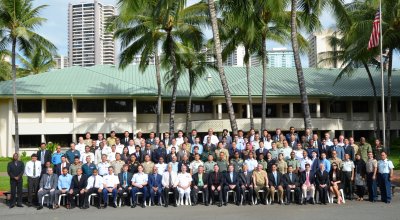 One hundred one Fellows from 44 different locations graduated on March 19 from APCSS' Comprehensive Security Responses to Terrorism (CSRT) 14-1 course. Of the Fellows, 70 percent were from military organizations and law enforcement agencies. Just over half of the course participants were from the Asia-Pacific region, with five continents represented. Read more…
Advanced Security Cooperation (ASC) 14-2

Comprehensive Crisis Management (CCM) 14-1

Asia-Pacific Orientation Course (APOC) 14-1
- U.S. Air Force Air War College, North East Studies Group comprised of 21 Col. and Lt. Col. Fellows. See more...
To celebrate International Women's Day in March, APCSS Director
Leaf
wrote his latest "Director's Vector" on how APCSS is playing a leading role in Women, Peace and Security efforts.
Read more...
APCSS hosts a number of

Communities of Interest

on

APCSSLink

. These communities are open to all APCSS Alumni. Please note you must be logged onto APCSSLink to access the Communities of Interest forum pages.
If you have a new email please update your subscription to ensure you are getting the latest APCSS updates. Mahalo.
If you have any questions please contact the editor at markovinovicm@apcss.org

You can find past issues of the APCSS Activities Report and the Military Construction newsletter online

here

.
The latest edition of Currents magazine is available at:
| | | |
| --- | --- | --- |
| | | |
| | | |