Dearest WOTE Family,

It has been a while since we communicated with our WOTE tribe. Our Spring was so busy that we did not have an opportunity to share. Now that we have come up for air (and the air quality is awful due to the fire), I wanted to share some of the things that have been happening around here.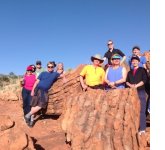 We had an amazingly deep and profound Level II RETREAT with students from around the country. As always, this group of conscious folk made lifelong friendships during the five days. We were delighted to have one of Barry's daughters attend the 5-day retreat. She even played her beautiful harp during our evening Medicine Wheel Ceremony. It is so special for us to have one of our kids complete the course.
The adventure continues....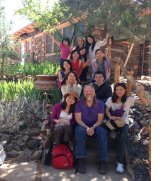 Then, we had a beautiful group of Level I Japanese students come visit for a Mini Retreat. The deep love and reverence they have for the essences and for us is astounding. It was so great to have them here with us for two days.

Just a few days later, the Slide fire broke out. What a travesty! It is now 45% contained but still burning. About 10,00 acres or more have burned. It is very sad for all of us who love the canyon so much. The smoke in the valley is the worst early in the morning. It has been hard to breathe, but luckily we have some great allies.

Here in the office we have been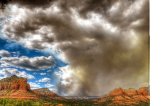 using Magnolia, Rosemary, Eucalyptus, and Helichrysum gymnocephalium to clear our lungs. These have been very helpful. I use these before exercising, and often bring them with me to anoint my compadres. So please continue to pray and see the rain falling on this very parched land.
WOTE has already received several registrations for our October Level II retreat, and I believe that we are going to fill up early. If you are thinking of registering for the retreat, you might want to do so sooner than later.

Well friends, as Mother Earth continues to change and clear herself, remember to stay centered in the quiet place of your heart. Use the essences as your allies and continue to shed all the old programing. Put a smile in your heart and take notice that we are the ones who will bring forth the New Reality. Keep the faith especially during the most challenging times.

Know that we love you dearly.

From Within the Great Mystery,

Cynthia and the WOTE Folk