ASC Course 14-2 Concludes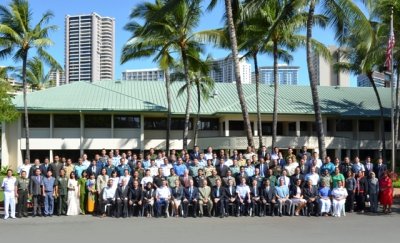 One hundred and one Fellows, representing 33 different nations from around the world, completed the intensive, four and a half week Advanced Security Cooperation (ASC) course 14-2 on May 15. This was the second of three iterations of this popular, executive education course planned for this year. Read more

here

, or see additional photos

here

.
NDU's CAPSTONE Course Visits APCSS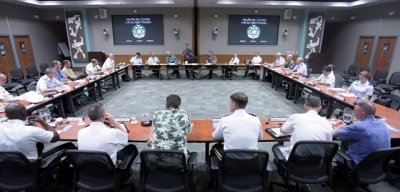 On May 9, APCSS hosted 18 Flag and General Officers from various branches of the U.K. and U.S. military services, partaking in the CAPSTONE Course of the U.S. National Defense University (NDU). These senior military leaders were provided an orientation tour and update on the Center's course and workshop schedule, before participating in an enhanced security seminar session (pictured above, during introductory comments by the APCSS Director.)
Federal Executive Board Honors APCSS Employees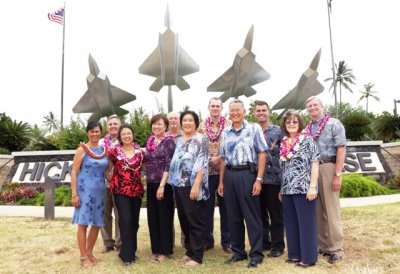 Twelve employees of APCSS were recognized at the Honolulu Pacific Federal Executive Board's (FEB) 58th Annual Excellence in Federal Government Awards reception held at the Hickam Air Force Base Officer's Club on May 2. The annual event honors employees from multiple government agencies in Hawaii for their outstanding efforts, dedication, and contribution to the workforce and community. Read more

here

, or see additional photos

here

.
Our latest edition of Currents magazine is available

here

.
May 8: Seventy senior leaders from the U.S. National Defense University's International Fellows Program

May 12: RDML Cynthia Thebaud (SP 14-1), Commander Logistics Group Western Pacific

May 12: RDML Colin Chinn (C13-04), Command Surgeon, U.S. Pacific Command

May 14: Mr. Robert Kaiwai (TSC 11-1), Consul General of New Zealand to Hong Kong, Macau, and Guam

May 27: Mr. Kurt Tong, DCM, U.S. Embassy Tokyo

May 30: Dr. Norman Barth, DCM, U.S. Embassy Majuro, Republic of Marshall Islands

May 30: Thirty-one senior leaders of the Course of Advanced Military Studies, Colombia War College

If you have a new email please update your subscription to ensure you are getting the latest APCSS updates. Mahalo.
If you have any questions please contact the editor at markovinovicm@apcss.org

You can find past issues of the APCSS Activities Report online

here

.
Previous editions of Currents magazine is available at: