Electronic interruptions bombard us and our children constantly. Does technology fragment our brains and lead to a lack of focus and interrupted thinking processes? In this issue, a counselor discusses ways to create an atmosphere where young people are stimulated but also allowed to re-create and recharge. And speaking of recharging--we've recommended a few books which do just that.
SCREEN TIME & BRAIN HEALTH

by Nicole Mosteller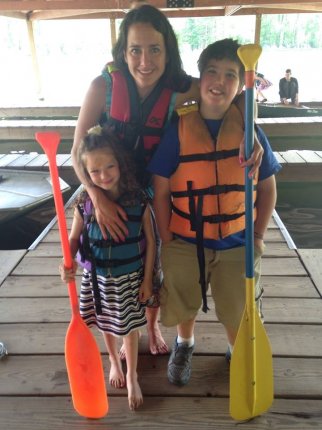 Nicole Mosteller with Zoey & Linkin

As a mother and a counselor, I advocate that children earn screen time and that it be limited. I believe that e
xcessive "screen time" with frequent scene changes can overly engage or mesmerize our children. This can elicit a primitive reflex in the brain called orienting response. This reflex is engaged while the rest of the brain is not being stimulated and, to make matters worse, the inactivity can last for hours. If this happens frequently it can condition the brain to "desire quick gratification" an increase in dopamine, sensory overload, a hypnotic state, and the addictive properties behind "screen time".
Screen time utilizes the right brain which houses the emotional part of us. Consider how commercials appeal to the emotional side. Too much screen time can impair frontal lobe development which is responsible for concentration, impulse control, executive function, etc.
In contrast, reading a book uses the left brain which is responsible for logic and critical thinking.

Suggestions for educators, parents, or anyone who works with children.

• Have an identified "quiet space" with headphones that can be used whether or not the child plugs in. Sometimes complete silence for a child is the most relaxing and least distracting environment for them to decompress.
• Play classical music in the background while teaching, doing work, or having quiet time.
• Take frequent breaks for stretching, breath work, singing, jumping up and down, etc. This helps with recharging their spirits, getting physical energy out of their system, and refocusing.
• Utilize a small trampoline which increases endorphin output - promoting relaxation and stabilizing the nervous system. Children with screen time overload can experience a hyper-aroused nervous system.
• Go outside. Give children unstructured play so they can utilize both sides of their brains. Structured is good also. Just get them outside!
• Most of all, limit screen time and monitor what that time is being used for.
Please use this article as a starting point. I encourage you to research such topics as: orienting response or reflex, screen time & children, classical music & brain development, and frontal lobe damage. I highly recommend reading, Last Child in the Woods by Richard Louv.
Nicole Mosteller is a Licensed Professional Counselor, National Certified Counselor, and owner of a Life Enrichment Center. She is the mother of two highly spirited phenomenal children and serves as the President of the Parents' Association at her children's school.

For the first time in Talking Story history, an artist created an illustration specifically for us! Check out all the techno-toys Jenn Bower included in this image. Carol counted 22. How many do you find?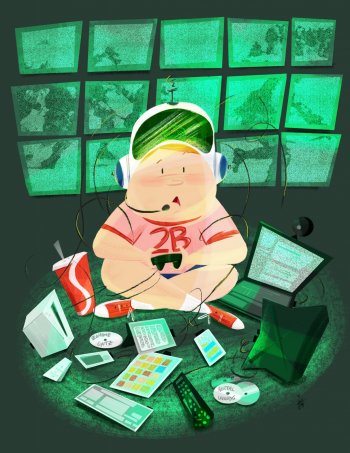 Jenn Bower is mother to an active teen, a coonhound, one extra large cat, and a Budgie bird who likes to sing. After work she squeezes in time to

write, paint, and ride a horse named "Rocket," She also makes vain attempts to keep her house clean.

Read more about Jenn's journey as an "authorstrator" on Carol's blog.
Hopefully summer vacation provided some outdoor fun, good reading, and a trip or two to refresh you. As you enter the new school year I hope you can find some new and fun ways to keep your brain and your students' brains refreshed and healthy!
Read aloud to students on a regular basis.

Keep play dough on hand for each child. Let them use it during read alouds.

Provide intricate designs for children to color during read alouds.

Between each subject or class period, take five minutes for a renewing activity such as reading jokes, singing an action song, doing a few exercises, etc.

Play silly YouTube clips, especially anything the students can sing-along with or do motions to.

Get familiar with Brain Gym. Use some of the activities to help stimulate your students' brains.

Take unexpected outings - a five minute visit to another classroom, a quiet walk down the hall and back or a quick trip outside to move around and breathe deeply.

Develop clapping rhythms and class cheers.

Read fun poetry and Dr. Seuss.
And whatever you do, give the kids recess - not because they deserve it but because their brains need it! And their souls do too.

by Mallory Tartaglia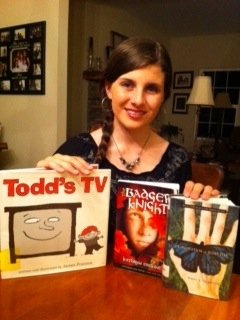 Often shunned by society for his unusual appearance, a teenage boy dreams of becoming a bowyer like his father and going to war against Scotland. This medieval novel takes us to the mid-1300s. On a quest to find out who he really is, Adrian Black learns about what it takes to be brave and to be a man. This book provides excitement and adventure for teens with a hunger for reading.
Too occupied to spend time with him, Todd's parents keep him busy by having him watch TV. To them, TV seems to solve all of their problems. This picture book demonstrates how television obsession takes over precious time that could be spent reading a good book. Technology cannot replace the necessary learning tools and knowledge that books provide. (Ages 4-8)
In this novel a sixteen-year-old girl is trapped in a sea of mystery and lost memories after being critically injured in a car accident. With no memory of her parents or best friends, and having to relearn how to walk and talk, Jenna Fox has to track down her lost memory to complete the puzzle of the life she left behind and to make way for her new future. This futuristic, mystery novel by Mary E. Pearson provides an intriguing escape while at the same time, bringing to light how advances in technology may affect medicine and extreme decisions about saving lives.
Mallory Tartaglia is a sophomore at Piedmont High School whose interests include reading, writing, art, hunting, and agri-science.
Writer-in-Residence Workshop or Author Visit?
We'd love to hear from you!
We each offer our own author visits or we'll conduct writer residencies together. Contact us to design a program that meets your needs.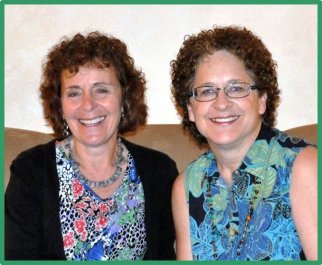 We Welcome Young Reviewers!

Do you know a young person who loves to read? We'd love to hear from you with name and contact information. We ask reviewers to read three books and write brief introductions.
This is a great opportunity for young people to gain experience in writing for publication.
Please
email us if you know someone who would be interested! Thanks.
For best results,

"View as Webpage"

(on pale yellow bar at the top.)
Send us an

and we'll enter your name to win one of the following three books. Each of them will relax and intrigue a young reader in your life.

If you
have a
book preference please mention that.
We will try to honor requests.

(Or better yet, enter right now!)

by the Bathroom Reader's Institute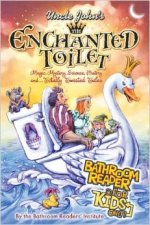 Riddles, Twisted Tales,

Tongue Twisters, and a whole lot more!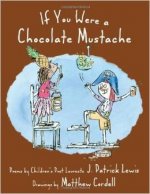 Jill S. Alexander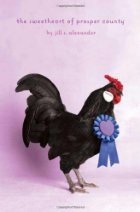 Lighthearted reading for

Young Adults

Signed copy for giveaway.

Recommended Books

That Encourage

Brain Recharging

What the Internet is

Doing to Our Brains

by Nicholas Carr

How a Brain Injury

Made me a Mathematical

Marvel

by

Jason Padgett

and Maureen Seaberg

"His singular story reveals the wonder of the human brain." (from the book's website)

An article on promises and pitfalls of technology for young children.
A teen talks about turning off technology.
Congratulations to our winners from our

May issue.

Mary Morton Cowan won Revolutionary Friends

Karen Hassinger won Healing Water

Monica Graham won Teaching Writing Skills Through Children's Literature

Debbie Allmand won Treasure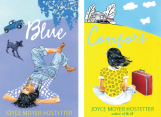 A curriculum guide for the sequel, Comfort is on the way.
(Yes, there is a Blue sequel!)

* Jennifer Bower for the

custom-created

illustration!

* Kim Griswell, Boyds Mills Press, and Carol
Create a "Talking Story" folder where you file old issues. Then you'll have them handy when you've got time to read, and you'll always be able to view past issues.