Security Sector Development in Myanmar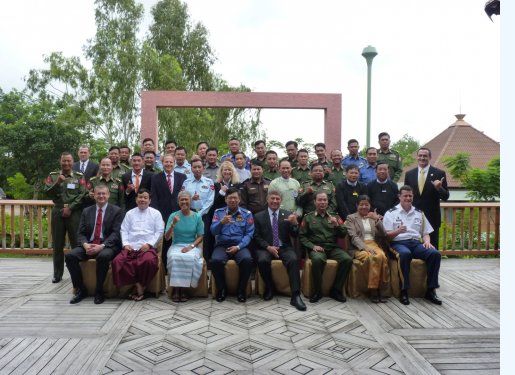 The recent democratic changes in Myanmar have ushered in a reevaluation of its comprehensive security needs in terms of national, transnational, and human security. In the run up to the 2015 election, Myanmar's security sector is transforming to meet the new security and political priorities of the nation. The Asia-Pacific Center for Security Studies (APCSS), in cooperation with the National Defence College of Myanmar, hosted a workshop entitled "Comprehensive Security Sector Development in Myanmar" August 18-22, 2014, in Naypyitaw, Myanmar. Click here to read more...

Enhancing Maritime Resource Security in the Gulf of Thailand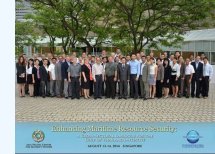 APCSS partnered with the World Ocean Council to conduct a multi-national workshop on preserving the Gulf of Thailand's maritime assets, held August 12-14 in Singapore. Titled "Enhancing Maritime Resource Security: A Cross-sectoral Dialogue for the Gulf of Thailand Initiative," the workshop enabled officials from four coastal nations to address the anticipated impacts of developing trends in the marine industries most active in GoT waters over the next three to five years. Participants were from Cambodia, Malaysia, Thailand, and Vietnam. Click here to read more
Advancing Pacific Islands Regional Security Cooperation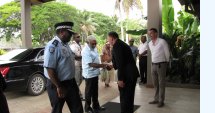 Examining the effectiveness of regional security cooperation and the broader regional security architectures that exist in the Pacific Islands region was the focus of a recent workshop held in Port Vila, Vanuatu. The Asia-Pacific Center for Security Studies (APCSS) and the Pacific Institute of Public Policy (PiPP) hosted the workshop titled "Regional Security Governance and Architecture in the Pacific Islands Region: Priorities for a Resilient Future" August 4-8, 2014.
Vanuatu's Prime Minister Joe Natuman and, via video, U.S. Ambassador to Papua New Guinea, Solomon Islands and Vanuatu Walter North opened the event that included 48 security practitioners and subject matter experts from 21 nations and territories and six regional international organizations. Click here to read more...
Asia-Pacific Orientation Course

In Session Now: Asia-Pacific Orientation Course

APCSS is currently hosting the week-long Asia-Pacific Orientation Course (APOC) for 141 Fellows. The course also includes some international Fellows from Australia, Canada, France, New Zealand, Republic of Korea, Singapore, Taiwan, United Kingdom, and Vietnam.


***

Two other versions of this course were also held this summer. In June, a mobile version of the course was held at Joint Base Lewis-McChord (JBLM).The Mayor of Olympia (Washington) served as the Distinguished Civilian Speaker and delivered the closing keynote speech. Click here to read more...
The largest APOC, which included 149 Fellows, was conducted in July. The unprecedented volume and diversity of the 149 participants in this APOC continues to demonstrate the great demand for this week long overview of the Asia-Pacific security environment. Click here to read more...
CCM 14-1 Concludes with 100 New Alumni

One hundred Fellows representing 31 different nations and territories, and one international organization, graduated July 1 from the Comprehensive Crisis Management (CCM) course 14-1 at the Asia-Pacific Center for Security Studies in Honolulu. This diverse group of security practitioners was comprised of senior leaders and officials from across various military services, government ministries, law-enforcement agencies, foreign affairs, academic institutions, and other public sector branches.
Click here to read more...
More Workshops and Faculty in the News

The Royal Brunei Armed Forces (RBAF) Command and Staff Course 2014 held a half-day workshop at APCSS June 13 to discuss regional security. Click here to read more..
APCSS Director Lt. Gen. (Ret.) Dan Leaf opened a panel session consisting of APCSS faculty at the 2014 Pacific Operational Science and Technology Conference at the Hilton Hawaiian Village. Click here to read more...
(alphabetically)

Gen. Humberto Oviedo Arriagada, Chile
Rear Adm. A. Cullerre, France
U.S. Rep. Tulsi Gabbard, U.S.
Mr. Julian Gray, New Zealand
Maj. Gen. Hankee Jung, Republic of Korea
Gen. Shigeru Iwasaki, Japan
Vice Minister Li-Yan, Taiwan
Lt.Gen. Robert Raurk, U.S.
Rear Adm. Lars Saunes, Norway
Ms. Ine Eriksen Soreide, Norway
Adm. Choi Yun-hee, Republic of Korea
Our latest edition of Currents magazine is available

here

.
If you have a new email please update your subscription to ensure you are getting the latest APCSS updates. Mahalo.
If you have any questions please contact the editor at markovinovicm@apcss.org

You can find past issues of the APCSS Activities Report online

here

.
Previous editions of Currents magazine is available at: