Earth & Sky at White Horse Black Mountain Sun. Aug. 24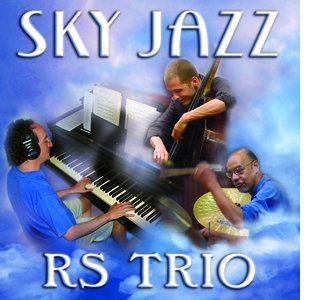 Earth & Sky, our jazz trio with Richard Shulman - piano, Mike Holstein - bass and Sonny Thornton - drums will perform at White Horse Black Mountain, Sunday, Aug. 24th, 7:30 pm. Admission $12.
Expect some new music and old favorites!
Here's a track from our CD Sky Jazz - "Pictures in the Clouds"

"World Peace" is here now! (at least the CD is)!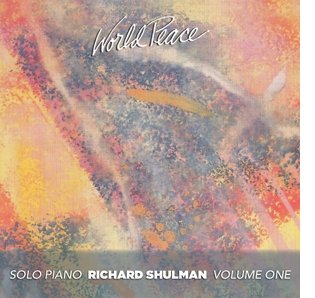 "World Peace" (the CD) has arrived from the manufacturer and I'm very pleased with how it sounds. This album is a spontaneously composed musical meditation/prayer on the thought of World Peace recorded Aug. 4 & 6, 1985 on the 40th anniversary of the Hiroshima bombing.
Click on photo for more info
"World Peace" from the album:
A Musical Bridge to Divine Essence - Wed. Aug. 6 at the Namaste Center

A Musical Bridge to Divine Essence - Wed. Aug. 6 7:00 pm at the Namaste Center
Tuning into a group energy a music can be created which clears and aligns our consciousness, and brings awareness to our essential nature as Love. Richard Shulman calls this work a Group Musical Soul Portrait.
A Group Musical Soul Portrait expresses the highest vision of the group through music. It is an interactive process which begins with a spontaneously composed keyboard piece intended for the highest good of all present and all we are connected with, and is followed by a check-in with participants for further musical and meditational experiences visioning together.
During the check-in, issues are raised for the group energy to work with, and intentions for healing/solutions/visions are then set and explored through additional group musical meditations. This process holds a unified consciousness which brings participants into a cooperative, inspired and enthusiastic mind set for dreams coming true.

Upcoming Events - Richard Shulman performances:

Wed. Aug. 6th 7:00 pm A Musical Bridge to Divine Essence with Richard Shulman, composer, keyboardist and sound healer at The Namaste Center 416 South King St. Hendersonville, NC 28792 $10 Suggested Offering 561-386-5963
Thurs. Aug. 7th 6:00 - 9:00 pm the Joe Lulloff Trio at Marco's Trattoria, 204 West Main St. Brevard, NC 28712
Joe Lulloff - saxophones, Richard Shulman - piano, James Simmons - bass

828-883-4841
Sun. Aug 24th 9:45 and 11:15 am guest musician at Jubilee Community 46 Wall Street Asheville, North Carolina 28801
828-252-5335
Sun. Aug. 24th 8:00 pm Earth & Sky at White Horse Black Mountain Richard Shulman - piano, Mike Holstein - bass, Sonny Thornton - drums playing exciting original music and standards from the Great American Songbook.

105 Montreat Rd, Black Mountain, NC 28711 (828) 669-0816
Here, in a special tribute, TV Personality and International Recording Artist

Timothy

O'Keefe offers a fascinating and entertaining look at the life of Frank

Sinatra

- the singer, the actor and the man. You will visit his most powerful, productive and provocative time, 1953 to 1961, the years he recorded with Capitol Records and established himself as one of the most recognizable personalities on the planet.

This is not an impersonator or lookalike

show

, but an affectionate musical and biographical look into one of the greatest entertainers of the 20th Century by what the CHICAGO TRIBUNE labeled, "…A WORLD CLASS SINGER."

Sun. Sept. 7th, 10:45 am Service, guest musician and speaker at the Fellowship of the Inner Light, 620 14th St. Virginia Beach, VA 23451, 757-482-5782
Sat. Sept. 27th 7:30 pm Richard Shulman at the UR Light Center in an interactive concert/meditative experience/prayer session for World Peace and inner peace. Solo piano on the Kawaii Concert Grand piano in the acoustics of the Light Center's Geodesic Dome Prayer Room. The Light Center is 8.2 miles South of I-40 exit 64 on Route 9 (after the 2nd "straight-a-way). 2190 NC Rte. 9, 828-669-6845. $15 in advance and $20 at the door. Advance tickets are available through http://www.brownpapertickets.com and by calling the Light Center

828-669-6845.
Sat. Oct. 18th 3:00 - 5:00 pm Solo Jazz Piano at Burnt Shirt Vineyards Gazebo 2695 Sugarloaf Road Hendersonville, North Carolina 28792,
Phone: 828-685-2402
Sun. Oct 19th, 3:00 pm Waynesville NC Public Library, concert for the Haywood County Arts Council. Richard Shulman - solo piano, admission free.
Sun. Oct. 19th 8:00 - 11:00 pm Jazz for Quartet and Jazz Mini-Choir Isis Restaurant & Music Hall. The Richard Shulman Group with Richard Shulman - piano, Mike Holstein - bass, Rick Dilling - drums, __________ Saxophones, Wendy Jones, Paula Hanke and Sherman Hoover - vocals; playing original music written for jazz quartet and mini jazz choir.

743 Haywood Rd., Asheville, NC 28806 · (828) 575-2737 - $8 cover charge also includes another show upstairs at 6:00.
Sat. Nov. 1st, Evening, and Sun. Nov. 2 10:00 am playing piano for the UR Light Center Advance

2196 NC Hwy 9 Black Mountain, NC 28711 828.669.6845
Sun. December 28th, 8:00 - 11:00 pm playing piano with the Eve Haslam Quartet, Isis Restaurant and Music Hall, 743 Haywood Rd. West Asheville, NC 28806
I'm setting my sights on bringing music beyond the Western NC area over the next year, so if you would like to experience a concert in your area, solo, with Earth & Sky or with the Pure Heart Ensemble, please let me know and we'll see what can be arranged!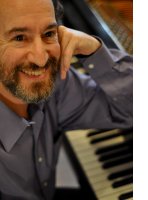 For more information see: