These classes are truly transformational... and our teachers are knowledgeable and passionate about teaching these WOTE Level I courses.

8/22-8/24

8/29-8/31

Josh/Lemia... Irvine, CA

949-677-3700

9/6-9/7

Audre... Santa Fe, NM

928-300-5090

Marah... Whitefish, MT

928-300-4674

9/12-9/14

Tresa... Burlington, WI

262-902-2271

9/9-9/21

John... West Hartford, CT

860-922-6846

9/13-9/14

Lynn... Portland, OR

971-322-8444

Jennifer... Charlotte, NC

704-562-6272

Marah... Cornville, AZ

928-300-4674

9/26-9/28

Izumi... Shinshu, Japan

izu.mi@r8.dion.ne.jp

10/8-10/12

Audre, Barry, Cynthia

Level II... (Class Full)

928-649-9968

Kat... Carbondale, CO

970-366-0963

Leila... New York,NY

917-273-6530

Craig/Lisa... Citronelle, AL

251-866-7204

Siddiqa... Chadds Ford, PA

610-358-5800

Lisl... Canton, CT

860-673-6863

Lindsay... Gypsum, CO

970-331-3750

10/25-10/26

Sam... Tesuque, NM

505-984-2030

10/24-10/26

John... Durham, CT

860-922-6846

10/31-11/1

John... Charleston, SC

860-922-6846

11/7-11/9

Kat... Blanco, TX

970-366-0963

Sharon... Stowe, PA

610-326-8391

Jennifer... Charlotte, NC

704-562-6272

Marah... Fort Wayne, IN

928-300-4674

For a complete listing click here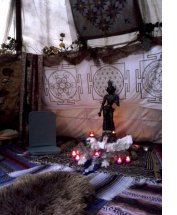 We are no longer taking registration for our Oct 8-12, 2014 Level II Retreat.

We are completely booked.


If you would like to be on the waiting list or are interested in registering for the April 8-12, 2015 Level II Retreat, contact Cynthia @ 928-649-9968
Dr. Sam Berne, one of our Level I teachers in Tesuque, NM, has written a most informative book on eye health called "I Sense: At Play in the Field of Healing" He describes a paradigm shift that brings together vision science, somatic awareness, and energy-based healing. It is a great read.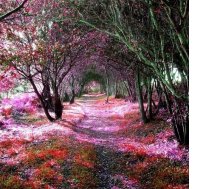 Here we are at the mid point of the summer and it certainly feels as if our world is heating up. The lack of care for our Earth and our Humanity is astounding. I have to keep reminding myself that there is a higher purpose for all the misery that we see, and we who are awake, are here to continue to anchor our light and love as never before.
I truly believe in creating a new dream for our planet. One in which everyone is provided for regardless of race, color, stature, religion and sexual orientation, etc. We cannot continue to allow the dark-hearts to control our world. Many of us feel dis-empowered or confused as to know how we can help.

It all comes back to the dream. But not a dream that comes from the head, a dream that comes from deep within our hearts. A dream that embodies a sacred "No" to the violence and the wars. A dream of something far greater for this planet and her beings. Something we remember from long ago. We can feel it. It's a memory of a place, where the vibration is at such a higher frequency of love, that nothing that is less than love can touch it. We remember a time when we were all provided for with anything that our hearts desired.

This knowing lives within us and we must, if we choose, insist and command in our dream state, this reality upon the Earth. After all, that is why we came; to anchor the light and hold this planet in love, regardless of what we see around us. As a community, we must be diligent and purposeful in continuing to hold this dream of peace in our hearts. But to truly do this, we need to examine our own hearts. Here is where the work is. Is your heart at peace? Do you love unconditionally? Are you willing to hold the love you want to create in the world in your own reality?

Now is the time to get clear if we are to do the work in which we were born to do. Earth gave out a call and we answered. So do the work, get clear within yourself and then hold the energy for our planet. I use
Spikenard
on my belly,
Blue Tansy
on my third eye,
Palo Santo
on my crown and
Vetiver
on my feet when I am doing the dream work. I connect to Light Beings from all over the Earth, as well as our Ascended Galactic family and anchor my energy deep into the Earth and up to the Sun. I then move all the love I can feel into my heart and imagine this new reality with love and grace. I then feel what it is like to live in the new paradigm and I give thanks as if it already exists.
So my friends, I invite you to join me as I daydream this reality into existence. It will be well worth your time and Gaia will be ever so happy. Let's take back our power and our creative abilities to create a life well-lived not only for ourselves, but for everyone who is open to receive.

I will meet you in the dream time.

With love,

Cynthia and the WOTE folk

"Become passionate about your desire to become Love incarnate through the increase of that fire within your sacred heart. This Love has to become your primary goal, your constant motivation and main reason for being.

~ Paul the Venetian-- The Flame of Cosmic Love

Thoughts from our Level II Papers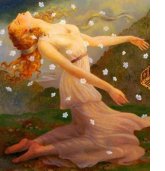 "Essential oils provide an impetus for change in our lives. Essences are a natural tool for those willing to utilize them as allies. Somewhere deep in our subconscious minds, many of us recognize that sense of opportunity to heal when we smell and feel them. Often there is no easy way for us to articulate that, but it is always observable by watching the reaction of others." Teresa A
"Where there is love, there is always enough! That is what the plants and trees teach us. If we believe we are enough then we must believe there is enough for those in need, otherwise, we are hypocrites." Hannah K

"We have wandered. We have "evolved". The more we have evolved as a species, the further we have wandered from knowing our basic needs. Maybe we can't truly know what we need without knowing what we don't need. We can't know what we want until we know and understand what we don't want--what we will accept in our lives--and where we draw our lines in the sand". Sheryl K

"The greatest protection in all the world is loving kindness." - The Buddha
My dearest sister CC Treadway, and I are offering a workshop called "The Holy Chalice - Stirring the Cauldron of Your Dreams" on Sept 19th-21st. It will be held here at the WOTE Retreat Center in Page Springs, AZ. This is for women who are interested in clearing old patterns. The workshop will assist you in traveling deep inside yourself to create the new dream. This new chalice will support the way of the feminine--allowing, dreaming, stirring what has yet to be created within. This powerful workshop culminates on the Fall Equinox. Won't you join us?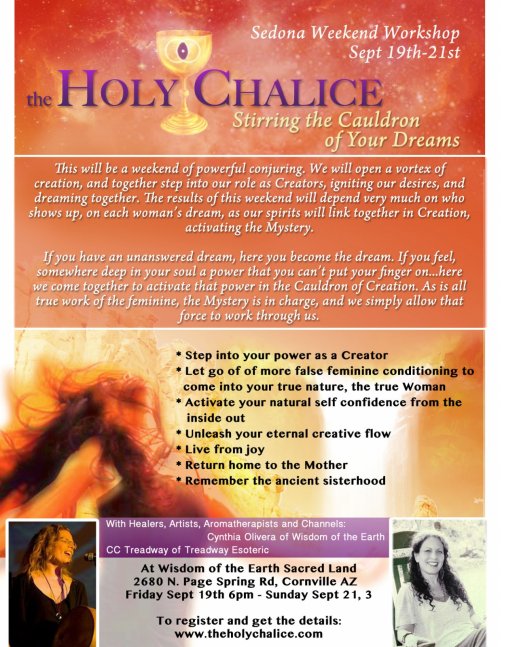 Her underground cave is now her sacred temple, lit with faery lights, soft music and mystical fragrance. Its her getaway, her place of solitude. She can be alone (all-one) here. This is where she honors herself. And then, her deep wisdom comes to speak to her of stories long forgotten, or times yet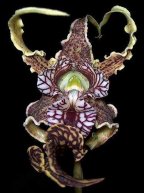 to come. The veil between the real and imagined is very thin here, & sometimes they change places.
As if an old stone door turns, and suddenly she knows. Deep in her bones, in the pit of her stomach, in the depths of her womb ~ her knowing tugs at her. She sees connections & understands patterns. She's allowing new knowledge to settle in her body.
One day, she'll discover the key to the entire underground matrix, and sit with her siblings who have done the same.