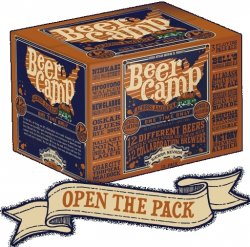 Owen Ogletree, Thel Melton and Jeff Rapp sat down this week to record some brief tasting notes on each of the dozen unique brews included in the recent release of the Sierra Nevada collaboration "Beer Camp" variety pack...
New Glarus

There & Back

English-style Bitter (ESB, strong bitter)

A malty ale with nice UK hop character, good balancing bitterness and mild, fruity esters. There's also a hint of toffee and crystal malts, along with a creamy mouthfeel. A smooth, flavorful, well-made beer.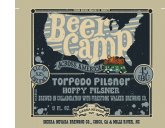 Firestone Walker
Torpedo Pilsner

Hoppy Pilsner

A big, floral hop aroma evolves into a honey profile with tons of appealing hop flavor and bitterness on the palate. Drinks like an intense Bohemian pilsner that's quite clean and balanced by the perfect profile of sweet pilsner malt.

Victory

Alt Route Altbier

Dusseldorf-style Altbier

Very mild aromas of caramel and slight esters are balanced with just a touch of roasted malt and toasty character. Toffee, hops, impressive bitterness and complex fruity hints make for an extremely drinkable ale. Strong in ABV for a true altbier, but still memorable and well-done.

Ballast Point

Electric Ray

India Pale Lager

This 8.5% ABV lager offers aroma notes of pine resin, citrus and grapefruit peel. Flavors of chewy malt are backed by resiny hop flavor and bitterness in good balance with the residual malt notes. A big, yet harmonious brew with hints of alcohol warmth and an impressive malt backbone.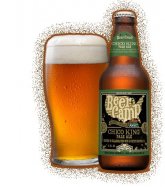 Three Floyds
Chico King Pale Ale

Sweet, vanilla-like aromas meld with caramel malt notes and fruity esters. Flavor components of mild malt and hops combine to provide an earthy hop character backed by slightly sweet caramel malt with undertones of burnt sugar and roasted nuts.

Allagash Brewing

Myron's Walk

Belgian-style Pale Ale

Aromas of earthy fruits, malt, spice, citrus, coconut and hops waft from the glass before the palate picks up spice, coriander, slight Belgian esters and phenol hints. Finishes a bit dry, with pungent hops and coriander intermingling in interesting ways.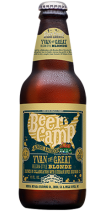 Russian River
Yvan the Great

Belgian-style Blonde Ale

Aromas of tropical fruit, candy sugar, mild malt, kiwi and honeydew melons give way to a sweet and spicy flavor profile where hops backup the malts quite well. There's an outstanding, pleasant bitter balance to the sweet malt in this Belgian blonde ale.

Cigar City

Yonder Bock

Tropical Maibock

Fruity hop notes and cocoa nib hints lead into aromas of earthy citrus, toasted malts and a hint of honey buns. Flavors of earthy malts are backed by woody, resiny hops and notes of caramel, figs and vanilla. A satisfying beer that's also malty and rich.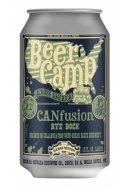 Oskar Blues
CANfusion

Rye Bock

The nose picks up ripe figs and earthy malt character, while the flavor profile includes notes of spicy rye, over-ripe fruit, syrupy hints and orange marmalade. Rye character is enhanced by resiny hops.

Asheville Brewers Alliance

Tater Ridge

Scottish-style Ale with sweet potatoes

A beer with mild flavors and aromas of malt, caramel, toasted nuts and hints of yams. The finish is clean and moderately dry. Pleasant but not as complex as one might expect.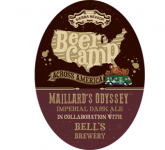 Bell's Brewing
Maillard's Odyssey

Imperial Dark Ale

Pours with a very thick layer of foam. Aroma highlights include dark malts, apple hints, molasses and dark fruit. Alcohol, cocoa, bitter chocolate and an undertone of coffee come through in the flavor, while the finish is moderately dry in this smooth, stout-like ale that doesn't taste like 8.5% ABV.

Ninkasi Brewing

Double Latte

Coffee Milk Stout with coffee and lactose sugar

Aromas of licorice, roasted malts and bitter chocolate emerge from the glass. The tongue picks up coffee, espresso and roasted malts - all supported by hops. Dry and very drinkable.