Follow our craft beer adventures...
- Tickets NOW ON SALE for our two great events!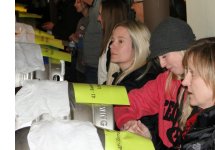 11th Annual
Saturday, January 24, 2015

Five Seasons Brewing & Taco Mac Prado

Sandy Springs, GA

No other event in the Southeast offers such an extensive and impressive selection of delicious cask ales!
- Sample almost 40 rare, cask-conditioned real ales from the USA & UK!
- Experience one of the Southeast's most highly regarded craft beer events!
- Delectable food from 5 Seasons and Taco Mac will be on sale for 10% off for attendees!
- Vote for "People's Choice" award!
- Tickets will sell out, so get yours today!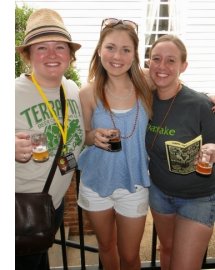 20th Anniversary
Sunday, April 12, 2015

Foundry Park Inn & Melting Point Music Hall

Athens, GA

Sample from almost 350 of the greatest and most exclusive craft beers from around the world, check out our "special treat" tables, experience the cask ale pavilion with 20+ rare, one-off real ales, and hear live music from Matuto at one of the Southeast's longest-running and most enjoyable beer festivals!

- Traquair House, The Legacy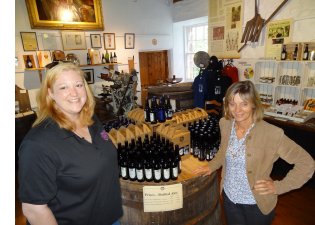 By The Beer Wench Georgia
Enjoyment of my favorite brews seems to increase with a direct connection to the source of the beer. In July, I spent some time at the home of one of my favorite Scottish breweries, Traquair House. Standing in front of the famous Bear Gates, I find it easy to feel the history of this place. Located in Innerleithen, Scotland, Traquair House is the oldest continuously inhabited house in Scotland.
The current owner of Traquair traces her roots in the branches of the Stuart family tree. Born in 1964, Catherine Maxwell Stuart makes Traquair House her home with her family. She was the first child to be reared at the house in many years. As Catherine and I sat down to talk, while occasionally being distracted by a very cute Prince Charles Spaniel, my curiosity was of what is was like to grow up on this magnificent estate. She said that she spent most of her time outside. Of course, with a hedge maze, animals, and plenty of wooded trails, what child would not? The funny thing is, when her father inherited the estate, he was not completely motivated to refurbish it until he found the old brewery in the shed.
Catherine does not brew the beer; although as a child, she helped stir the cooling wort (taking 4-5 hours) in the very small brewery and is among the many women who flourish in the industry today. In Scotland today there are more women involved in the brewing industry; however, there is still a resistance with women to actual drink beer. This is slowly changing.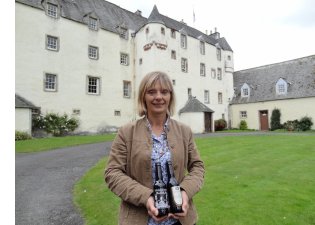 The Bear Gates (mentioned at the top of this article), from which Traquair House's Bear Ale receives it name, were built in 1738, and subsequently locked the last time Prince Charles Edward Stuart (Bonnie Prince Charlie) visited. The gates were to be locked until a Stuart king was back on the throne.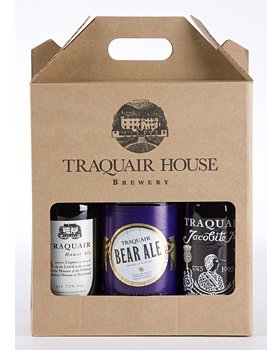 Another of Traquair House's ales, Jacobite, is named for the family and all those in the region who supported King James II. It is an herbal brew with a taste of history, and one of my favorites in their portfolio. The most famous of the Traquair House beers, Traquair Ale, is a delicious, strong Scotch Ale brewed in the oldest of traditions. When asked why Americans should try their Traquair Ale, Catherine responded, "Because it is our oldest style of beer, very authentic. The recipe is very similar to the style 200 years ago." I'd say because it is just that good.
The the craft beer revolution in the UK is having some effect on this established brewery. The competition for beer sales has increased, and some people new to craft beer think that Traquair is a new beer. I know I was drinking it at The Globe in Athens, GA in the early nineties, and it has been around since Catherine's father, Peter, brought the old equipment back to life. But the popularity of craft has made it much easier to quickly sell their stock - which is great, but as the brewery is very small and there is no intention of building a separate bigger one, volume can only be increased by brewing more often.
As one might imagine, maintaining a house and grounds of this magnitude and historical importance is quite a challenge. Catherine is able to keep it going through beer sales, giving tours of the main house (which has been turned into a museum), opening the grounds for visitors, and by opening a side wing of the house as a bed and breakfast. Their season runs from Easter until the end October.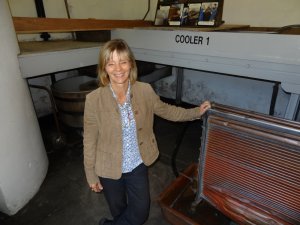 At the time of my meeting with Catherine, she was preparing for a beer dinner/festival the next week. One of those preparations was to brew a special beer, Referendum Ale, in honor of the upcoming referendum vote on whether Scotland would once again be a country out from under English domain. The plan was to have a cask of the Referendum Ale (their lightest ever at 4%) and a cask of Traquair. Vote with the beer you drink.

There's nothing like drinking a bit of history. I want to thank Catherine Maxwell Stuart for taking the time out of her busy schedule to sit down with me and share her stories. I could write a book. If you have the opportunity, find some Traquair House Ale - it is a craft beer with history, and if you can, visit the estate in Scotland. I know I will be going back. As your friendly, neighborhood Beer Wench, I want to remind you to eat well and drink good beer.

- "Goosed" by UK Cask Ale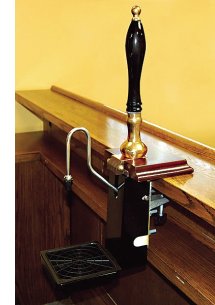 By Owen Ogletree
Having just returned from another great beer trip to the UK, I actually have to rant a bit here. There MUST be a better way to pour real ale in the UK. The current hand-pump system that brings beer up to the bar from the cellar works well in itself, but the long, metal gooseneck pipe that shoots the cask ale into the pint glass is problematic for one reason. If a delicate real ale is not poured for a couple of hours, the beer warms up and turns slightly sour in the gooseneck. Some pub owners don't want to waste beer by clearing the gooseneck each time, so this room temperature, off-tasting few ounces of beer usually goes right into the customer's pint glass. I've often ordered two half pints of the same beer, with the first tasting warmer and very sub-par, and the second one being just fine.

When walking into a UK pub, I've now picked up the habit of ordering a real ale that I just saw being poured for another customer. I let the other guy "take one for the team." Of course, if a real ale sells well in a pub and pints are being poured often, there is no problem with stale beer in goosenecks. If asked, a great pub will also clear the line for you a bit, or replace a defective pint.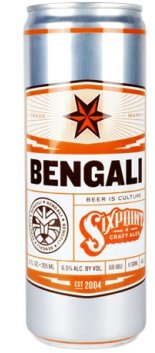 Sixpoint

BENGALI

India Pale Ale

From the dudes at Sixpoint Craft Ales...
"...While we could suggest what food this beer pairs well with, or which glass to serve it in, the most important thing to remember is: even though we may take beer very seriously, we don't take ourselves too seriously. It's Mad Science."
Awesomeness: Off the Charts
- Featured Links & Events
- "Like" Brewtopia Events on Facebook & Follow Us on Twitter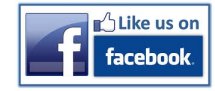 CLICK HERE and hit the Brewtopia Events "like" button on Facebook to see live photos and news posts as we sip, quaff and sniff craft beer around the world.
Also follow Brewtopia Events on Twitter.
COMING UP...

See Owen's posts in August from the San Diego Beer Blogger's Conference.
Owen travels to the best beer spots in Philadelphia and Cleveland!