Follow our craft beer adventures...
- New BJCP Styles & Beer Off-Flavors Seminar

Conducted by Owen Ogletree
Sunday, November 16, 2014, 3-6 PM
Max Lager's, Downtown Atlanta, GA
Taste 20 Beers - $25 per person
Join Owen Ogletree on November 16 for an interesting and enjoyable seminar that introduces attendees to the major style additions and revisions of the newly proposed BJCP beer style guidelines. The three-hour session includes:
This seminar will be of great interest to brewery personnel, tasting room managers, brewery tour employees, bar managers, homebrewers and general fans of craft beer.
Owen hopes to see you there!
- Twain's Brewpub Remodels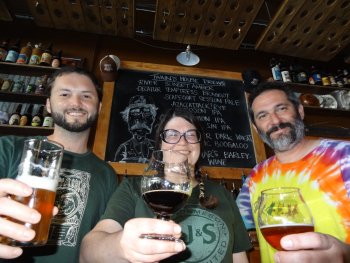 When in Decatur, Georgia, check out the current Twain's house brews that include Blushing Ape Oatmeal India Red Ale, Buffon Belgian Double IPA and Renovation IPA (commemorating the remodel of Twain's bar). Twain's Chase Medlin notes, "We're brewing our next collaboration beer with our friends at Square Pub to celebrate their 4th annual Green Chili Roast on the Decatur Square. The collaboration chili beer will be released at the roast on October 4 and available here at the brewpub soon after."

- From Marietta's Craft Beer Factory
Guest Beer Blog from The Craft Beer Factory...

In Search of Pliny the Elder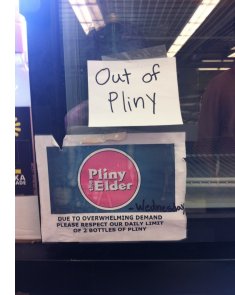 There are a few beers nationwide that carry a mystique to them, mostly because they are particularly hard to find and not available in all States. This is especially true in Georgia; the home of the Craft Beer Factory in Marietta. On a recent business trip to San Francisco, having finished a very interesting visit to Anchor Brewery, my associate and I decided to go in search of Russian River's Pliny the Elder. In San Francisco most retailers receive deliveries of Pliny on Wednesdays. In many cases retailers experience Pliny selling out within a few minutes, even with a two bottle limit. Draft Pliny is equally as difficult to find. We had a fruitless visit to the Toronado Pub on Haight Street, only to be greeted with a sign announcing the there was "No Pliny".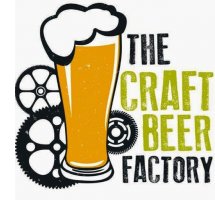 After five attempts to buy bottles or a pint of this splendid nectar, we finally found a retailer, who for some strange reason did not get his delivery on Wednesday. To our benefit it had arrived fifteen minutes before we got there. We were extremely pleased to be able to purchase our "two bottles" and leave the store with smiles on our faces, ready to make the return trip to Georgia. Russian River has successfully driven up demand, consumers expectations and the price of this precious commodity, to make this beer one of the most sought after beers Nationwide. Whilst we are devoid of Pliny, we at The Craft Beer Factory strive to bring the most eclectic beer selection possible with 30 rotating taps and 130 different bottle selections. Please visit our website www.thecraftbeerfactory.com for more details.
- Featured Links & Events

09/27/2014 - RED BRICK ANNIVERSARY CELEBRATION at the Atlanta brewery featuring tons of special beers and barrel-aged selections.
09/27/2014 - OKTOBERFEST at 5 SEASONS PRADO, Atlanta. Festbier, Bavarian food items and live music.
10/01/2014 - COPPER CREEK cask tapping. Athens, GA.
10/6-8/2014 - PUMPTOBERFEST AT TRAPPEZE PUB in Athens. Check out the amazing selection of pumpkin brews and festbiers.
10/11/2014 - BRAMWELL, WV OKTOBERFEST. Join Owen Ogletree, The Beer Wench and Southern Brew News' Larry Johnson at this wonderful, town-wide celebration of craft beer and music in the lovely mountains of southern West Virginia. More information.
10/11/2014 - TERRAPIN HOP HARVEST FEST. So Fresh & So Green, Green will be released at this brewery event that will also showcase live music and eight Terrapin casks - each made with a different hop.
11/8/2014 - SweetWater's 5th annual Brew Your Cask Off with 110 specially-made beers from guest brewers around the Southeast. SweetWater upped the game for 2014 by inviting local craft breweries to submit exclusive cask creations.
11/26/2014 - Head to Atlanta's Porter Beer Bar the night before Thanksgiving for an epic barrel-aged beer tap takeover. Expect a huge range of styles - from imperial stouts to wood-aged IPAs.
01/24/2015 - ATLANTA CASK ALE TASTING. 5 Seasons Brewing & Taco Mac Prado. Click here for tickets!
04/12/2015 - 20th Anniversary CLASSIC CITY BREW FEST. Athens, GA. Tickets go on sale in late August. Click here for tickets!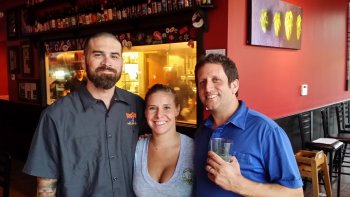 Join Owen Ogletree and The Beer Wench at the amazing Catch 22 Gastropub in Athens, GA for two special beer dinners...

Founders Brewing - September 24, 6:30 PM. Three courses, four beers - only $35. RSVP at 706-549-6333.
Stone Brewing - October 15, 6:30 PM. Three courses, four beers (three of these will be super special) - only $35. RSVP at 706-549-6333.
- Cherry Street Brewing - Cumming, GA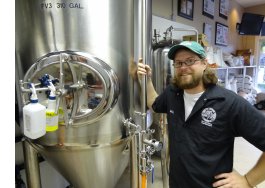 Nick Tanner reports, "This fall at Cherry Street Brewing Co-op, we'll have our Friend of the Farmer Pumpkin Pie Porter along with our first sour beer at Rick Tanner's. Cherresy is a Belgian-style sour braggot aged on American oak for 13 months with 10% Oregon cherries and fermented totally with Brettanomyces and Lactobacillus.
Our winter seasonal will be a rich, decadent Belgian Quad for December, infused with almonds, cinnamon and rice milk. Lastly, Cherry Street hosts our second year party on December 12 with the yearly tapping of our 12.12.12 Rye Barleywine that has 12 malts, 12 hops, 12% ABV and is aged for 12 months. Many other classic Cherry Street strong and barrel-aged brews will also be poured."

- Owen Ogletree Featured in Creative Loafing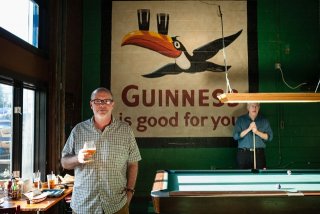 Atlanta's Creative Loafing magazine recently did a feature on Owen Ogletree and his 20+ year contribution to craft beer culture in the Southeast. This year celebrates the 20th anniversary of Owen's Brewtopia craft beer website.
- Aromas Transforms Into THE PINE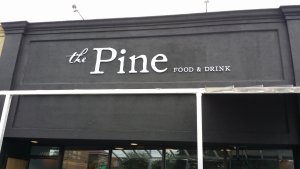 Formerly known as Aromas, The Pine just opened in Athens' cozy Five Points neighborhood. The completely revamped, beautiful venue calls itself "a new south eatery" and features knotty pine floors, earth tone walls and a striking wood-fired oven that cranks out hearth-baked dishes inspired by chef Jackie Burton and "Tastemaker" restaurateur Scott Parrish.

All-American craft beers flow from six draft lines and 40 bottles and cans, along with distinctive American cocktails and selections from "mom & pop" wineries. Fire flats (rustic, southern-inspired flatbreads) make up the heart of the food menu, along with fire-roasted pimento cheese, deviled eggs, boiled peanuts, mussels, lamb meatballs and bacon mac & cheese - all coming from the big, ornate oven.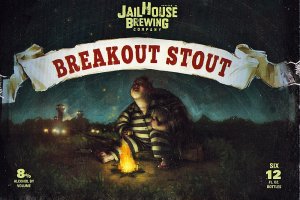 Breakout Stout

From the wardens at JailHouse...
Break out of your routine with our robust blend of dark roasted malts. Breakout Stout is a bold American Stout with a sturdy hop bitterness, a hint of chocolate from chocolate malt and a pleasing finish. Breakout Stout complements desserts and lends a surprising depth when paired with savory dishes.
Malts - U.S. malted 2-row barley; caramel malt; chocolate malt; roasted barley
Hops - Chinook and Cascade
O.G. - 19°P | ABV - 7.8% | IBU - 45
Suggested Pairings: Cheesecake; Brownies; Chili-flavored Black Beans; Steak Burritos/Fajitas; Horseradish Cheddar Mac-n-Cheese
- Tickets NOW ON SALE for our two great events!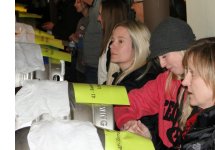 11th Annual
Saturday, January 24, 2015

Five Seasons Brewing & Taco Mac Prado

Sandy Springs, GA

No other event in the Southeast offers such an extensive and impressive selection of delicious cask ales!
- Sample almost 40 rare, cask-conditioned real ales from the USA & UK!
- Experience one of the Southeast's most highly regarded craft beer events!
- Delectable food from 5 Seasons and Taco Mac will be on sale for 10% off for attendees!
- Vote for "People's Choice" award!
- Tickets will sell out, so get yours today!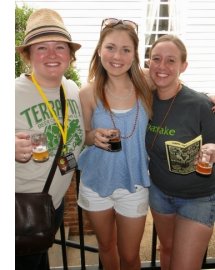 20th Anniversary
Sunday, April 12, 2015

Foundry Park Inn & Melting Point Music Hall

Athens, GA

Sample from almost 350 of the greatest and most exclusive craft beers from around the world, check out our "special treat" tables, experience the cask ale pavilion with 20+ rare, one-off real ales, and hear live music from Matuto at one of the Southeast's longest-running and most enjoyable beer festivals!

- Easy Dry-Hop Experiment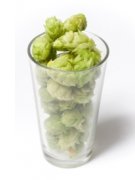 Owen Ogletree added eight hop pellets to a bottle of Terrapin Golden Ale and repeated this with five more bottles - each with a different hop variety. The bottles were re-capped and agitated a bit every day to get the hop particles to form a sediment on the bottom. Owen, The Beer Wench and Dean & Gail Graves sat down to make some brief notes on aroma and flavor profiles of each bottle (see below)...
CHALLENGER (8.9% AA): piney; resiny; floral; honey-like; wood resin; herbal
AMARILLO (8.9% AA): nice grapefruit; bright, fresh hop aroma; citrus; smooth grapefruit-like flavor note; honey; very pleasant
FALCONER'S FLIGHT 7 Cs (10.8% AA): grassy; earthy; elderflowers; pungent; root veggies; slightly flower-like; flavors diminish quickly
CASCADE (7.1% AA): citrus zest; hint of pine resin; crisp; orange hint; elegant and subtle profile; light and very pleasant
HORIZON (11.2% AA): cedar; pine needles; turpentine; simple and straight-forward alpha acid notes; slight citrus; tangy;
GALAXY (15.0% AA): peppery; resiny; hint of sweet onion; earthy note; lemongrass hint; kiwi; quite smooth for such a strong alpha acid hop
- "Like" Brewtopia Events on Facebook & Follow Us on Twitter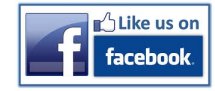 CLICK HERE and hit the Brewtopia Events "like" button on Facebook to see live photos and news posts as we sip, quaff and sniff craft beer around the world.
Also follow Brewtopia Events on Twitter.
COMING UP...

See Owen's posts next week from the best beer spots in Philadelphia.
Owen travels to seek out the top lagers and wheat beers in Frankfurt, Bamberg and at the Stuttgart Cannstatter Volksfest!