National Farm to School Month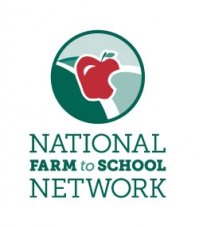 October is
National Farm to School Month
, a time to
celebrate the connections that are happening all over the country between children and local food
!
The
National Farm to School Network
advocated for the creation of National Farm to School Month and now organizes the annual celebration in collaboration with dozens of partner organizations. National Farm to School Month was designated by Congress in 2010 to
demonstrate the growing importance of farm to school programs as a means to improve child nutrition, support local economies, and educate children about the origins of food.
To celebrate National Farm to School Month, the
Growing Minds
team is out conducting taste tests in area schools and helping to connect teachers with resources for celebrating their own farm to school month!
Last Chance to Register for ASAP's 2014 Farm to School Conference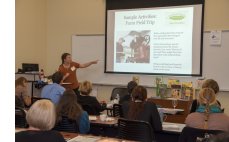 One way to celebrate National Farm to School Month is to
register now for ASAP's 2014 Farm to School Conference!
On Saturday, November 1, the conference will be held at the
Sherrill Center
on the University of North Carolina Asheville campus.
This conference is for anyone involved in, or who wants to be involved in, farm to school such as parents, teachers, farmers, school nutrition staff, agricultural professionals, and community members. Workshops will cover topics within four specialized tracks including
preschool, gardening, community connections, and cafeteria
.
Dr. Olson Huff
, early childhood advocate and former Buncombe County pediatrician, will provide the keynote address.
The conference is nearly sold out, but registration is currently open!
The $55 registration fee includes a local foods breakfast and lunch and a comprehensive resource notebook. Individuals from an
Appalachian Grown county
receive a discounted rate of $45.
Click
HERE
for more information and to register now!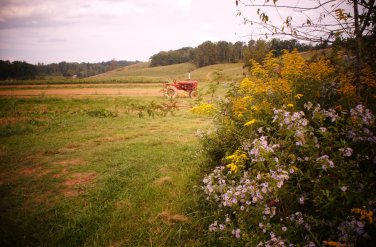 Thank you to all who participated in our 2014
Farm Tour
! It was a magnificent and beautiful weekend! Did you agree?
Tell us about your experience in ASAP's Farm Tour in our brief SURVEY.
Your feedback helps us improve future tours!
Missed the tour? Save the Date for our 2015 Farm Tour on September 19-20, and
check out where to find our 37 Farm Tour participants
and their products at local farmers markets, retailers, and restaurants, including upcoming holiday markets! Stay connected with ASAP and local food in the region, by clicking
HERE
.
Local Food from WNC to WNY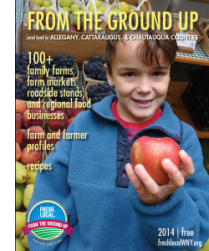 They say imitation is the sincerest form of flattery, and at ASAP, we consider it an utmost compliment when
groups approach us to find out how they can become "the ASAP of their community."
To provide these communities with the guidance and information they need,
ASAP offers consulting services that cover everything from single events to entire local food campaigns.
One example of our success is our work with the Southern Tier West Regional Planning and Development Board (STW) in Western New York.
We helped develop STW's fledgling local food branding program, "From the Ground Up". Click HERE to read the full story about how we did it, and how STW is doing now.
Faces of Local:

Raegan Solomon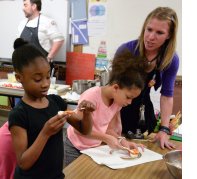 We like to share stories of people who help us fulfill our mission. One such person is Raegan Solomon, who is an exemplary teacher implementing farm to school in her classroom. Read the following interview with Raegan to get a glimpse of what Growing Minds is a part of everyday.
Why is Growing Minds important to you?

In a recent cooking activity a student said "This food tasted so good! I think it tasted even better because it was fresh and we helped make it in our garden!" Opening opportunities like that to our kids is priceless. Watching them take pride in their garden, cultivating those experiences, from seed to table, is something I am so grateful for. Without Growing Minds we wouldn't be able to create the amazing opportunities for our students.

Growing Minds has assisted with our cooking kits, grants to add more supplies to the kit, seeds, amendments, garden tools, equipment to make hoop houses, volunteers, chefs, recipes, ingredients, and many other resources.

By using the garden it's a wonderful opportunity to promote healthy living, the kids are so invested in organic eating and wanting to find fresh produce. They realize how easy it can be. We are easily able to develop simple life habits for the students to take home and share with their families. We are not just shaping the students lives, but working with their whole family!

What are you up to when you're not incorporating farm to school in your classroom?

I love exploring Asheville with my two children and husband, we enjoy going hiking and finding local adventures here in Asheville. We also enjoy visiting all the local restaurants here in our community with our family and friends. I'm a runner and try to participate in quite a few of the races around town too!

What's your favorite local food dish?

This is such a tough choice, there are so many! If I had to choose, I would have to say
Nine Mile
.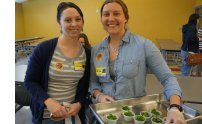 ASAP is now accepting applications for our 2015 Spring Interns (January-May).
Join us in our mission to help local farms thrive, link farmers to markets and supporters, and build healthy communities through connections to local food.

We are currently offering unpaid internships in the following areas:

Research
Photography
Media and communications
Farm to school
Non-profit operations
Local food/farmer outreach
Full descriptions and application details can be found
HERE
or email us at internships@asapconnections.org for more information.
Applications are due Monday, November 10.

Get Local @

Buncombe County Schools

Another way to celebrate National Farm to School Month, is to check out
Buncombe County Schools menu calendars
. The district is an Appalachian Grown partner and is participating in the
Get Local @ School
program.
These menus look so good, you may want to schedule your next business lunch at a Buncombe County School!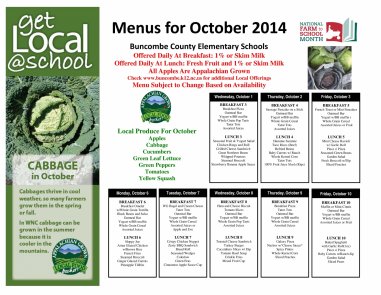 Apples are
app-solutely
amazing! Chefs certainly agree, and they've gone above and beyond to make the most delectable apple dishes for
Get Local in October
.
Check out the restaurants below before the end of the month to taste such wonderful dishes like apple, walnut, and goat feta salad as well as a special apple stack cake.

For a full list of Get Local restaurants and all of their awesome apple treats, click
HERE
.
It's fall, and that means your favorite tailgate market will likely be closing for the winter season soon. Don't miss the last markets of fall!

Click
HERE
to see a full list of market closing dates, as well as holiday market dates and locations.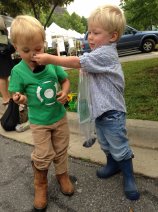 Any gift given to ASAP between now and the end of the year will be matched dollar for dollar up to $50,000!
ASAP's Board
and a few generous friends have joined together to make this special campaign possible.
Click
HERE
to make your donation and have your donation doubled.
Help us transform the food system today!
Save the Date: Business of Farming Conference

110 Ways to Do Farm to School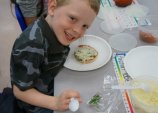 To celebrate National Farm to School Month, Growing Minds has released
110 Ways to Do Farm to School
, a list of ways to integrate farm to school activities into every day lessons.
ASAP &

Local Food in the News

Learn more about Growing Mind's taste tests
by checking out
this article
from
Blue Ridge Now
.
This month, Growing Minds was featured on
WLOS Channel 13 News
.
The segment
highlights a sweet pepper taste test at Hall Fletcher Elementary.
Watch it to see kids' reactions to the peppers from Aardvark Farm!
ASAP's new communications intern, Greg Parlier, will post a
series of stories from the field demonstrating our impact in the community
. Check out his first post about a taste test in Marion,
here
!
ASAP's mission is to help local farms thrive, link farmers to markets and supporters, and build healthy communities through connections to local food.
E-newsletter
comments & suggestions
?
Email
!