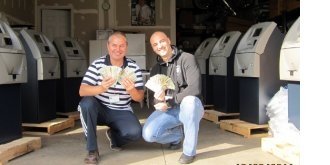 Since 2008 we have experienced very positive growth with our ACFN business and we continue to grow. After placing our first ATM we kept trying to place more ATMs by following the recommendations from ACFN's staff and franchisees. Servicing our locations on a weekly basis we have noticed that a lot of our competitors are servicing their locations with money management and as a result the locations are very often OUT OF ORDER especially on the weekends.

After collecting a few OUT OF ORDER pictures and contact information from these locations we provided that information to Jim Diltz (VP of Marketing) to start the conversation.

Jim immediately contacted the controller for these Travel Plazas and within a few months he had a CONTRACT IN HAND, adding 5 super high volume accounts to our portfolio. Always keep an eye on your competitors and when you identify service issues team up with ACFN's sales team and watch your income grow!!!

A note from our President Jeffrey Kerr:

The 5 locations discussed in the article above just completed their first full month in August with the following results:

Location 1 – 1,672 surcharge transactions

Location 2 – 1,586 surcharge transactions

Location 3 – 1,313 surcharge transactions

Location 4 – 1,221 surcharge transactions

Location 5 – 1,016 surcharge transactions

I am adding this information to get your attention and make a point. We would not have gotten this contract without the local efforts by the franchisee. This is a perfect example of a "Dream 100" process paying off BIG. The franchisee was aware of these VERY BUSY travel plazas and was monitoring the service provided by our competitor. They identified the deficiencies provided the information and then Jim did a GREAT job securing this business but this would not have happened without the type of local monitoring and investment in the growth of their business that only a franchisee can do. As a result of the time they invested they added 6,808 transactions in August. They get 50% of $2.95 on this deal so after the comm. fee their take home in just August was $9,641. I hope you are asking yourself - what locations in my area should I be keeping an eye on?

Let's work together to do A LOT more of this. Don't think "this won't happen to me". If you have your dream 100 list make sure you visit and call often to identify the problems that can help us replace those competitors (service, ADA, no cabinets, old equipment). If you have been postponing putting together your dream 100 list let's get it done. There is no guarantee you will be the next franchisee to write an article explaining how your income just increased by 100K per year but I can guarantee you won't be that franchisee if you don't do the work.

Angelo & Mario - NY

Let's get it done and let's do it now.