SEAPOC 14-2 concludes with 38 new Alumni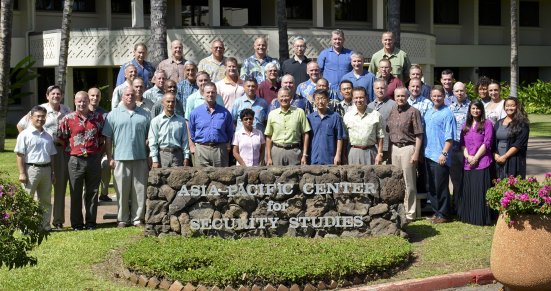 T
hirty-eight Fellows completed the Senior Executive Asia-Pacific Orientation Course 14-2 at the Asia-Pacific Center for Security Studies Oct. 9. The course is comprised of senior military members and civilians serving in security-related positions, to include diplomatic or defense roles. The October iteration featured Fellows from the United States, Canada, Taiwan and South Korea. To read more, click here.

Security practitioners from 34 nations and territories graduated from the Advanced Security Cooperation Course 14-3 Oct. 29 at the Asia-Pacific Center for Security Studies. One hundred nine military and civilian Fellows attended the nearly five-week course.
ASC is an executive education program in which Fellows' develop a shared understanding of critical socio-economic, military, political, and cultural issues impacting the region's evolving security environment. To read more, click

here

.
Discussing Maritime Security Challenges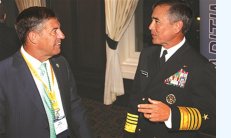 Maritime Security Challenges 2014,

the sixth iteration of the MSC conference series, took place at the Fairmont Empress Hotel in Victoria, British Columbia, Canada, Oct. 6 – 9. Over 190 delegates from 22 nations discussed important naval issues in an open environment. Among the conference delegates were 13 serving flag officers from nine nations and many retired flag officers. To read more, click

here

. At right, APCSS Director Brig. Gen. Dan Leaf confers with Adm. Harry Harris, commander of U.S. Pacific Fleet.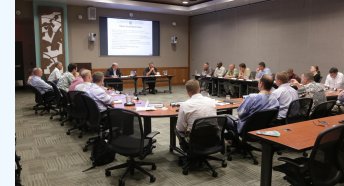 Eighteen senior officers and civilians participating in the U.S. National Defense University CAPSTONE Course took part in a tour and seminar at APCSS Oct. 16. The group met with Center leadership and faculty members to discuss key topics associated with security in the Asia-Pacific region. These topics included the South China Sea, Straits of Malacca, Mongolia, and the Republic of Korea. CAPSTONE prepares participants for strategic-level leadership.
Oct 1: Michael Sulmeyer, Special Assistant to U.S. Deputy Assistant Secretary of Defense for Cyber Policy

Oct 8: The Honorable Stuart Robert, Assistant Minister of Defence, Australia

Oct 10: Dr. Gina Jamoralin, Philippines Counsel General, Hawaii

Oct 17: Todd Chapman, U.S. Principal Deputy Assistant Secretary for the Bureau of Political-Military Affairs

Oct 22: Ambassador Jimmie Kolker, U.S. Department of Health and Human Services

Oct 30: Air Commodore AHM Fazlul Haque, Director General, Directorate of Training Bangladesh Armed Forces Division

Our latest edition of Currents magazine is available

here

.
If you have a new email please update your subscription to ensure you are getting the latest APCSS updates. Mahalo.
If you have any questions please contact the editor at hallj@apcss.org

You can find past issues of the APCSS Activities Report online

here

.
Previous editions of Currents magazine is available at:
| | | |
| --- | --- | --- |
| | | |
| | | |